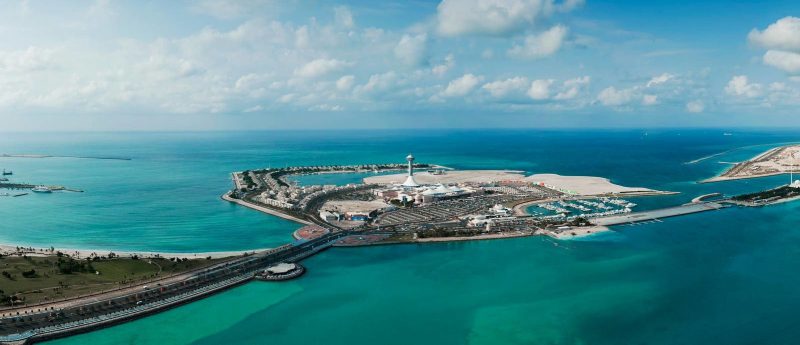 BLAIR LESLIE: Mosman Travel
Travelled to: Abu Dhabi
When: November 2017
Airline: Etihad Airways
Aircraft: Airbus A380
Class of travel: Business class – Seat 23F.
Stayed at: Bab Al Qasr Hotel. Corniche Road West, Abu Dhabi City.
Also inspected: Hilton Abu Dhabi, St. Regis Abu Dhabi, Emirates Palace.
ETIHAD BUSINESS CLASS
The seating arrangement is good with plenty of access and adjoin seats which are ideal for couples, and not a problem for a solo traveller. The inflight service was good with on-demand meals and a good selection of movies, TV programs etc. There is a dedicated lounge and bar area for those who like a break from their seat or wish to catch up with friends.
I have no hesitation in recommending Etihad to my clients. The business class service was equal or better than any others I have flown in the past few years.
BAB AL QASR HOTEL
The Bab Al Qasr is a 5-star hotel owned by the Moroccan Royal Family and part of the Millennium Hotel chain. There are two towers in this distinctive golden building, one consisting of hotel rooms and the other of residences for long term guests.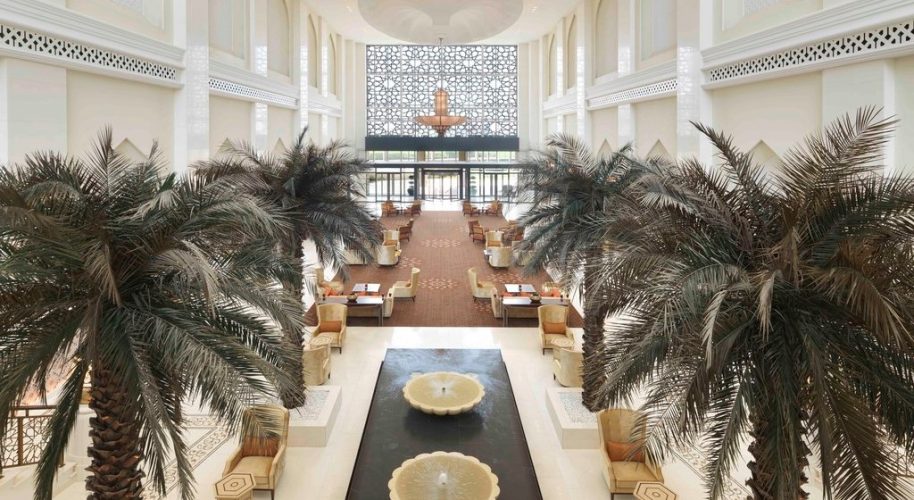 There is one main restaurant which serves all meals, a pool bar for casual snacks, a deli type café that seems to cater mainly for students staying in the Residential Tower of the hotel and The Limo Restaurant serving Peruvian and South American food. Apart from the pool bar there is also a Club lounge for guests' use.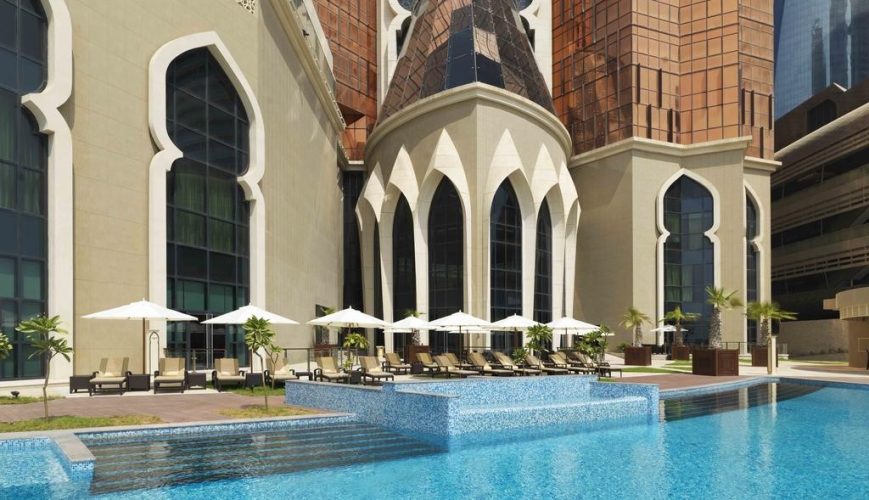 The main guest facility is the pool and beach area. The man-made beach features white sand imported from the Maldives.
My room was on the 17th floor with spectacular views over the Emirates Palace Hotel and Gardens. The room was spacious and well set out with a large well-designed bathroom with good lighting.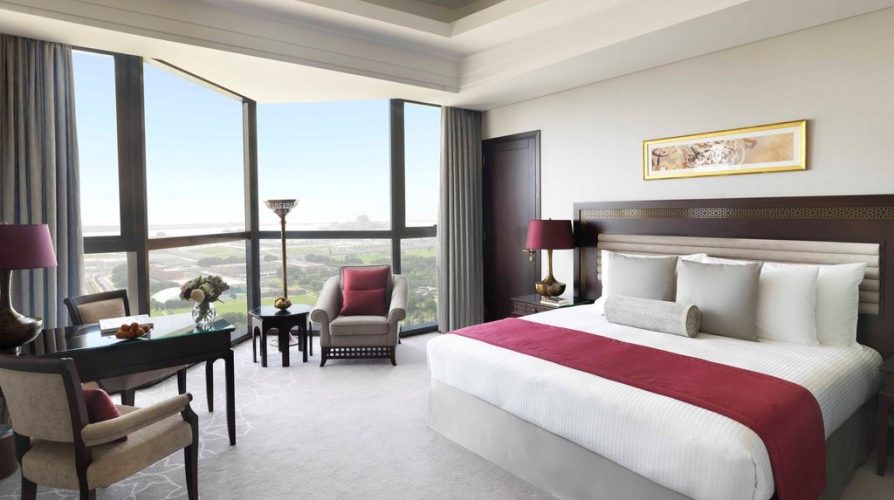 OUT AND ABOUT
Sheikh Zayed Grand Mosque
Our first stop was the Sheikh Zayed Grand Mosque, a truly spectacular building and the worlds' second largest Mosque. The Mosque features 82 domes, over 1,000 columns, 24 carat gold gilded chandeliers and the world's largest hand knotted carpet. It has a capacity for 40,000 worshippers and is a MUST SEE in Abu Dhabi.



Louvre Abu Dhabi
Louvre Abu Dhabi is an art and civilization museum built under licence and with extensive consultation with the Louvre, Paris. The building itself is worth a visit alone, and the galleries have an extensive collection of art and artefacts from both the Louvre and other museums around the world.



Our stay of two hours was sufficient for our needs but visitors should allow half a day to do this fabulous 'universal' museum justice.
Yas Marina Circuit
Our time in Abu Dhabi coincided with the Etihad Airways Formula 1 Grand Prix at the state-of-the-art Yas Marina Circuit on Yas Island – Abu Dhabi's main leisure destination. The experience was similar to attending any major sporting event of global significance, and most enjoyable.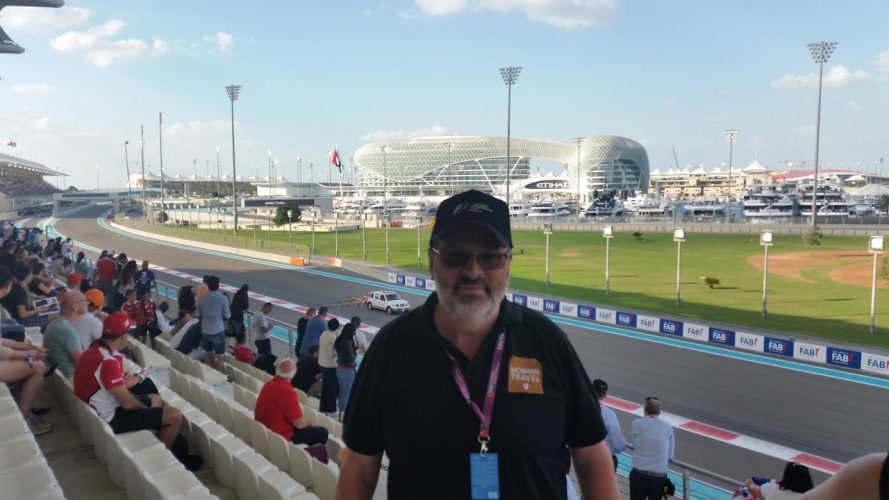 With race over, we and about 20,000 others made our way to the nearby arena to attend the after-race concert by P!NK. The show was spectacular but with thousands about to compete for transport back into Abu Dhabi City, a couple of us departed early and returned to hotel by taxi. Considering the crowds in attendance the taxi rank was well managed and there was little delay in getting a taxi. Our sporting venues at home could learn something from how they managed it.
OTHER HOTELS
I took the opportunity to visit several other hotels to get a feel of some alternatives.
Hilton Abu Dhabi
One of the first international hotels built in Abu Dhabi, this low rise 5-star (maybe only 4, these days) hotel has its own beach accessed by a tunnel under the six lane Corniche Road.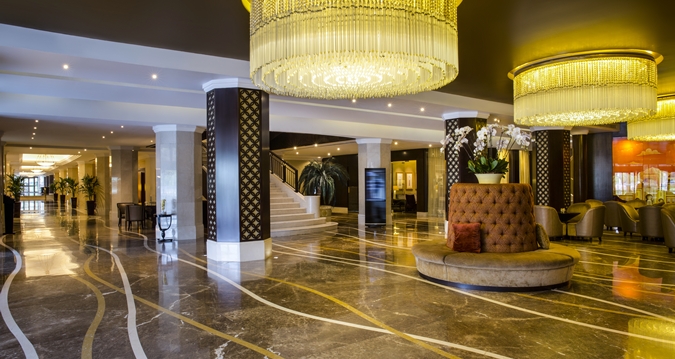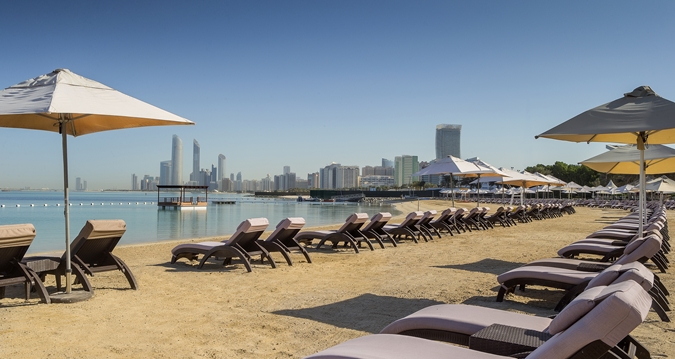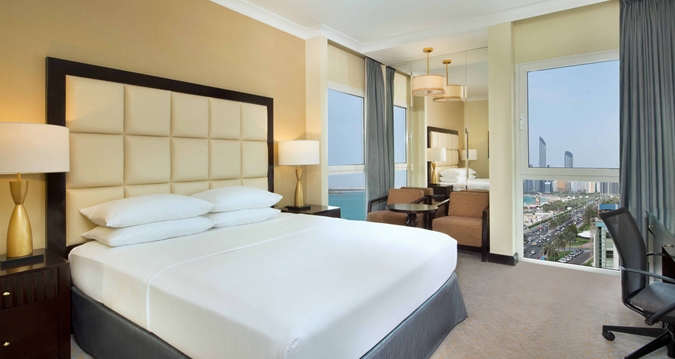 It has a traditional feel with a comprehensive shopping arcade and well established gardens.
St Regis Abu Dhabi
Spectacular, modern, well-located high rise hotel with grand lobby and reception area. It was bustling with people and attentive staff were everywhere.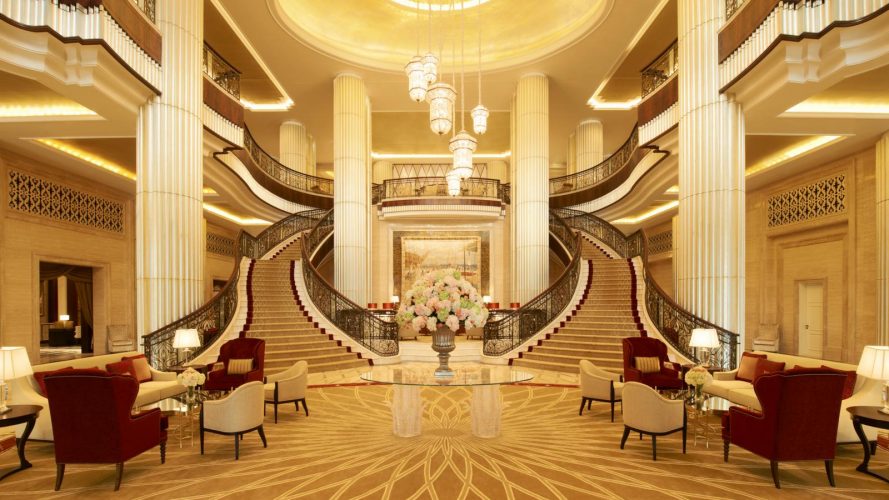 The St. Regis is lovely. Everything you'd expect from this luxury hotel brand. Like the Hilton, it is connected to its own luxury beach club through a marble-finished, air-conditioned tunnel beneath the Corniche Road.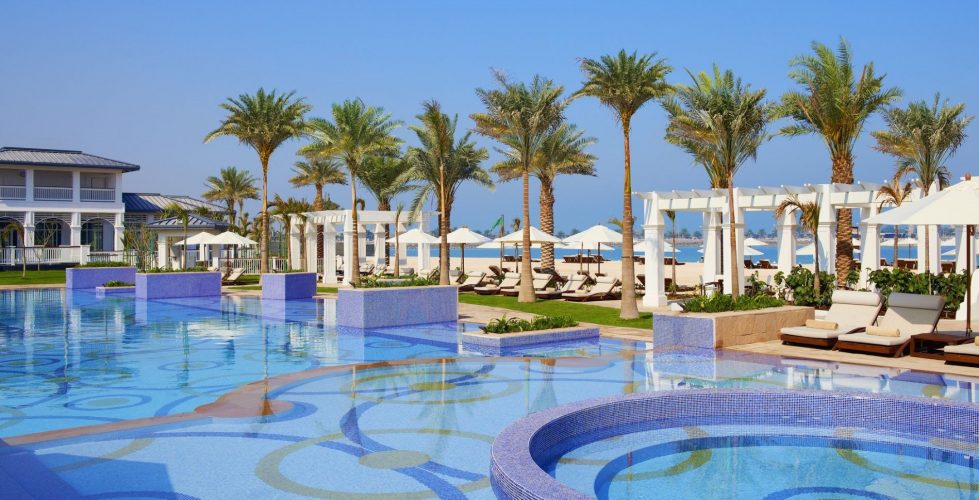 The Nation Riviera Beach Club is stunning. The hotel is also connected to one of Abu Dhabi's most upmarket shopping malls and dining destinations – Nation Galleria.
Emirates Palace
Not just a hotel, a tourist site in its own right. Situated on 1.3 km of private beach and 85 hectares of gardens and lawns, Emirates Palace comprises 394 rooms and suites. With a selection of restaurants and bars, a guest could happily stay here for a few days and not bother with the sights of Abu Dhabi.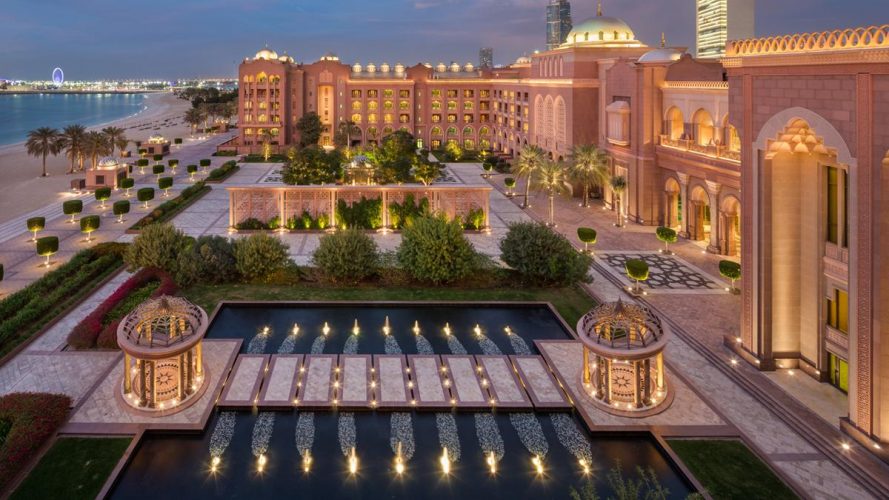 The hotel is famous for its high tea, but make sure clients book ahead. The members of the tour party who were advised by our escort that this was not necessary were sadly disappointed.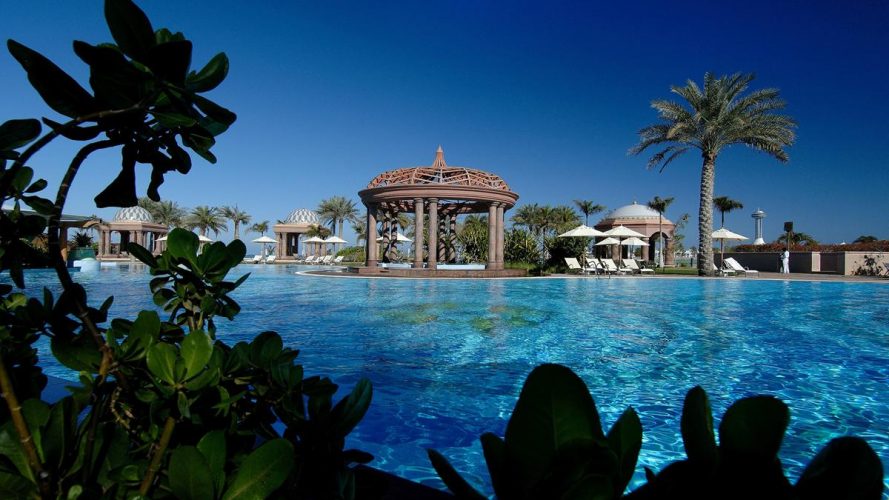 Luckily there was no need to book ahead if you wanted a Peroni in the Caviar Bar.
THE FINAL WORD
Abu Dhabi is suitable for a rich three-day stopover and, with a range of attractions such as Louvre Abu Dhabi, Shaeikh Zayed Grand Mosque, desert safaris, Ferrari World and the array of leisure and retail options on Yas Island, plus an abundance of good 5-star hotels.
There is, as they say, something for everyone.