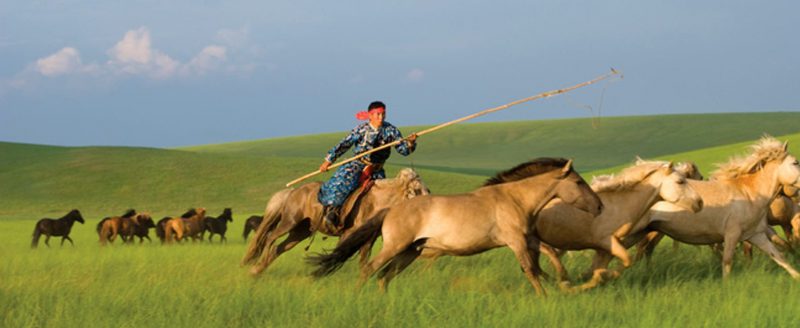 MONGOLIA: LAND OF THE NOMAD
12 Days | Ulaanbaatar – Ulaanbaatar | Group size max 25 |
SAVE $1,035pp NOW $10,144pp
Amid the stark beauty of Mongolia's varied landscapes lives one of the world's last surviving nomadic cultures, whose customs pre-date the age of Genghis Khan. On a journey from the mystical steppe to the remote dunes of the Gobi desert, experience an ancient way of life. Ride horseback across wetlands, hike in a dramatic oasis, and watch the sun set on the Flaming Cliffs. Stay in traditional ger camps and witness the exhilarating contests at a celebration of Naadam.
TRIP HIGHLIGHTS
Experience the events of Naadam, a traditional sporting festival celebrated across Mongolia, and get up close views of its wrestling, archery, and horse-racing competitions.
Spend four nights in a traditional ger at Three Camel Lodge, a National Geographic Unique Lodge of the World.
Meet a senior government official in Ulaanbaatar for an inside perspective on Mongolia's political and economic climate.
Visit with Nomadic families, look for fossils near the Flaming Cliffs, and listen to traditional throat singing.
_______________________________________________________________________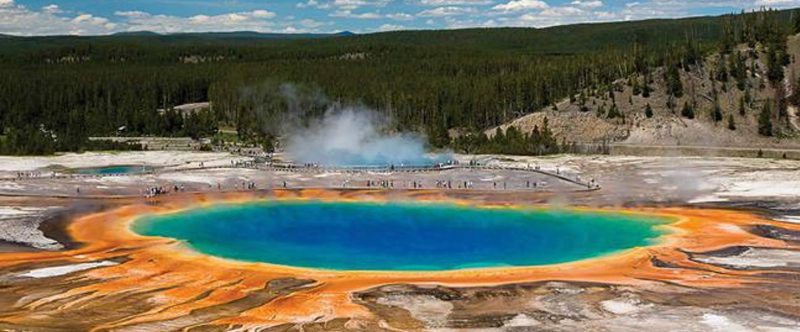 YELLOWSTONE AND GRAND TETON NATIONAL PARKS
8 Days | Bozeman to Jackson | Group size max 25
SAVE $690pp NOW $6,337pp
Explore two of America's greatest natural treasures: Yellowstone and Grand Teton National Parks. On daily excursions, discover Yellowstone's wilderness and geothermal wonders, and venture into magnificent valleys to spot bison, bears, elk, eagles, and coyotes. Peer into the yawning abyss of the Grand Canyon of the Yellowstone and witness Old Faithful's thrilling eruptions. Then head south to the awesomely jagged peaks of the Teton Range. Go on a ranger-led hike in a glacial valley, raft down the wildlife-rich Snake River, and cruise the emerald waters of Jenny Lake.
TRIP HIGHLIGHTS
From vast canyons to alpine lakes, explore Yellowstone National Park and the Grand Tetons with an expert, on the lookout for grizzlies, bison, bighorn sheep, and elusive gray wolves.
Meet a renowned wildlife photographer at his home studio.
Discover Yellowstone's geothermal landscape of bubbling mud pots, brilliantly colored hot springs, and erupting geysers—including legendary Old Faithful.
Float on the Snake River beneath the peaks of the Teton Range.
_______________________________________________________________________

KENYA: UP CLOSE WITH ELEPHANTS, RHINOS AND BIG CATS
10 Days | Nairobi – Nairobi | Group size max 25
SAVE $775pp NOW $14,726pp
In the rolling grasslands of southern Kenya, experience a fascinating and fragile ecosystem through the eyes of people dedicated to saving it. Embark on game drives in the shadow of Mount Kilimanjaro, and track rare species like African wild dogs and white and black rhinos through the thriving Lewa Wildlife Conservancy. In the legendary Masai Mara, observe herds of zebras and wildebeests—and the fierce predators that hunt them. Along the way, meet researchers, wildlife biologists, and conservationists who are confronting poaching and habitat loss in East Africa head-on.
TRIP HIGHLIGHTS
On a trip inspired by National Geographic-sponsored efforts to save Kenya's iconic wildlife, meet grantees working throughout the country to protect elephants, rhinos, and big cats.
Set out on safari in three wildlife conservancies known for their high concentrations of African megafauna: Amboseli National Park, Lewa Wildlife Conservancy, and Masai Mara National Reserve.
In Nairobi, interact with orphaned elephants at the renowned David Sheldrick Wildlife Trust, featured in the September 2011 issue of National Geographic magazine.
Delve into Samburu culture during a village visit, and learn about wildlife conservation efforts carried out in partnership with local Maasai communities.
For more information or to book please contact us today.