AVANI SEPANG GOLDCOAST RESORT

WHERE: SUNGAI PELEK
WHO VISITED: Shaun Manuain from Spencer Travel.
WHEN: March 2015
WHAT WE LOVED     
Formerly the Palm Hotel, and retaining the original hotel's striking over-water palm layout, Avani Sepang Goldcoast Resort is a beautiful property located 40 minutes from the airport, and 90 minutes from Kuala Lumpur.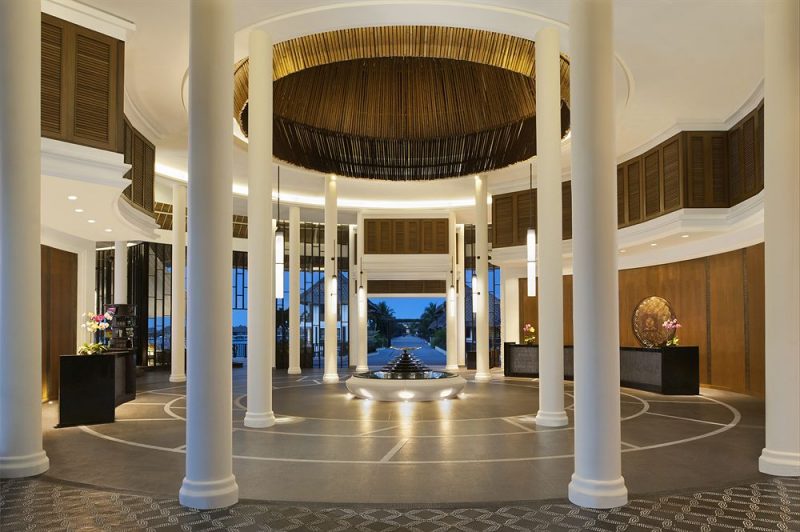 The resort is beachfront and almost all of it sits over-water, not unlike something you'd see in Tahiti.
Rooms
All 135 rooms at Avani Sepang Goldcoast Resort are located on the over-water palm, perfect for sea views and stunning sunsets. There's a range of accommodation options from rooms to one, two and three bedroom villas.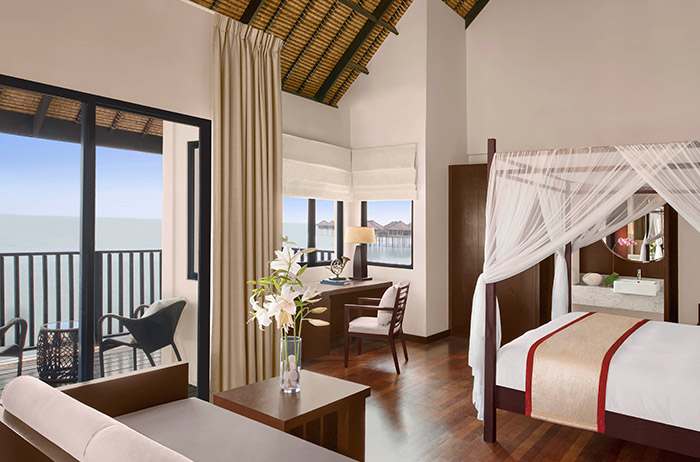 Superior Rooms are situated on the first and second floors of the main trunk of the palm, and feature both air conditioning and ceiling fans, as well as floor to ceiling windows
Family Villas are all two bedroom two bathroom and, being located on the palm, enjoy sea views.
Two Bedroom Villas are spacious, feature marble bathrooms, panoramic sea views and sleep up to five guests.
Three Bedroom Villas enjoy the best waterfront positions perched on the tips of the over-water palm. Each bedroom has its own en-suite bathroom.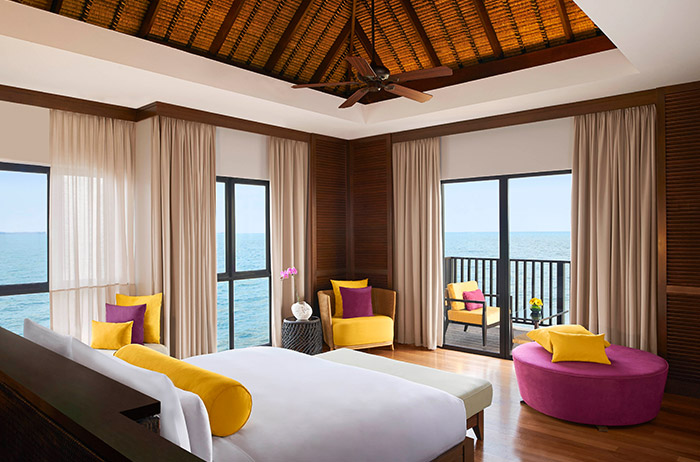 Pools
The resort's Infinity pool is suspended over the water on the palm.
Spa
AVANI SPA is located on the upper level of the Club House on the over-water palm, and boasts five treatment rooms.
Dining
The resort is home to five restaurants, two bars and a lounge that serve everything from casual, fine dining and in-room privacy, to international classics, Malay and Chinese specialties.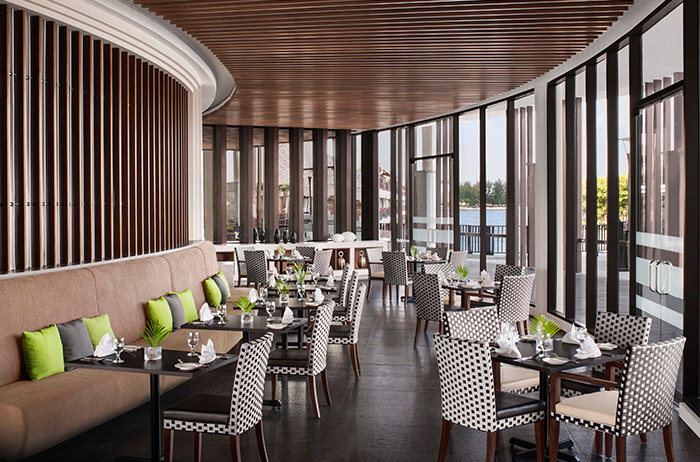 Sepoi-Sepoi: A cabana style café serving Malaysia-Chinese dishes and sandwiches
Bila-Bila: Enjoy the best local tastes and international favourites.
Hai Sang Lou: Fine dining of unique Chinese specialties, enjoyed above the sea.
Perahu: Malay style barbecue with superb local marinades and must-try western dishes.
Stimbot: Chinese steamboat
Selat Bar: Beachfront deck with a Caribbean vibe
In-room Dining: Served 24 hours a day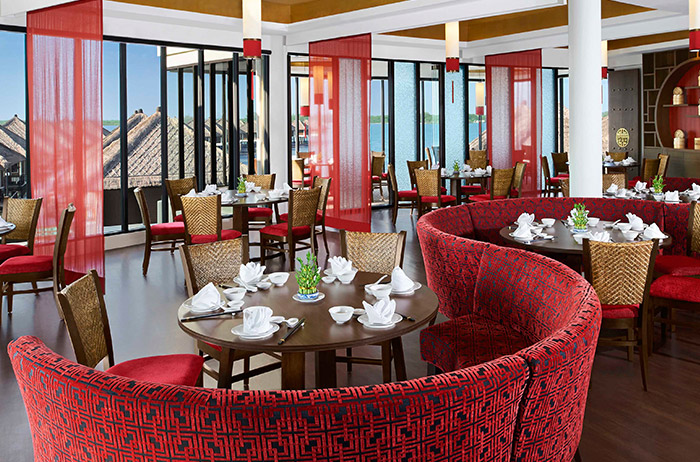 Recommended Experiences
There's a range of optional activities available at the resort including bicycle tours through nearby villages, a mangrove river cruise past dense jungle and mangroves for wildlife spotting, as well as a trip to the nearby Formula 1 Sepang International race circuit – home of the Malaysian Grand Prix.
Final Word
Situated on Malaysia's south western coastline, surrounded by the shallow warm waters of the Malacca Straits, this would be perfect for a leisure destination convenient to Kuala Lumpur, or for anyone attending the Malaysia F1 Grand Prix.
……………………….
BUNGA RAYA ISLAND RESORT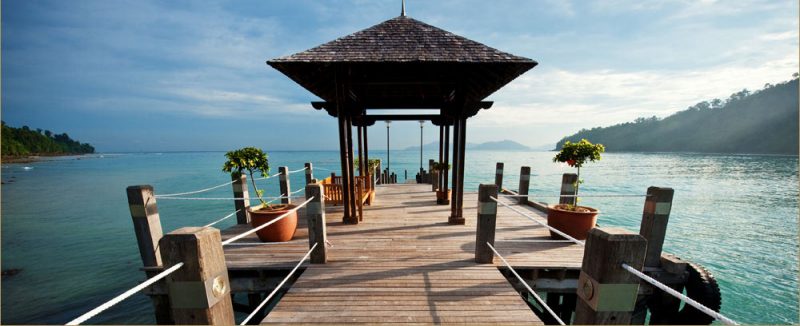 WHERE: KOTA KINABALU
WHO VISITED: Nicole Reber from Travel Specialists Mosman.
WHEN: August 2015
WHAT WE LOVED                         
The journey to Bunga Raya starts with a 20 minute transfer from the airport to the Ferry Terminal where an air-conditioned lounge greets resort guests while they await their boat transfer. From there it's another 20 minutes by speed boat to Bunga Raya Island.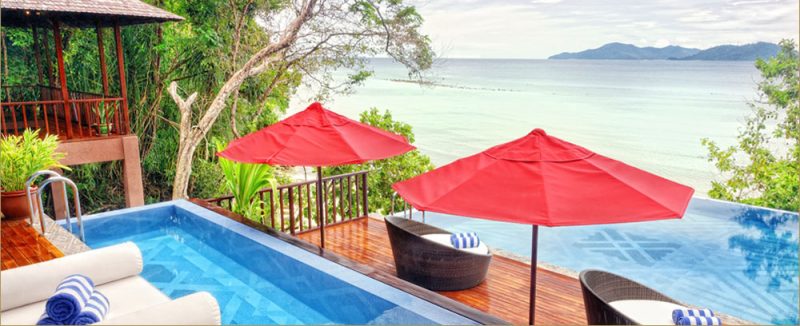 The resort is a secluded island hideaway of 48 timber villas tucked away on a tranquil bay framed by a crescent shaped beach on one side and centuries-old virgin jungle on the other.
Bunga Raya has a lovely, long stretch of beach with stunning water. You can snorkel straight off the beach and explore with kayaks and paddle boards. Watching sunrise from the resort jetty is a wonderful experience.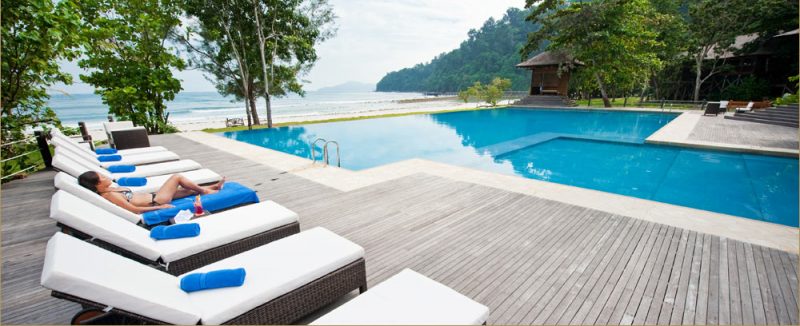 Rooms
Bunga Raya Island Resort has 48 Villas set amid the Gaya National Park.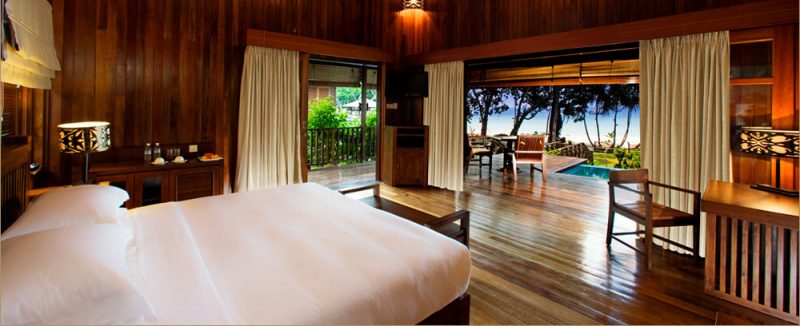 The villas range in size and amenity from the lead-in Superior Villa right up to the Royal Villa. Private balconies offer wonderful views of the beach and South China Sea beyond. Villas range from simple timbered dwellings just steps from the beach, to opulent 3-bedroom, multi-level units with wrap-around decks and private plunge pools.
Superior
Deluxe
Plunge Pool Villa
Treehouse
2-Bedroom Deluxe Suite
3-Bedroom Deluxe Suite
The Royal Villa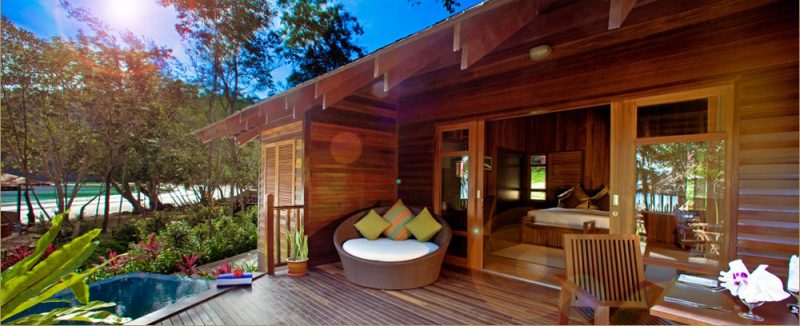 Pools
The resort's outdoor swimming pool is located in front of The Koi Restaurant.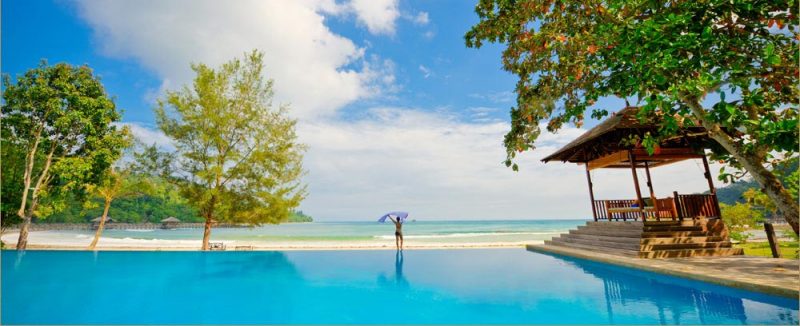 Spa
Solace Spa is a dedicated hilltop facility with treatment rooms and spa pavilions built directly into the landscape. The spa blends the finest traditional Asian and Western treatments. As it located right up the top of the resort, guests travel by buggy to and from the spa.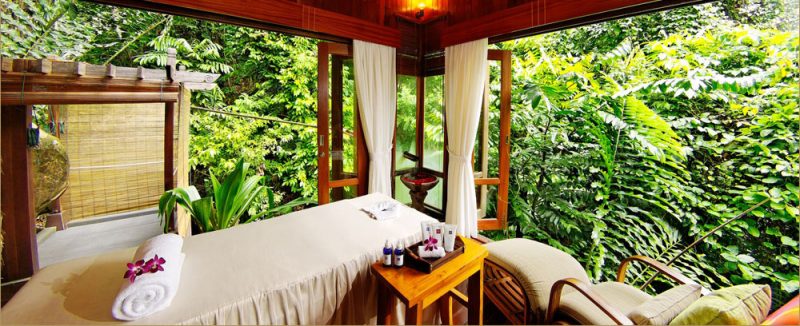 Dining
Bunga Raya Island Resort has a few, high quality restaurant outlets.
Pantai Grill sits right in the sand by the water's edge and offers a laid-back oceanfront dining outlet.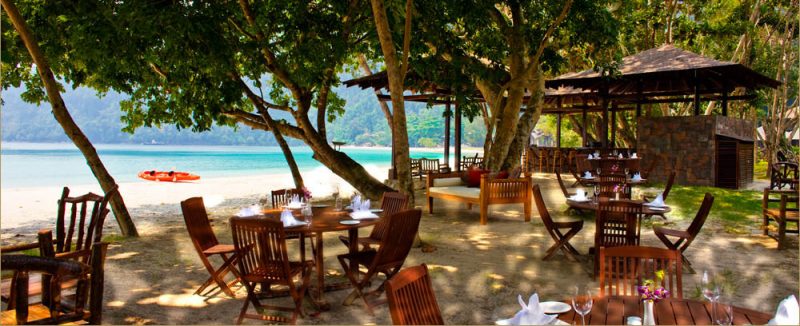 The Koi is a modern European Bistro housed at the resort's heart and serves as its main dining outlet.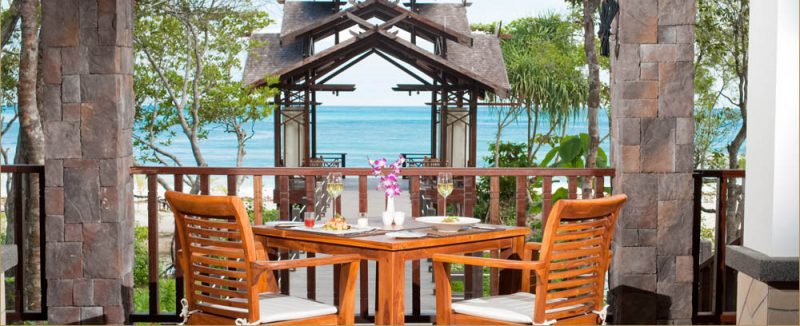 The Wine Cave is an underground wine cellar that stores over 4,500 bottles, and seats between 2-20 guests. Built right under The Koi, it also houses an impressive collection of cigars.
Private dining: Have a romantic dinner in a specially decorated beach pavilion.
Recommended Experiences
The reefs of Borneo attract divers from all over the world, and the resort's PADI Dive Centre is the perfect leaping off point.
Final Word
Kayak through emerald waters, explore the mangroves, trek through jungle bursting with wildlife, dive into the ocean and float your cares away.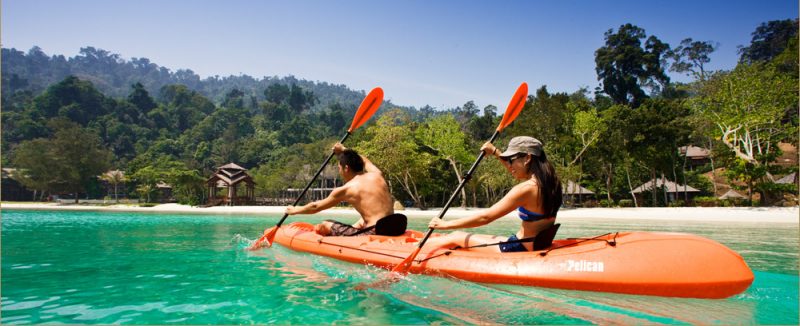 ……………………….
GAYANA ECO RESORT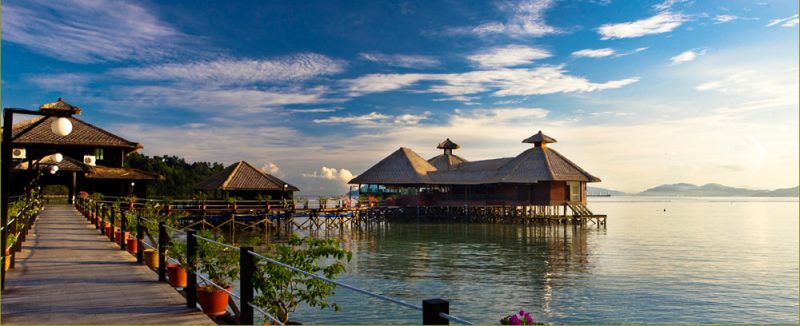 WHERE: KOTA KINABALU
WHO VISITED: Nicole Reber from Travel Specialists Mosman.
WHEN: August 2015
WHAT WE LOVED 
Gayana rests at the edges of a lush coral reef island off the coast of Borneo, approximately 10 minutes from Kota Kinabalu Ferry Terminal. A quick drive from the airport brings guests to Jesselton Point Ferry Terminal, and from there, it's just a matter of hopping on the next boat out to the resort.
There is an impressive Marine Ecology Research Centre on the Island where they teach the local kids about the importance of preserving the ocean, and conduct various ecological research programs including the propagation of endangered Giant Clams and the restoration of local coral reefs.
Rooms
The resort offers accommodation in 5 categories of villa:
Lagoon Villa
Mangrove Villa
Rainforest Villa
Ocean Villa
Palm Villa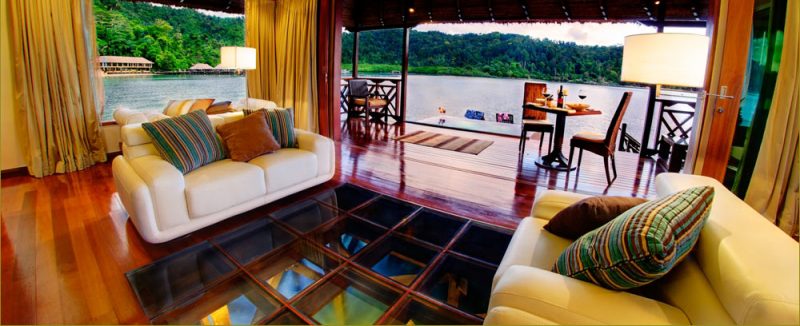 52 of the resort's villas are over-water. For mine, the Lagoon Villas are the pick of all of them.
Pools
An outdoor infinity pool beside Macac Restaurant is a lovely asset.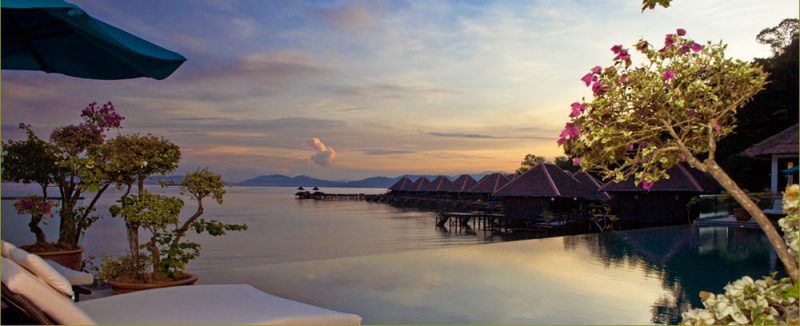 Spa
The Solace Spa draws on a combination of traditional Asian and western treatments and offers them in a seaside facility.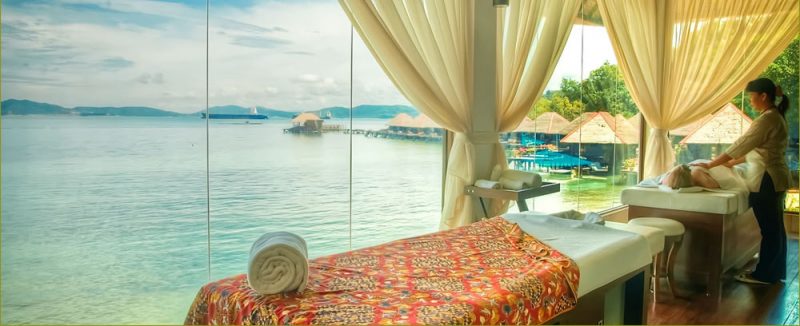 Dining
Alu Alu Seafood is perched above the water in its own special corner of the resort. Its over-water seating captures the cooling sea breeze as guests dine Chinese seafood cuisine, much of which is sourced from the resort's own organic fish farm. Open for lunch and dinner
Latitude Lounge is open from 5pm daily and is the perfect setting for a casual afternoon of drinks and snacks.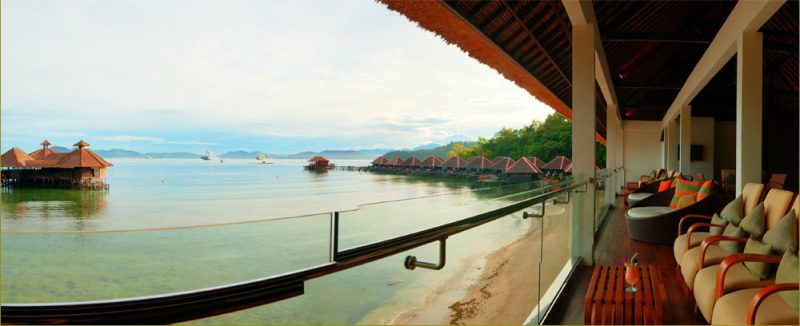 Macac Restaurant is open for breakfast, lunch and dinner by the resort's swimming pool, where it serves western fusion food with a Malaysian twist.
Private dining is available for guests staying in Ocean or Palm Villas in the privacy of you're the villa's open deck.
Recommended Experiences
Gayana's PADI Certified Dive Centre allows divers of all skill levels to experience Borneo's magnificent coral reefs.
Final Word
Striking the perfect balance of forward thinking ecology and indulgent luxury, Gayana pampers both the body and soul.
……………………….
Disclaimer
Unless otherwise specified, all images belong to the resorts and suppliers showcased on these pages.
These recollections are generated by staff from the Spencer Group of Companies after they return from business or personal travel and visit the places listed. Their first-hand experience provides wonderful insights into resorts, airline offerings, cruises and local attractions. Their views are personal and by no means guarantee that other travellers will experience the same.