We invite you to sail around the turquoise waters of the Mediterranean with the azure sky as your backdrop, aboard PONANT's luxury small ships. The sunshine, mild climate and beauty of the landscapes are undoubtedly the source of this region's reputation as the world's leading holiday destination.
The countries that border this legendary sea are home to some of the world's greatest architectural masterpieces, and enjoy an exceptional quality of life.
We invite you to visit the regions that saw the rise of the most influential civilisations in the world.
Between land and sea, set off to discover the hidden marvels of the Adriatic, pause at the beaches of the mythical Aegean Sea.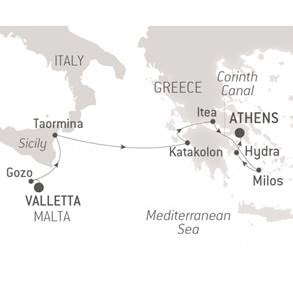 SPLENDOURS OF THE WESTERN MEDITERRANEAN
15 June 2020 to 22 June 2020
8 days / 7 nights
From the Maltese archipelago to the Greek coast via Sicily, experience exceptional moments discovering fascinating sites.,Le Bougainville will leave Valletta, the capital of Malta, for an 8-day cruise on seas that are brimming with history.
Deluxe Stateroom from A$5,110 per person twin share including 25% PONANT Bonus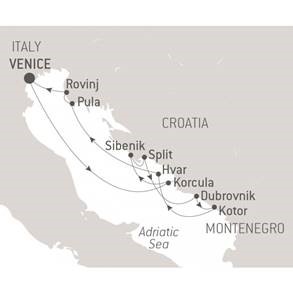 THE BEST OF CROATIA
5 June 2020 to 12 June 2020
8 days / 7 nights
Discover the beauty of the Adriatic with PONANT on an exceptional 8-day cruise in Croatia. Aboard Le Lyrial, fall under the spell of the hidden treasures of the Croatian coast and its turquoise waters.
Superior Stateroom from A$6,220 per person twin share including 10% PONANT Bonus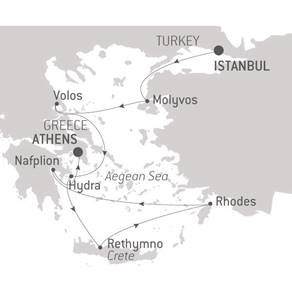 AEGEAN ODYSSEY
1 November 2019 to 8 November 2019
8 days / 7 nights
From Turkey to Greece, during 8 days, Le Bougainville will take you to places brimming with history, to discover sites that are among the most beautiful in Greece.
Prestige Stateroom Deck 5 from A$4,670 per person twin share including 20% PONANT Bonus
For more information or to book please contact us today.