TAJ PALACE NEW DELHI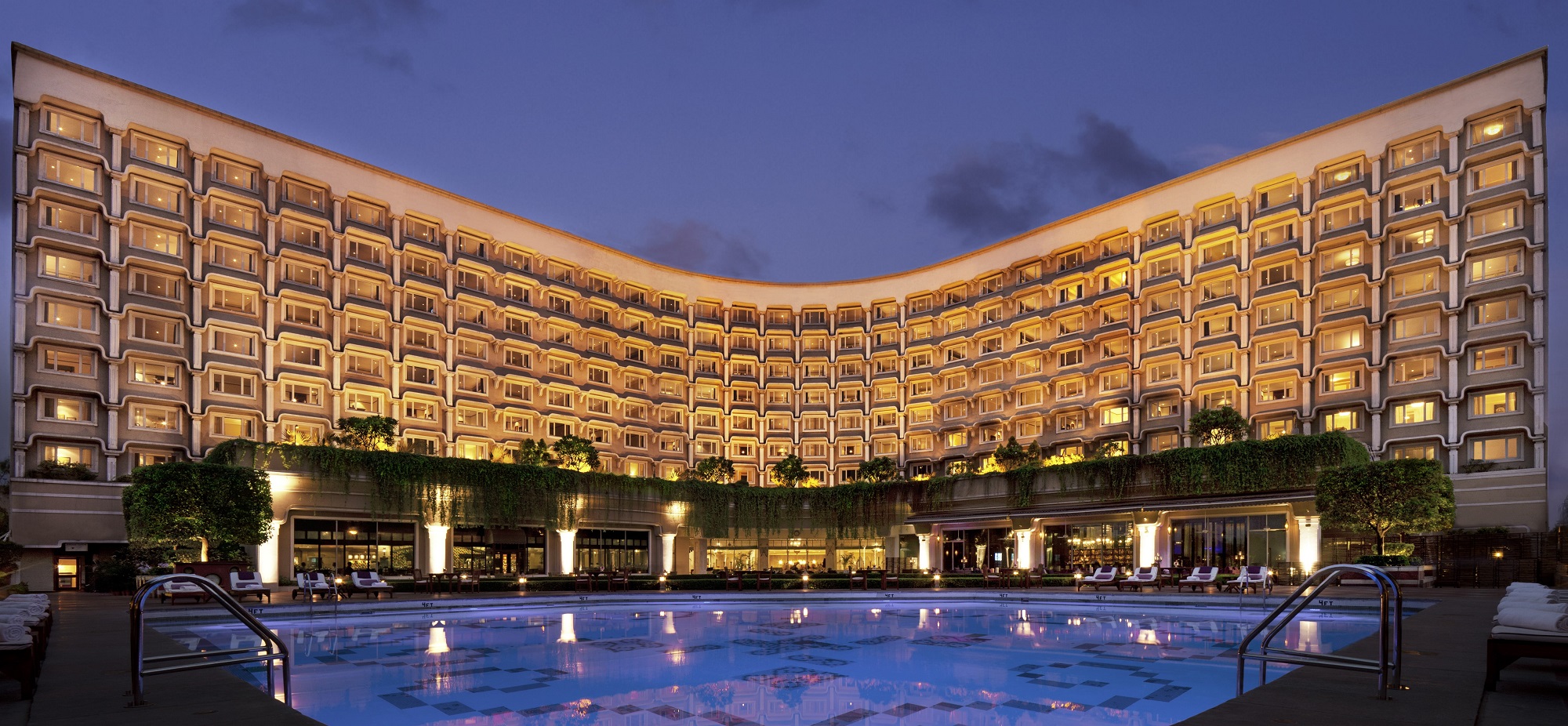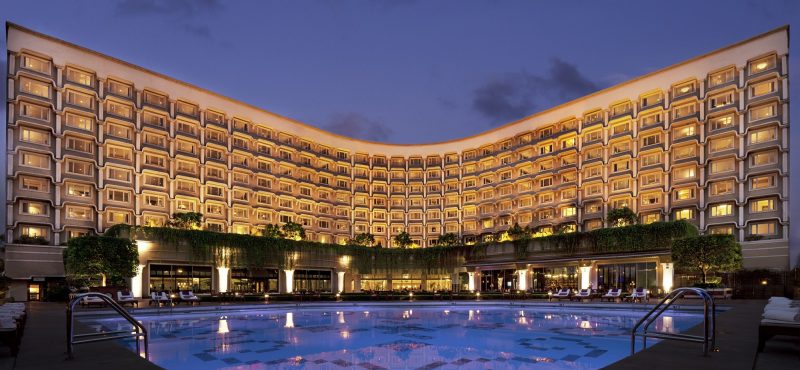 WHERE: NEW DELHI
WHO VISITED: Lynn Eaton from Spencer Travel
WHEN: April 2015
WHAT WE LOVED
Taj Palace New Delhi is spread out over six acres of gardens in the heart of Delhi's prestigious Diplomatic Enclave. Its rooms are spacious with with large marble bathrooms, and have played host to princes, heads of state and corporate big-wigs for nearly four decades.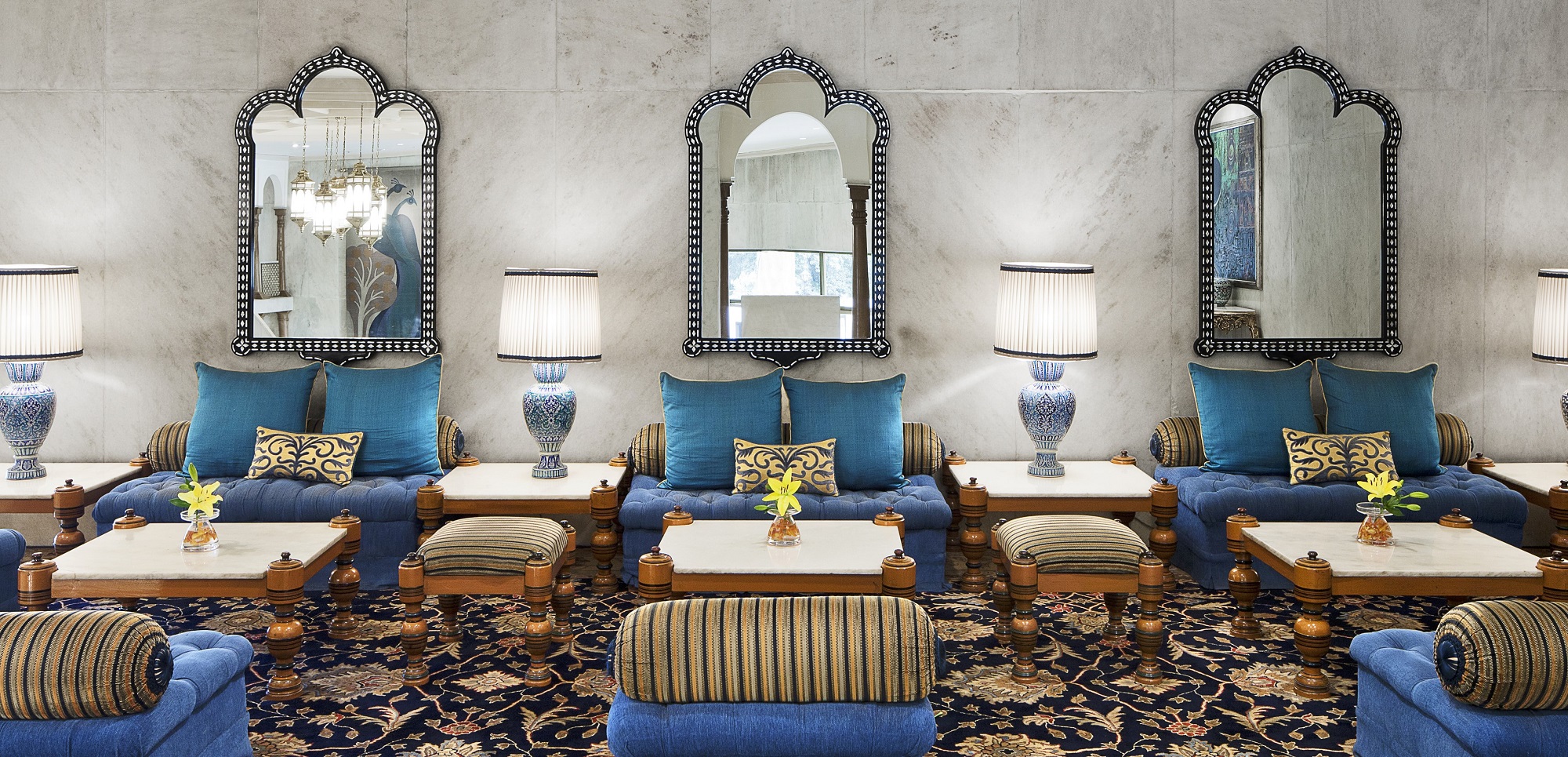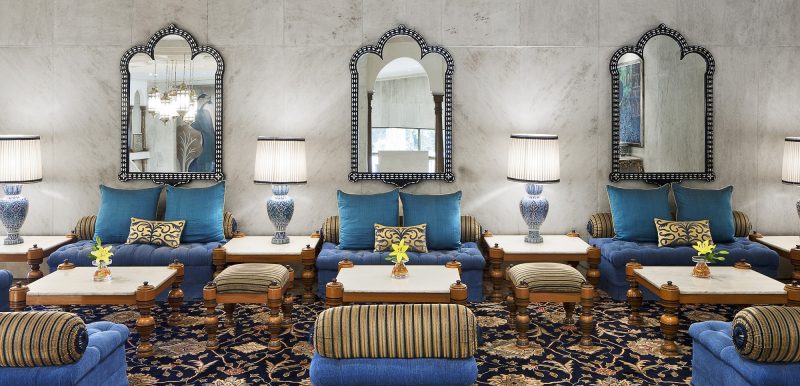 We were lucky enough to be upgraded to a Taj Club room which provided access to a wonderful lounge serving breakfast, high tea and cocktails till 8.00 p.m. each evening. Taj Club room services also provide valet service and ironing for 2 garments per day.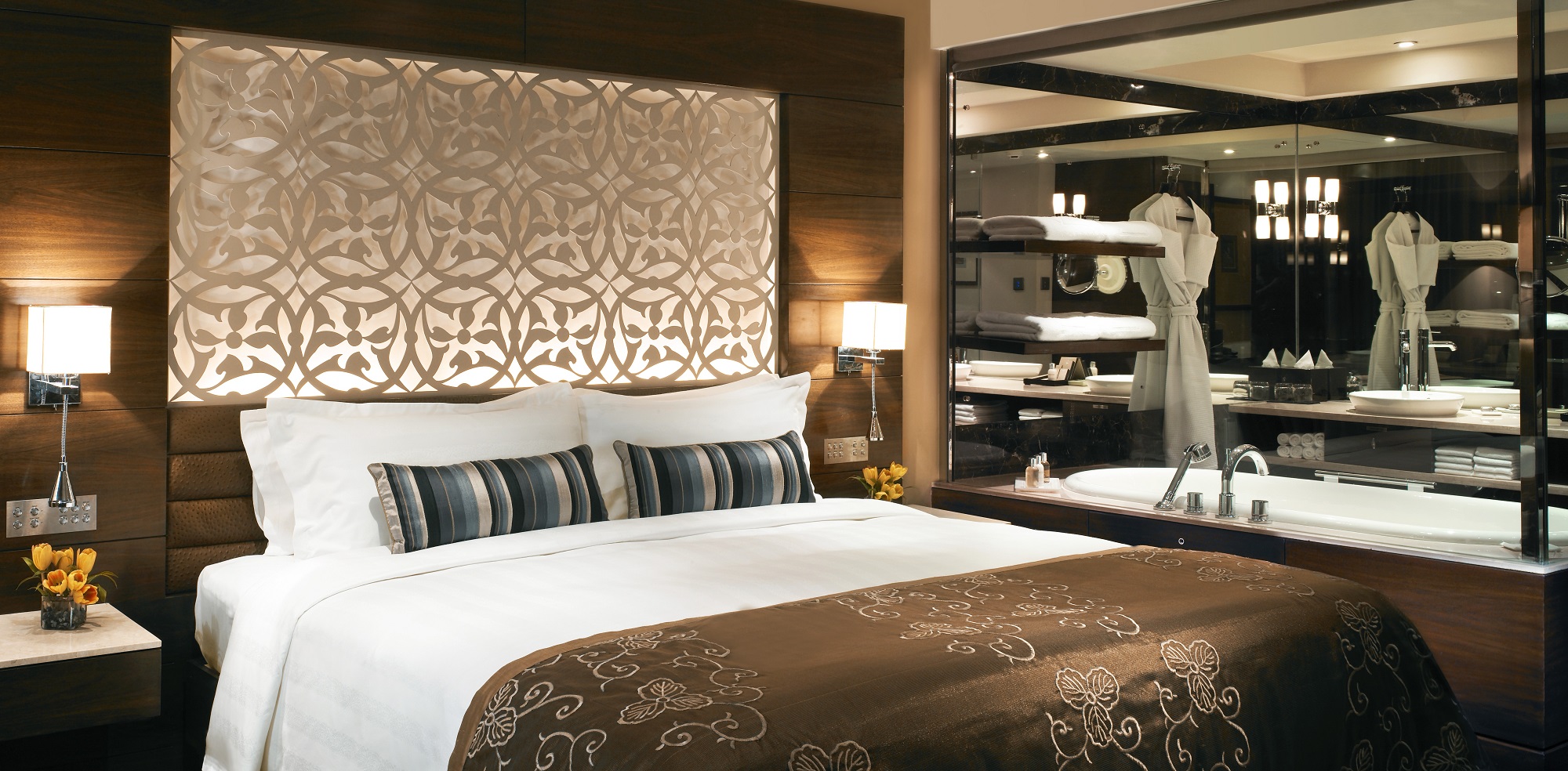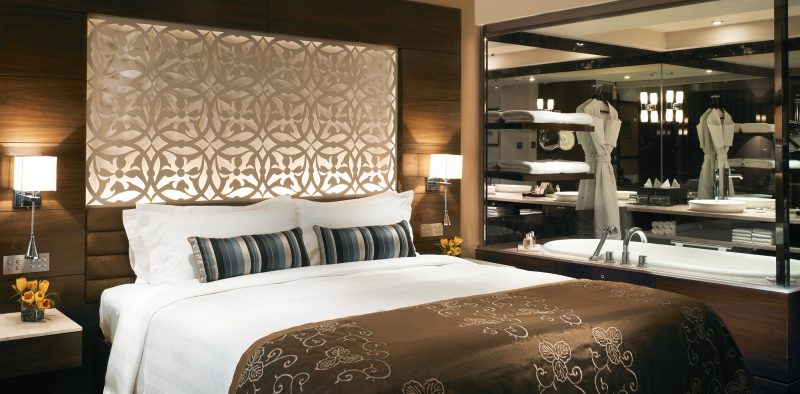 Rooms
The hotel has 403 rooms and suites, all with tastefully done interiors and modern amenities.
There are four categories of guest room: Superior, Deluxe, Luxury and Taj Club rooms which include a host of services and amenities.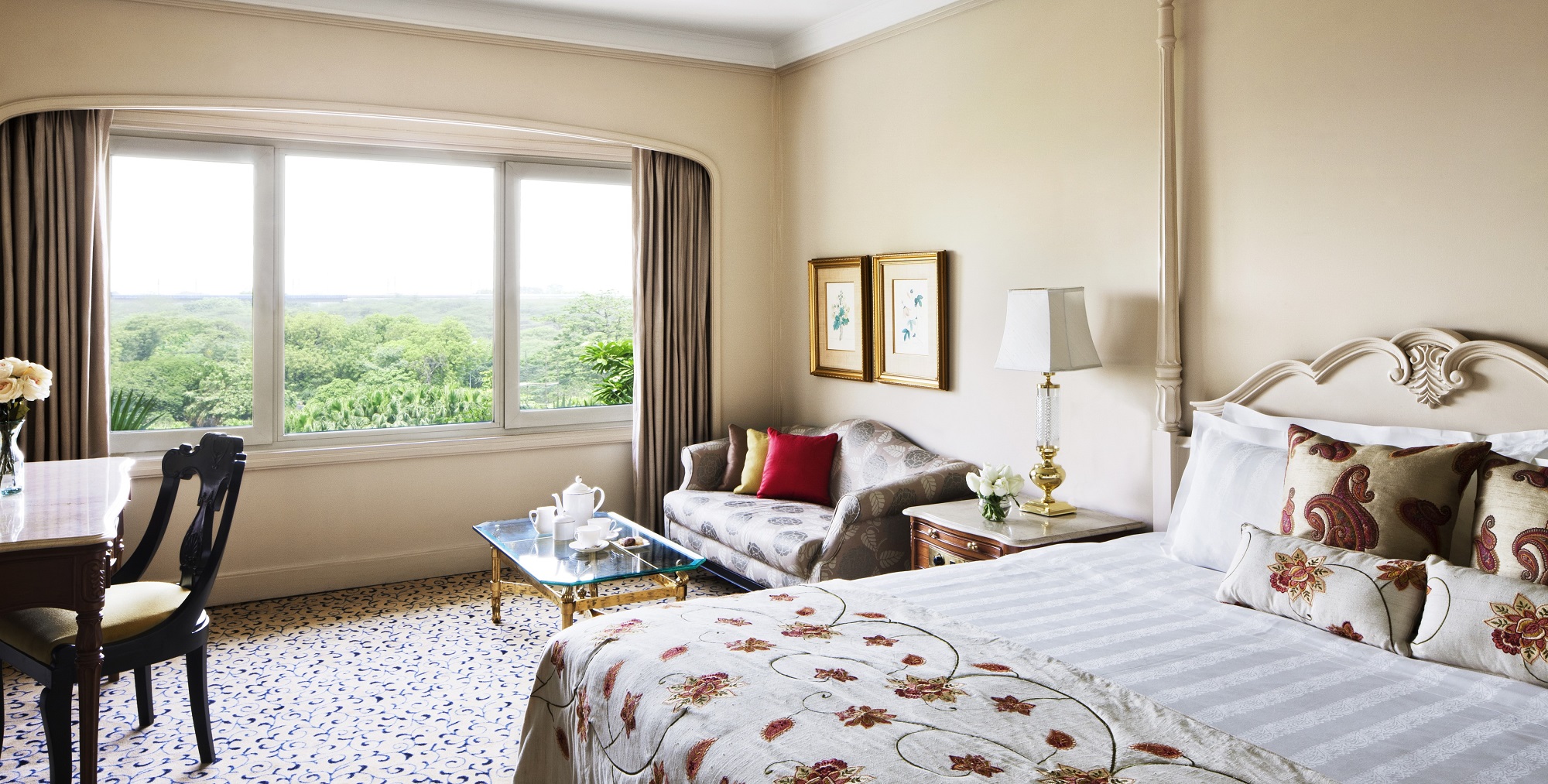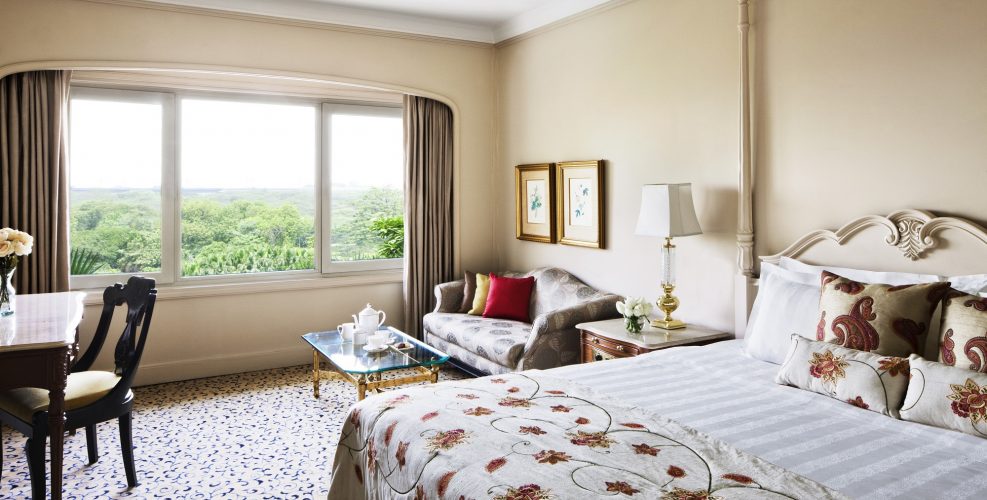 There are even more categories of luxurious suites from the lead-in Executive Suites through to Taj Club Executive Suites, Luxury Suites, Garden Luxury Suites, Garden Presidential Suite, Presidential Suite, and the hotel's Tata Suite Grand Presidential – the epitome of grandeur.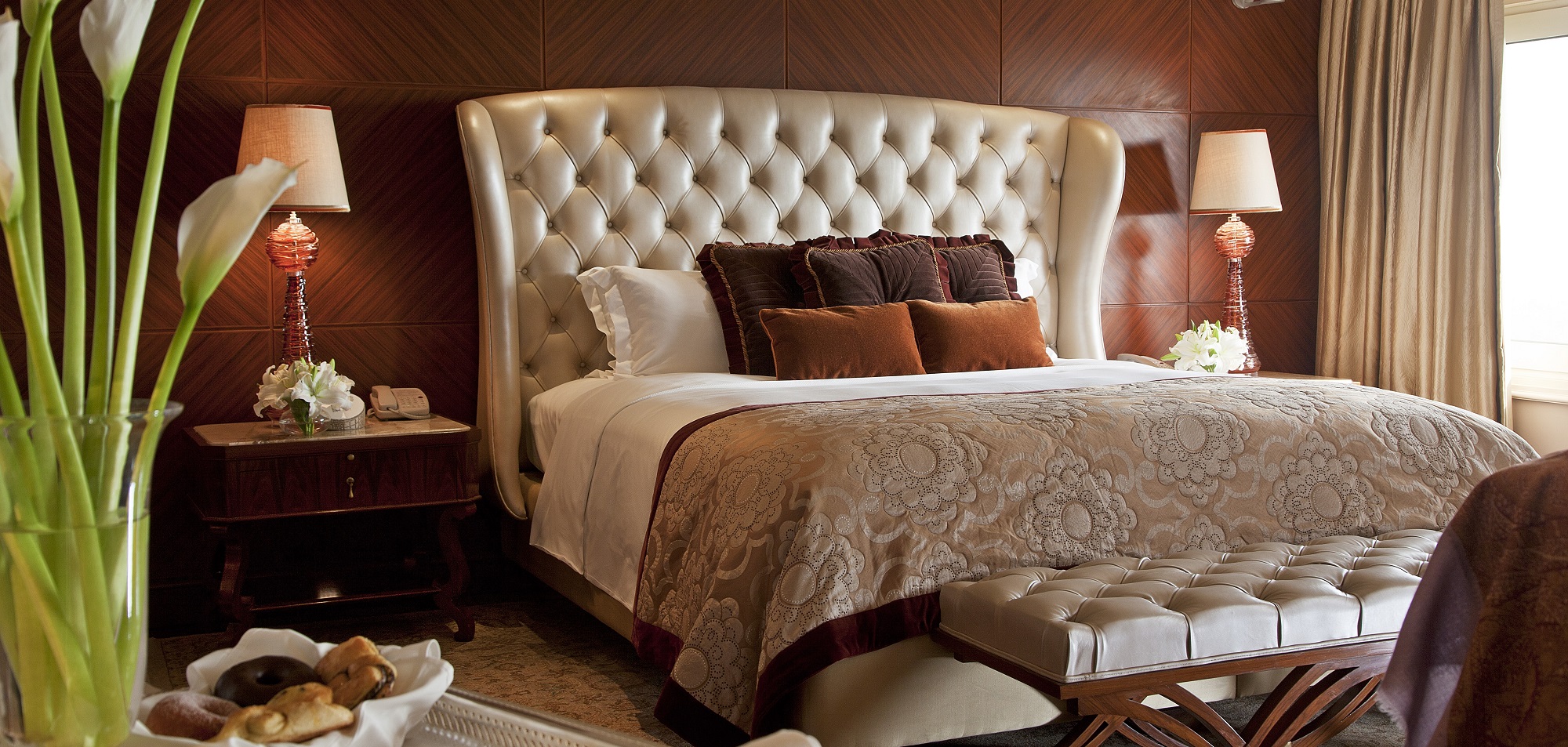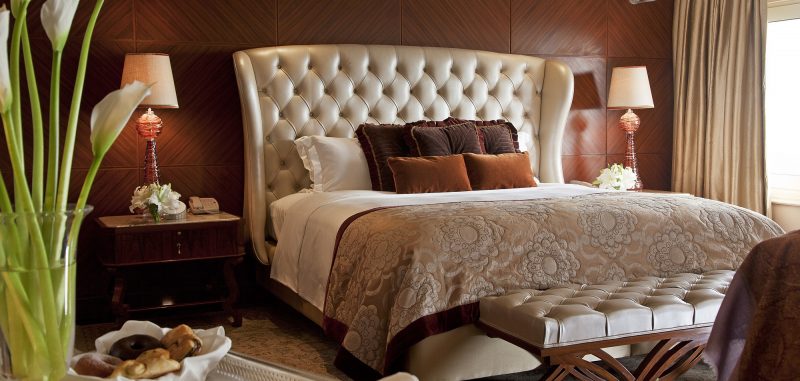 Pools
The hotel has a large, outdoor swimming pool.


Spa
A range of spa treatments drawn from ancient Indian traditions are available at Jiva Spa. There is also a state-of-the-art fitness centre.


Dining
Taj Palace is home to a several multi-award-winning fine-dining speciality restaurants and bars including:
> Masala Art: the hotel's award wining North Indian restaurant.
> Orient Express: A unique, European dining experience in an enchanting setting themed around the legendary train.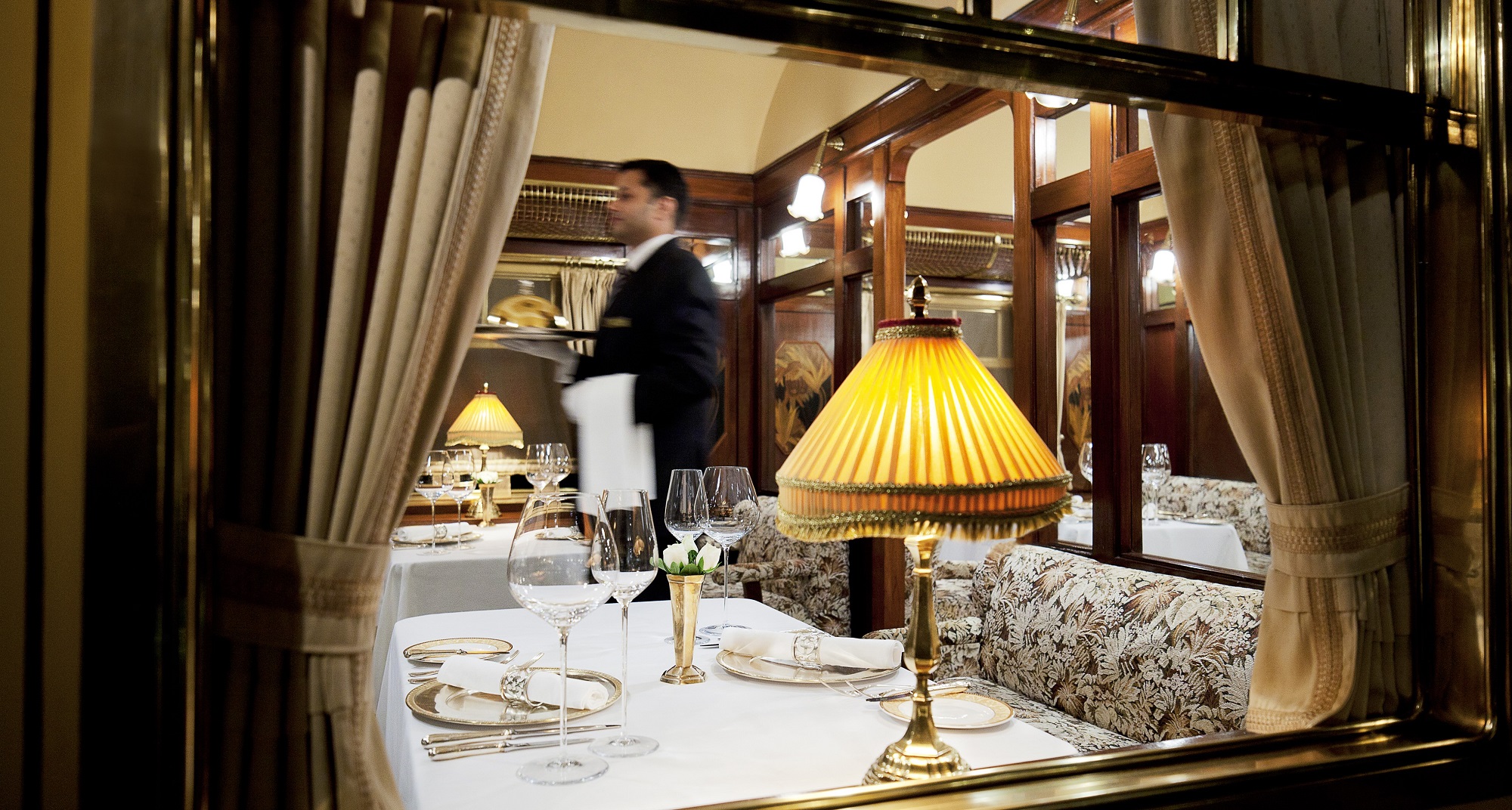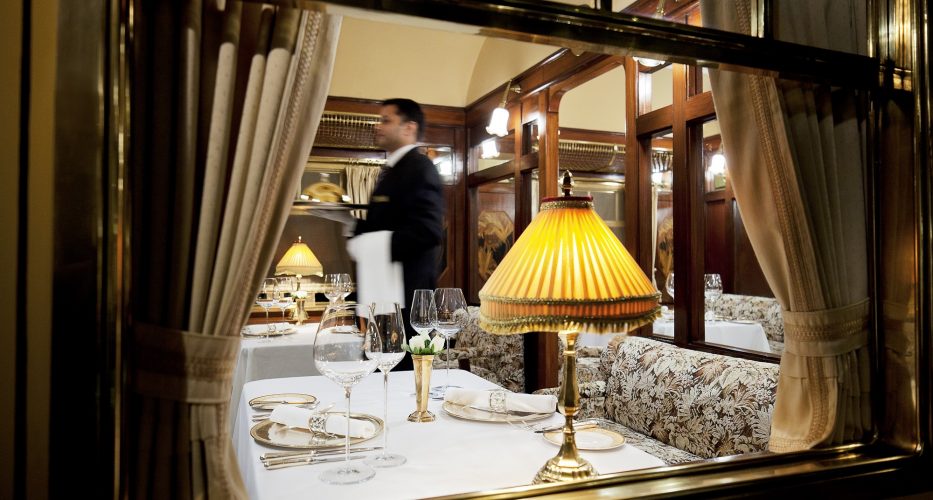 > Blue Ginger: Multi-award-winning Vietnamese cuisine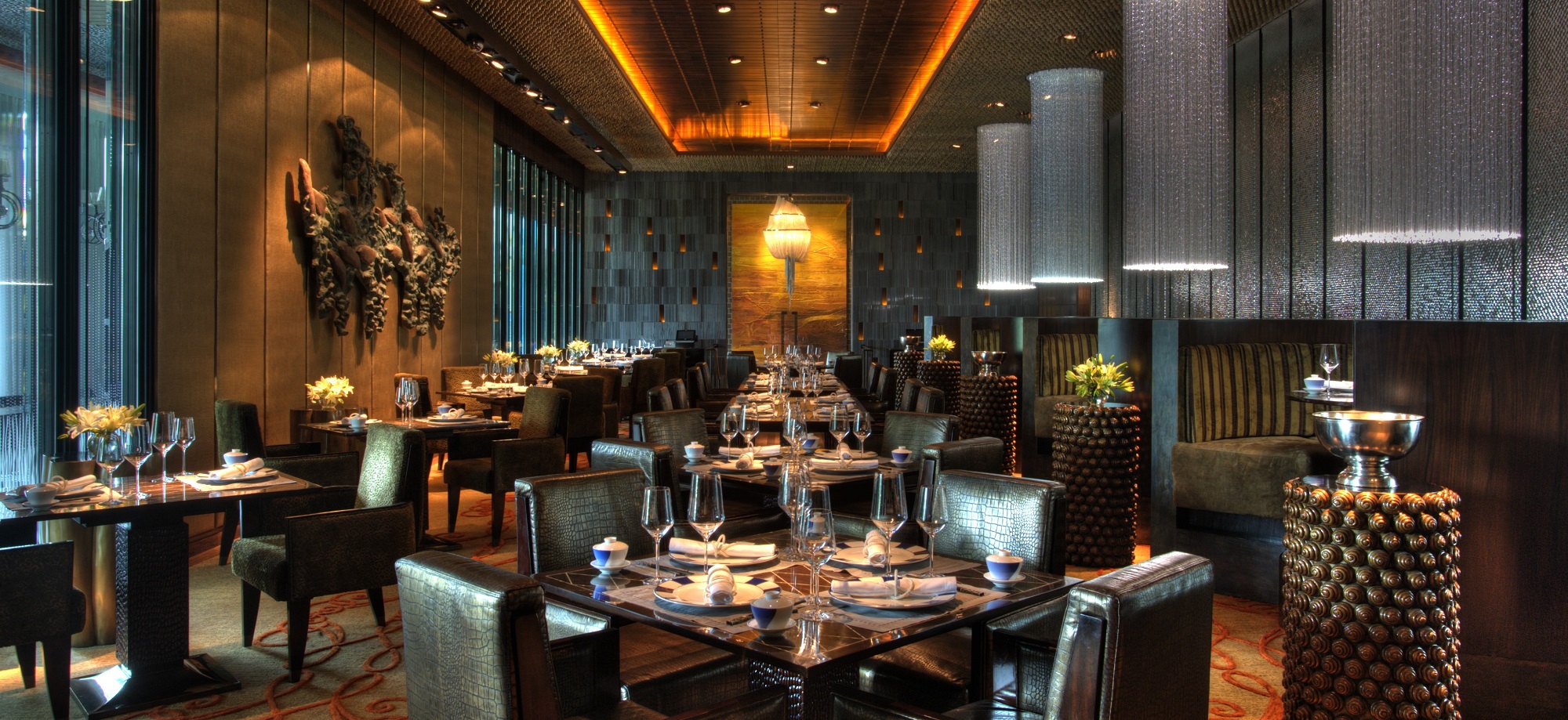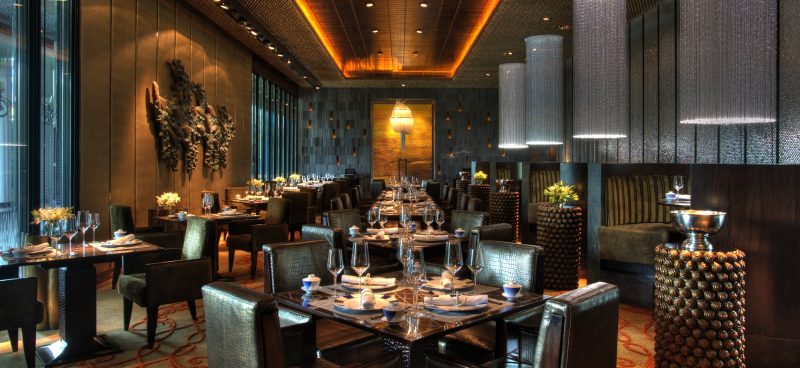 > Kafe Fontana: We enjoyed the international cuisine at the 24-hour diner, Kafe Fontana.
> Tea Lounge: Located in the lobby, Tea Lounge serves single-estate coffees, designer teas and quick bites.
> Blue Bar: A classy poolside bar with edgy décor.
Recommended experiences
The hotel's Classic High Tea at the Tea Lounge is a wonderland of teas and with classic accompaniments. A must!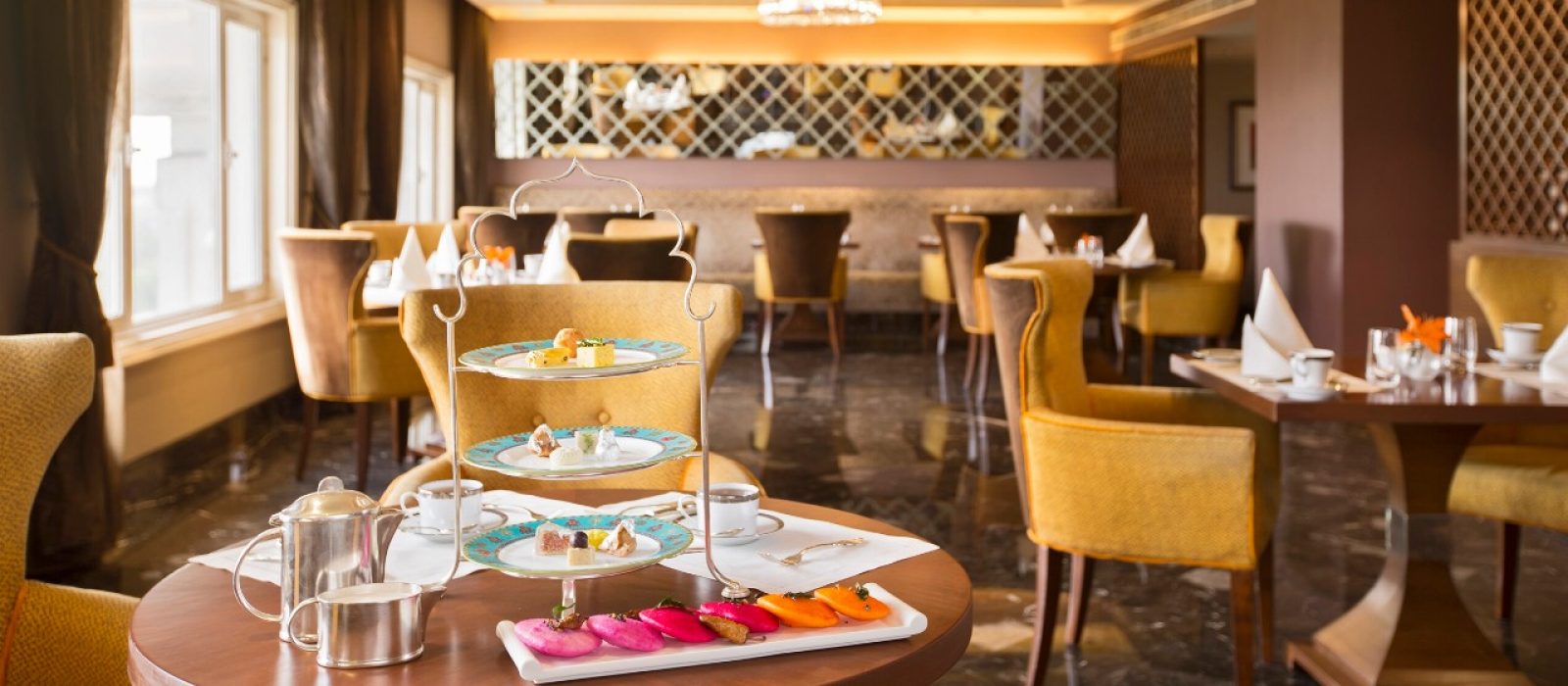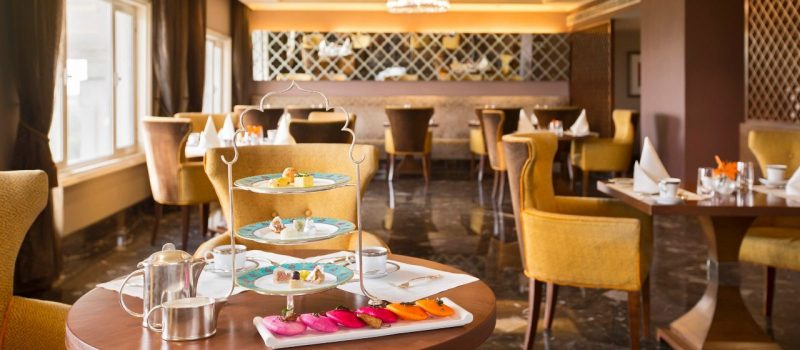 Final word
Taj Palace New Delhi has everything a discerning traveller needs for a short or long stay, for business or pleasure. It's a magnificent base from which to explore New Delhi and beyond.
…………………………..
THE OBEROI AMARVILAS, AGRA

WHERE: AGRA
WHO VISITED: Lynn Eaton from Spencer Travel
WHEN: April 2015
WHAT WE LOVED
This is quite simply a magnificent resort whose rooms and suites all face the Taj Mahal. The breath-taking, iconic edifice is just 600 metres away. The overall design and styling of the resort pays homage to the area's Mughal splendour and heritage with cascading fountains, arched passageways and gold leaf frescoes.
Rooms
Rooms are truly amazing, very spacious with beautiful bathrooms with separate baths and showers but come with a price point to match.
The Oberoi offers six different category of rooms and suites from the comfortable and spacious Premier Rooms with views of the Taj Mahal, teak bed and beautiful bathrooms, right up to the Kohinoor Suite with wall-to-wall windows and views of the Taj Mahal from every room.

Other categories of room include:
> Premier Rooms with Balcony
> Deluxe Suite
> Deluxe Suite with Balcony
> Luxury Suite

Pools
The Oberoi has a beautiful pool that is both under cover and in the open air, surrounded by private poolside pavilions – perfect for a romantic dinner by starlight.

Spa
The Oberoi Spa offers a full range of treatments with a view of the Taj Mahal. The spa's focal point is a dome-roofed, white marble steam room.

A state-of-the-art gymnasium is also located within the Oberoi Spa.
Dining
In addition to private dining services, The Oberoi is home to some wonderful F&B outlets including the rather simply named The Lounge and The Bar, as well as Esphahan and Bellevue restaurants.

Esphahan is the Oberoi's signature Indian speciality restaurant, open every evening for dinner with a smart casual dress code.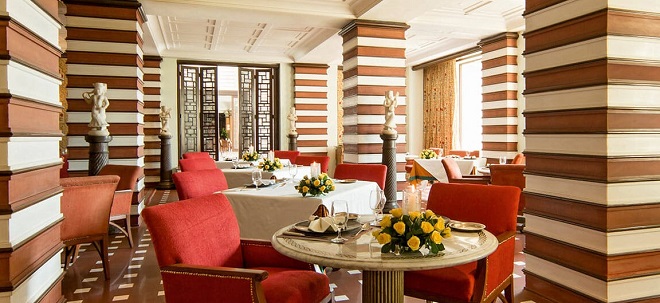 Bellevue is an all-day diner that serves the best of Indian and continental food.
Recommended experiences
The Oberoi offers a range of signature experiences including couples' spa treatmnt packages, Hindu wedding vow renewals, private dining and romantic star-lit dinners in private poolside pavilions served by a dedicated waiter.
Final word
The The Oberoi Amarvilas is a resort worthy of its location in such proximity to one of the world's greatest symbols of love, an architectural masterpiece and one of the wonders of the world.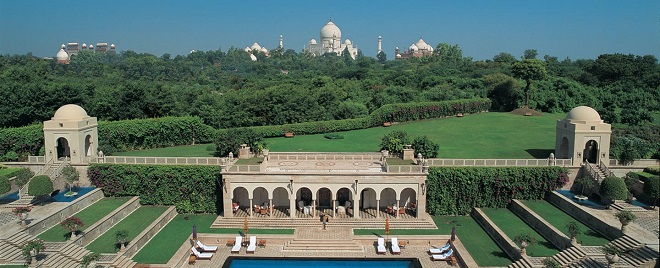 …………………………..
AMAN-I-KHÁS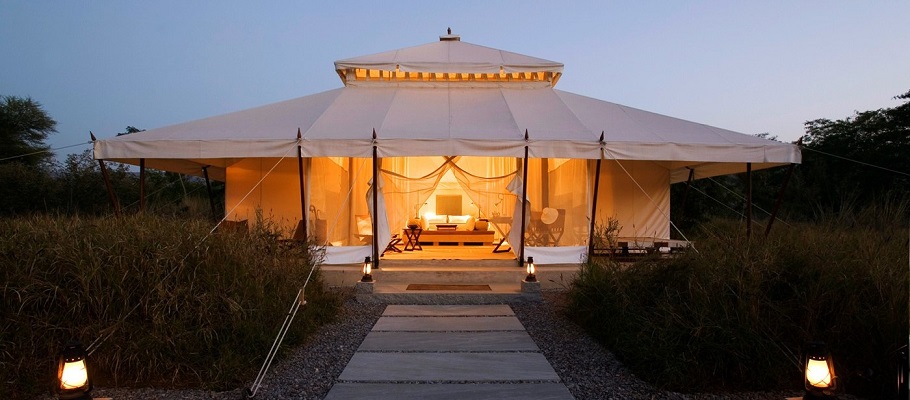 WHERE: RANTHAMBORE
WHO VISITED: Lynn Eaton from Spencer Travel
WHEN: April 2015
WHAT WE LOVED
Aman-i-Khás is a ten-tent luxury safari outpost on the doorstep of tiger sanctuary Ranthambore National Park, home to tigers, crocodiles, leopards, jackals, sambar deer and some 300 species of bird.
The park is also the setting for Ranthambore Fort, one of India's oldest, and is near Khandar Fort, perhaps the country's most dramatic.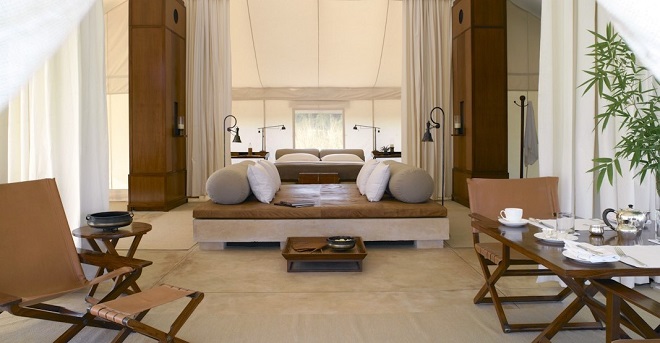 The soaring six-metre canopies of Aman-i-Khás' luxury tents are situated around a communal outdoor fireplace but all enjoy seclusion and privacy.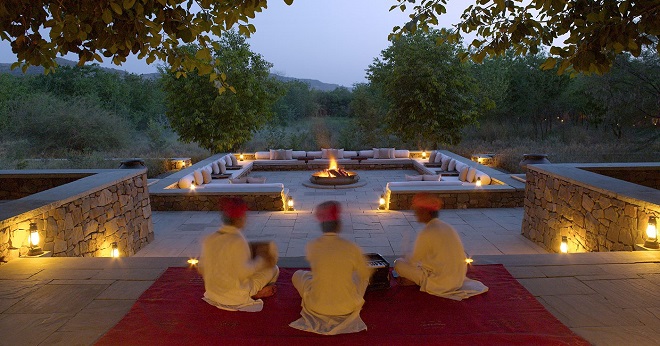 Rooms
The 10 air-conditioned tents are designed like Mughal pavilions with cotton drapes separating sleeping, dressing and bathing sections. The light-filled bathing area features a free-standing bathtub and shower.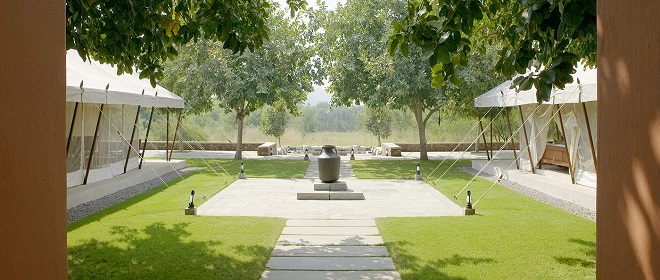 The tent has a mini bar and tea and coffee making facilities.
Pools
There is a lovely outdoor pool.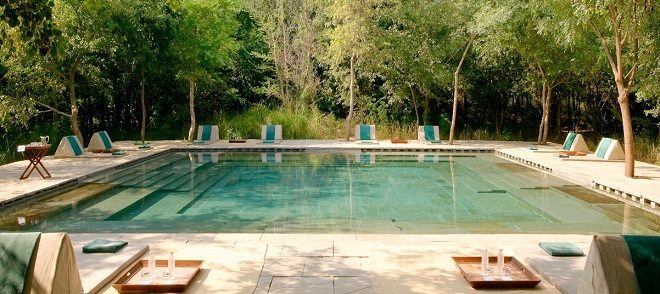 Spa
Traditional treatments as well as Reiki healing, body scrubs and facials soothe and revive in the property's spa tent. The spa's two treatment rooms are centred around a tranquil bubbling fountain.

Dining
Aman-i-Khás' lamp-lit Dining Tent has a large communal round table and smaller intimate tables.
Meals can be tailored to suit individual tastes, and the daily changing menu reflects seasonal produce sourced from the camp's organic garden. The menu typically serves Indian and Western dishes.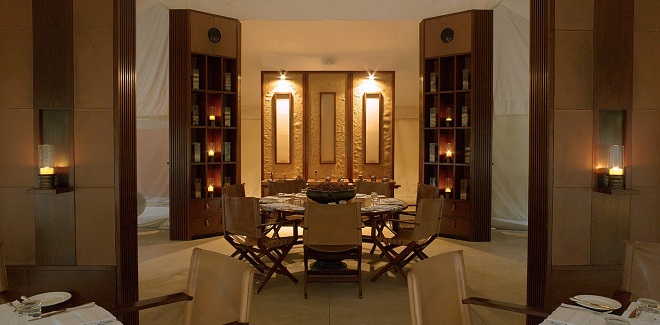 Picnic hampers and private bush dinners can also be arranged.
Recommended experiences
At the heart of the camp, the fire-pit can also be the setting for informal meals or simply a place to bask in the serenity of the wilderness and the star-filled sky.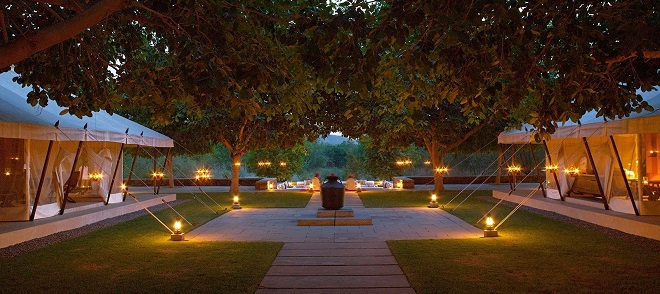 After a tiger-tracking safari, soak yourself in an aromatic baths prepared with fresh herbs from the property's organic garden. Taken in the comfort of your own tent, the baths can be combined with a number of other spa treatments. Just divine.
Final word
Aman-i-Khás is open seasonally from October until the end of May.
…………………………..
OBEROI VANYAVILAS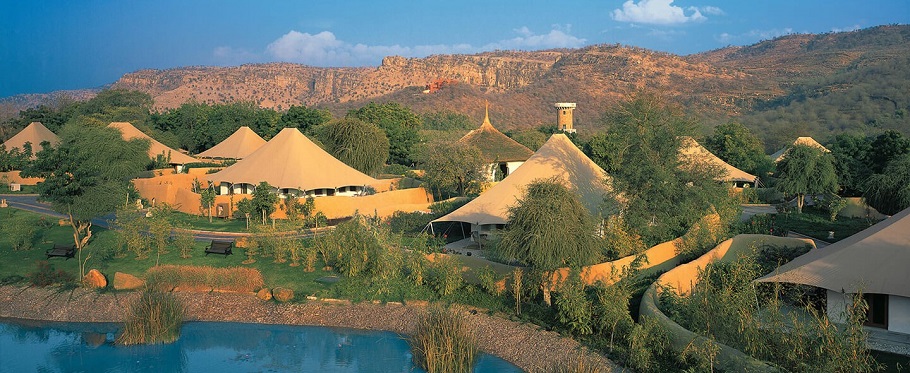 WHERE: RANTHAMBORE
WHO VISITED: Lynn Eaton from Spencer Travel
WHEN: April 2015
WHAT WE LOVED
Spread across twenty acres of gardens, The Oberoi Vanyavilas is home to luxury tents and an atmosphere that evokes the times of the Raj. The resort's tents are laid-out in clusters that ensure privacy, but also enable families or small groups to stay close to each other.
Rooms
Accommodations here are described as luxury tents but they are much more like hotel suites than conventional tents. They are erected on polished timber floors with canopied four-poster king or twin beds, a private terrace and bathrooms fitted with standalone bathtub and separate shower.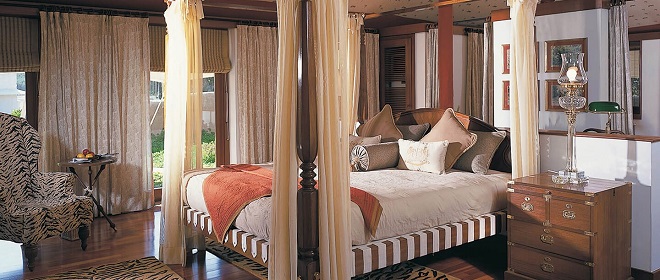 All tents are temperature controlled and triple canopied to keep the living spaces cool.
Pools
The Oberoi has a lovely outdoor pool.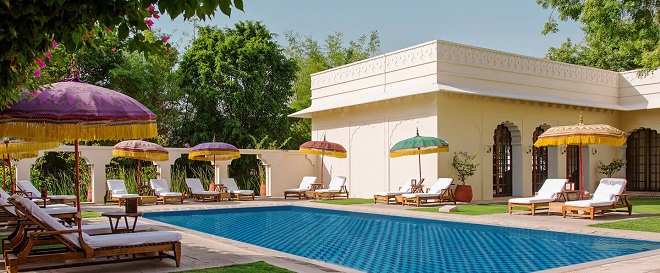 Spa
Overlooking a lily pond, The Oberoi Spa offers signature therapies and massage. Each spa suite has two massage beds, a steam room, shower, standalone bathtub and private terrace with views across the water.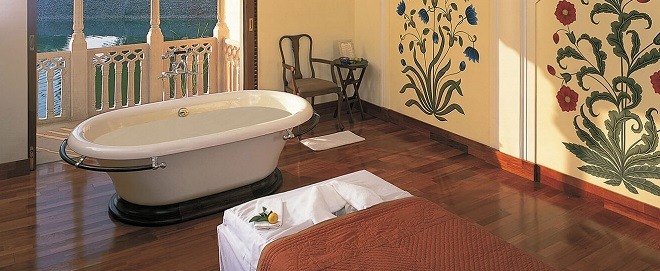 Dining
The property's dining room has an inner main hall with full length windows, and an outer courtyard. In the evening the dining room becomes a romantic, candlelit dining space.

Private dining can be arranged in the restaurant garden or mango grove.
Tea, board games and refreshments can be enjoyed from the comfort of a sofa in the colonial-style bar. The centrepiece of which is a green marble fireplace that comes into its own in winter.
Recommended experiences
The resort's resident horticulturalist is available for guided morning or evening walks to learn more about the area's biodiversity, explore the kitchen garden or even plant a sapling to commemorate guests' weddings, birthdays or significant events.
Final word
Just ten minutes drive from Ranthambhore National Park, The Oberoi Vanyavilas offers the opportunity to see Royal Bengal Tigers in the wild and enjoy the luxuries of an Oberoi experience. A match made in heaven.
…………………………..
RAAS DEVIGARH RESORT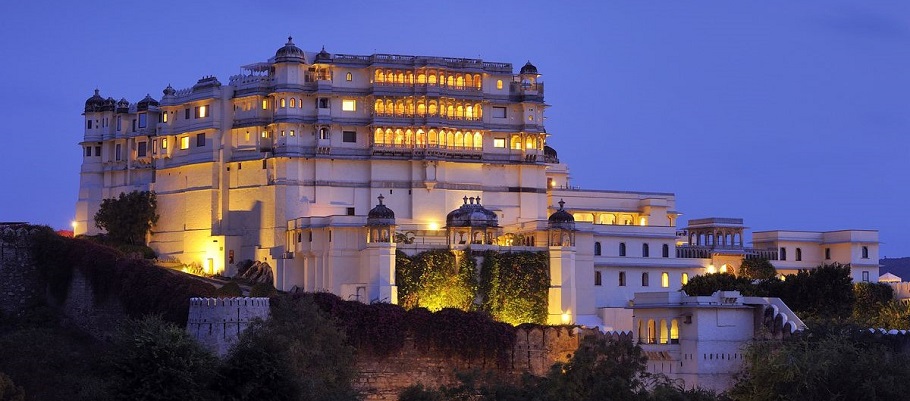 WHERE: UDAIPUR
WHO VISITED: Lynn Eaton from Spencer Travel
WHEN: April 2015
WHAT WE LOVED
The stunning RAAS Devigarh Resort is housed in an imposing 18th-century palace bedecked with turrets and balconies, nestled in the Aravali hills, overlooking the village of Delwara, Udaipur.
28 kms away from Udaipur, this all suite, boutique luxury resort has been transformed into a minimalist contemporary hotel while conserving the ancient exterior.

It lies 9 km from the ruins of the 10th-century SahastraBahu Temples.
Rooms
All suites are very modern in design with contemporary furnishings and stunning bathrooms with marble baths and vanities. Each spacious suite is adorned with grand furnishings and intricately carved archways. They are air-conditioned, and feature a flat-screen TV, an iPod dock and an electric kettle. The large bathrooms come with a bathtub, shower and hairdryer.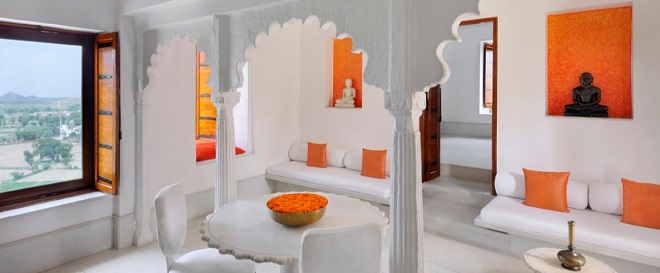 The contemporary suites are bright, minimalist and feature balconies, or private gardens and tented terraces. A Jacuzzi and a plunge pool are available in the Devigarh Suite.
The resort offers a chic set of 39 suites in four categories:
> Garden Suite
> Palace Suite
> Aravali Suite
> Devigarh Suite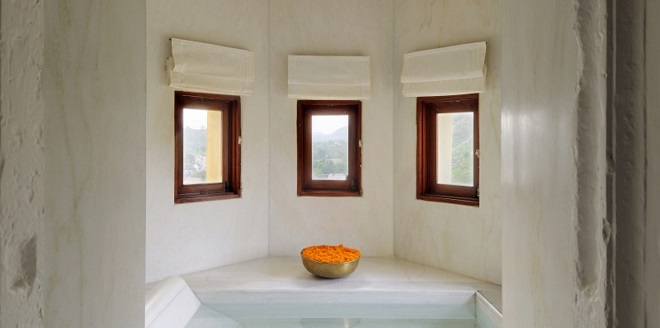 Pools
The resort has a green marble outdoor pool, a hot tub and a croquet lawn.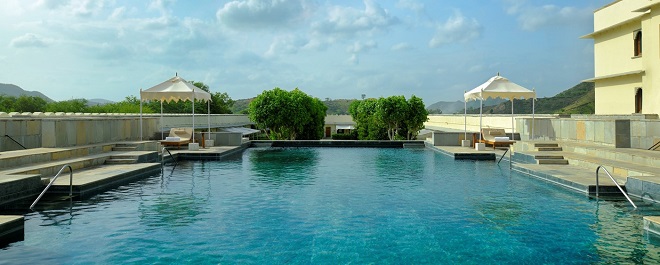 Spa
There is a full-service guest spa and an exercise room on the property.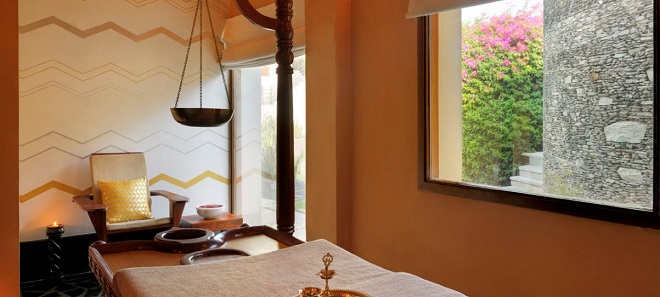 Dining
There's an elegant, glistening white restaurant with a terrace in the fort's upper pavilion overlooking the pool and distant hills, plus private dining areas and a bar with a tasting menu. The restaurant serves Indian specialities and international favourites. In-room dining is available.
Recommended experiences
Enjoy a guided heritage walk around the palace and the tiny village of Delwara that sits just below the resort.
Final word
RAAS Devigarh Resort is a breath-taking hilltop palace that has been wonderfully restored and converted into a luxurious and sophisticated retreat. This is truly a 5 star resort.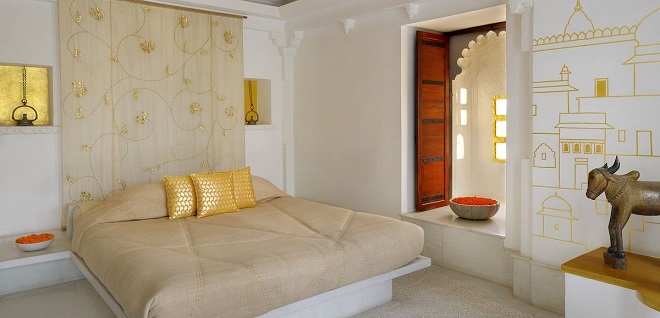 It is the perfect resort for couples however, with lots of steps, it would not suit anyone with mobility issues or poor fitness.
…………………………..
TAJ LAKE PALACE




WHERE: UDAIPUR
WHO VISITED: Lynn Eaton from Spencer Travel
WHEN: April 2015
WHAT WE LOVED
Taj Lake Palace in Udaipur simply has to be one of the most romantic hotels in the world. Built in 1746 as a pleasure palace, it is now an iconic hotel that has been featured in many films and has hosted Hollywood royalty.
The arrival at the Taj Lake Palace is unforgettable as you're greeted by a shower of rose petals and a platter of refreshments as you step off the boat and are escorted under a sequinned, embroidered umbrella by guards.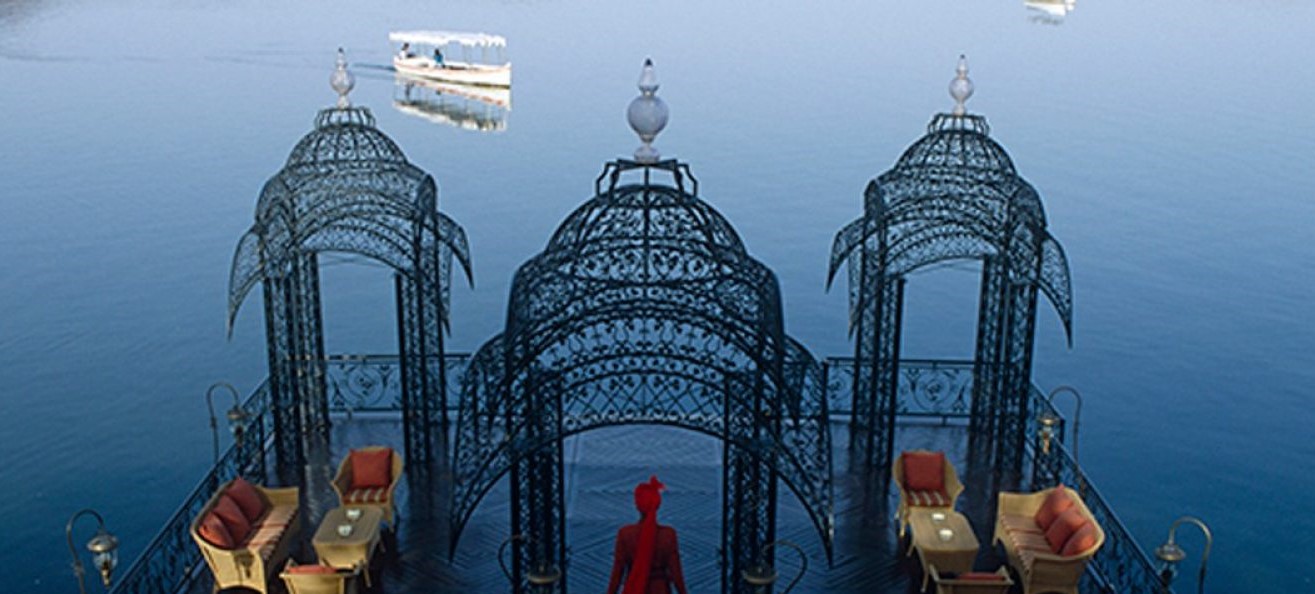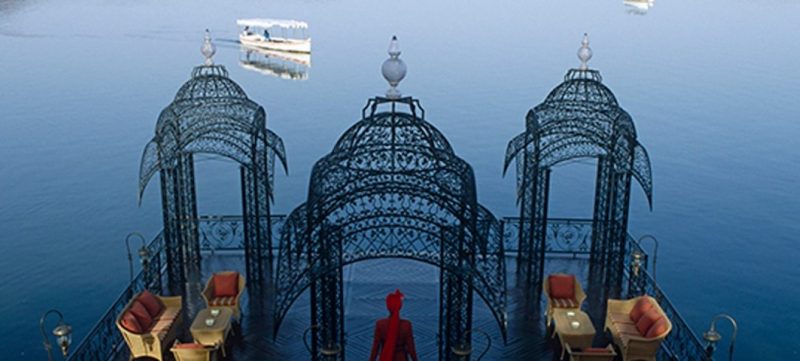 Rooms
This wonderful hotel is home to 66 luxurious rooms and 17 grand suites each stunning views over Lake Pichola on which it appears to float, the neighbouring City Palace, Aravalli Hills, Machla Magra Hills and Jag Mandir.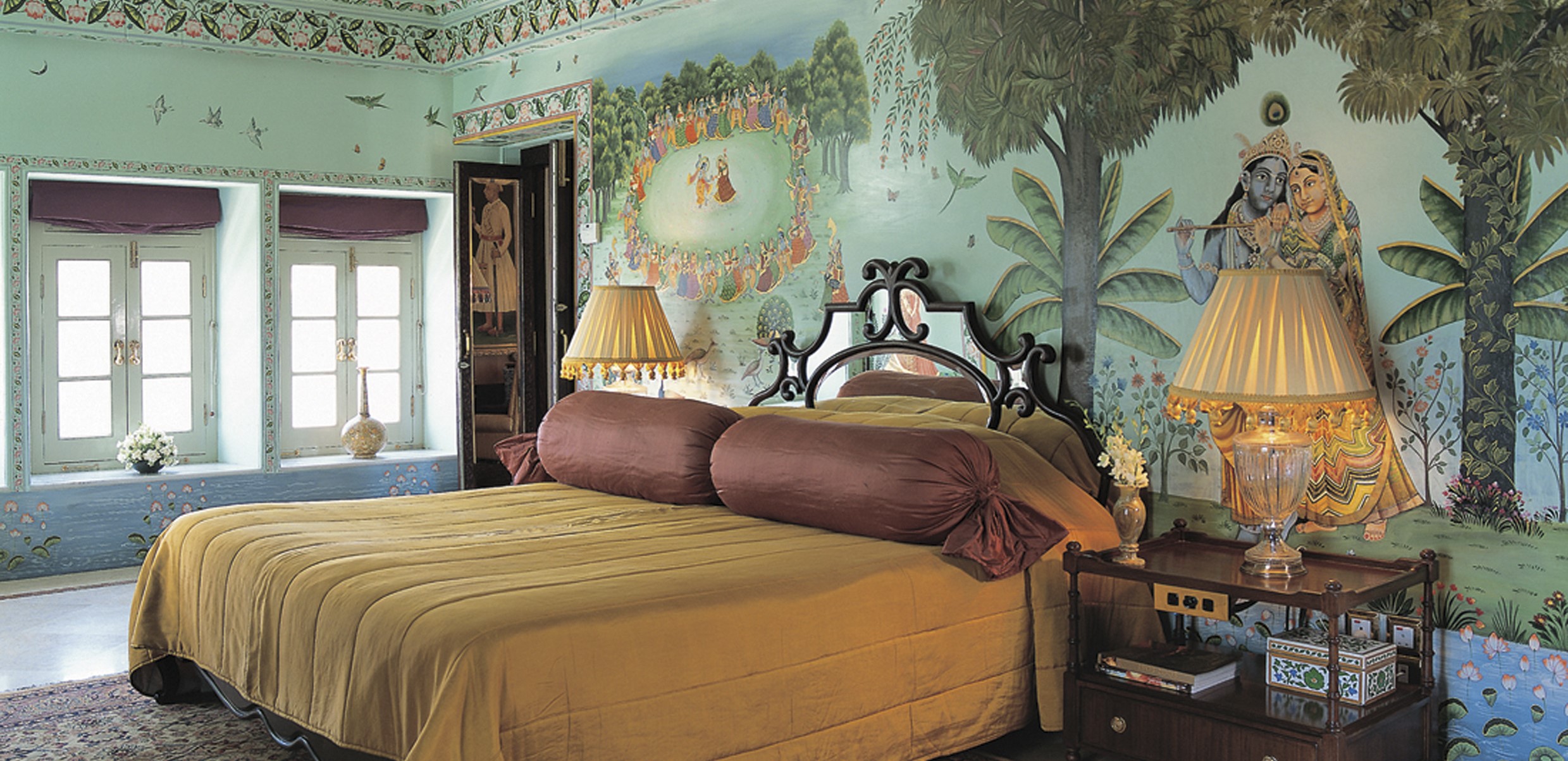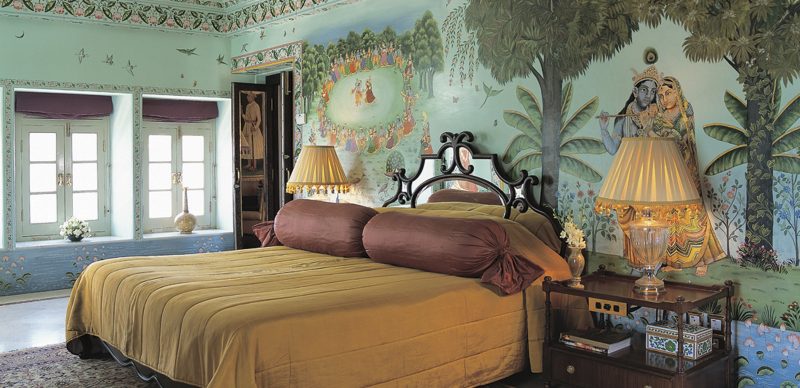 There are six different categories of room:
> Luxury Rooms
> Palace Rooms
> Historical Suite
> Royal Suites
> Grand Royal Suites
> Grand Presidential Suite
We had a beautiful room overlooking the City Palace furnished with beautiful Indian décor and modern marble bathrooms with large spa bath and separate walk in showers. All rooms are spacious with a small sitting area in the bedroom.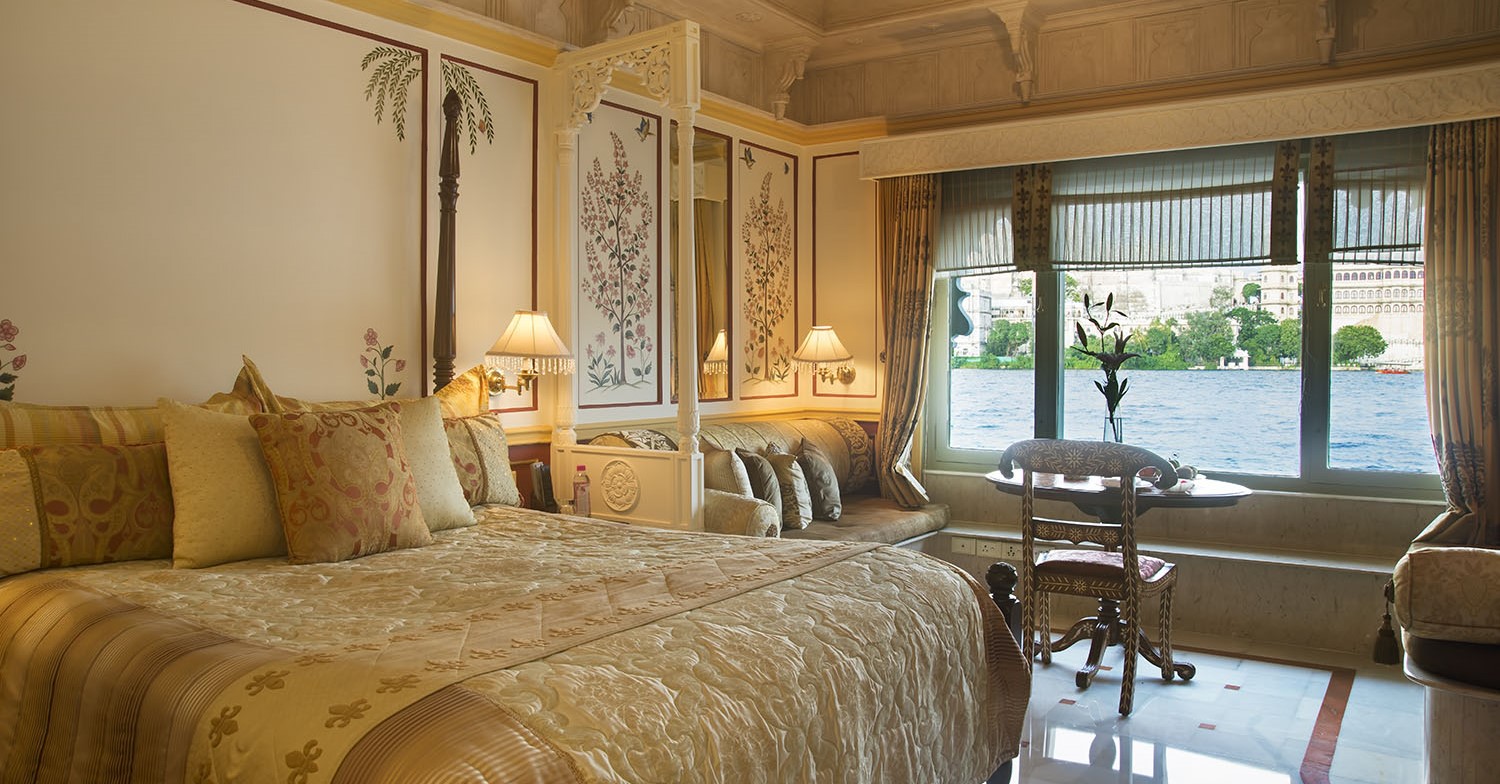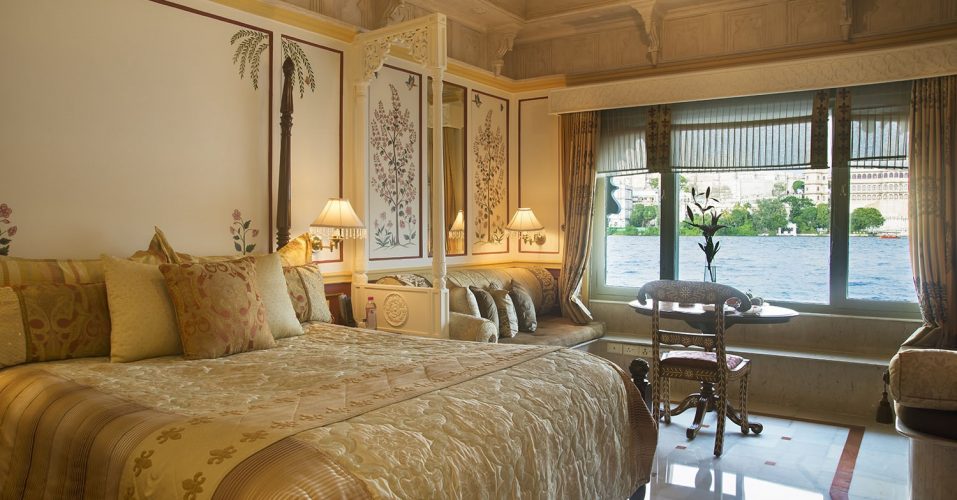 All rooms have a 24 hour butler service.
Smoking & non-smoking accommodation is available.
Pools
The hotel boasts magnificent grounds and a large outdoor swimming pool.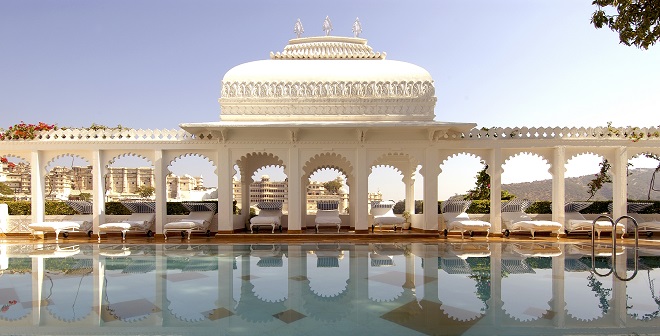 Spa
Jiva Spa offers a full range of treatments that draw on the ancient wellness traditions of India. Uniquely, Jiva Spa has facilities aboard a boat for treatments on the lake itself. Very decadent, indeed.
Dining
The hotel has 3 restaurants, all day dining restaurant serving international food including some specialty Indian dishes.
Neel Kamal restaurant serves authentic Rajasthani and other dishes from India.
The open-air Bhairo restaurant (seasonal) serves contemporary European cuisine situated on the roof of the hotel.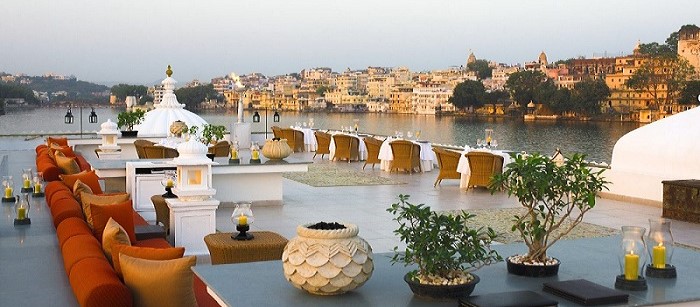 Jharokha brings informal, all-day dining from an overhanging balcony that overlooks the serene waters of Lake Pichola.
In the evening, signature martinis (a nod to 007), cocktails and a selection of premium spirits are available at the Amrit Sagar bar.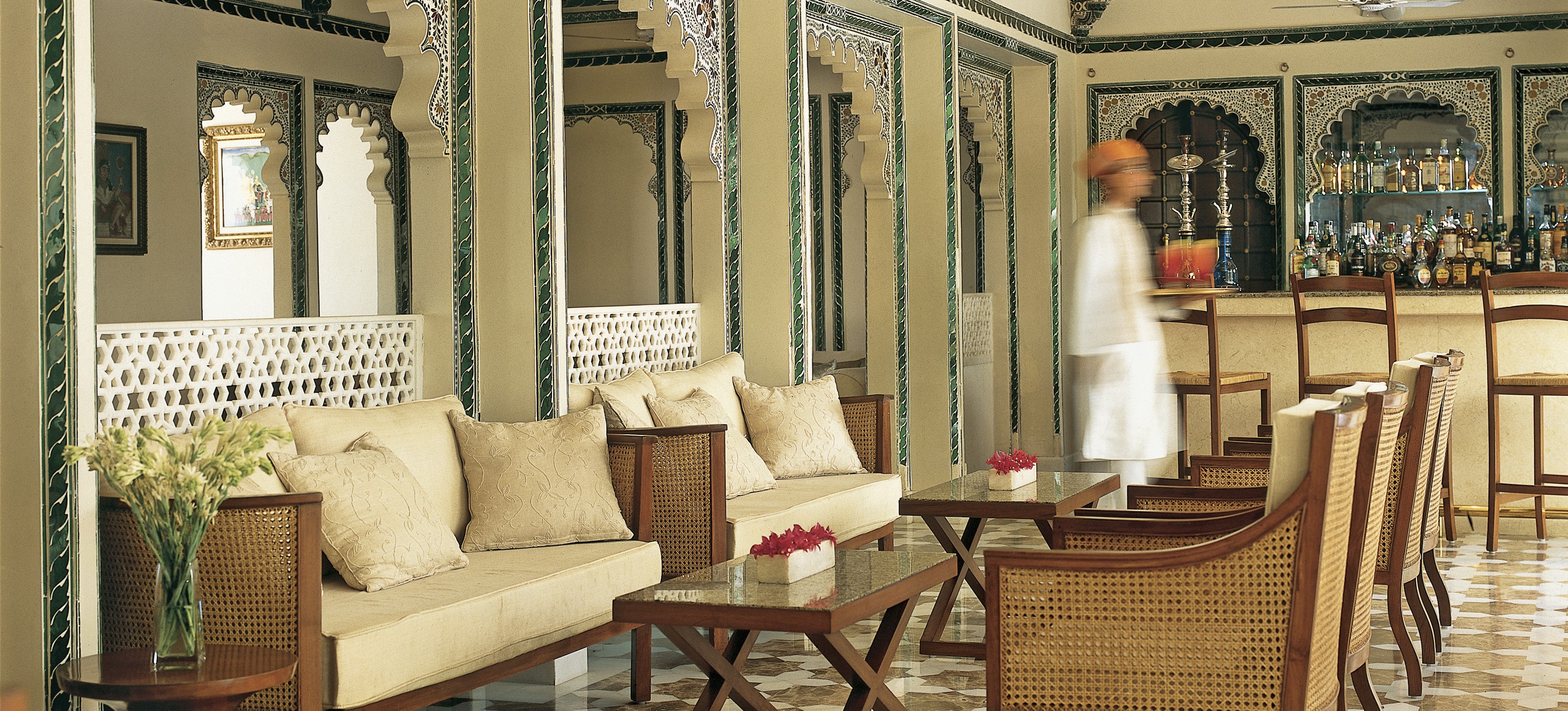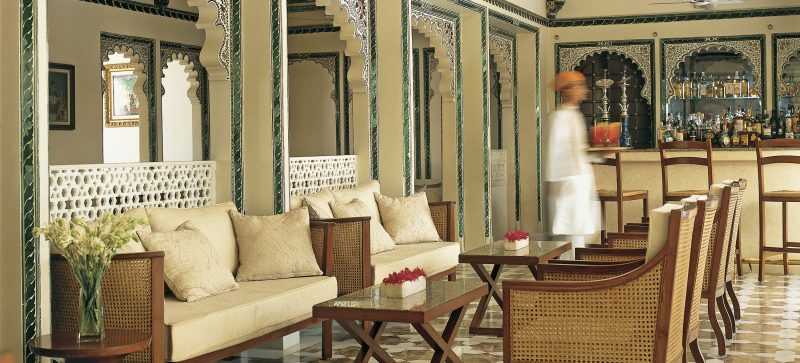 24-hour in-room dining is also available.
Recommended experiences
Beyond indulging in a treatment aboard the Jiva Spa boat, the hotel's Heritage walk provides an insightful and entertaining look around the palace enhanced with lively tales, and the anecdotes of kings and princes who once lived at this palace.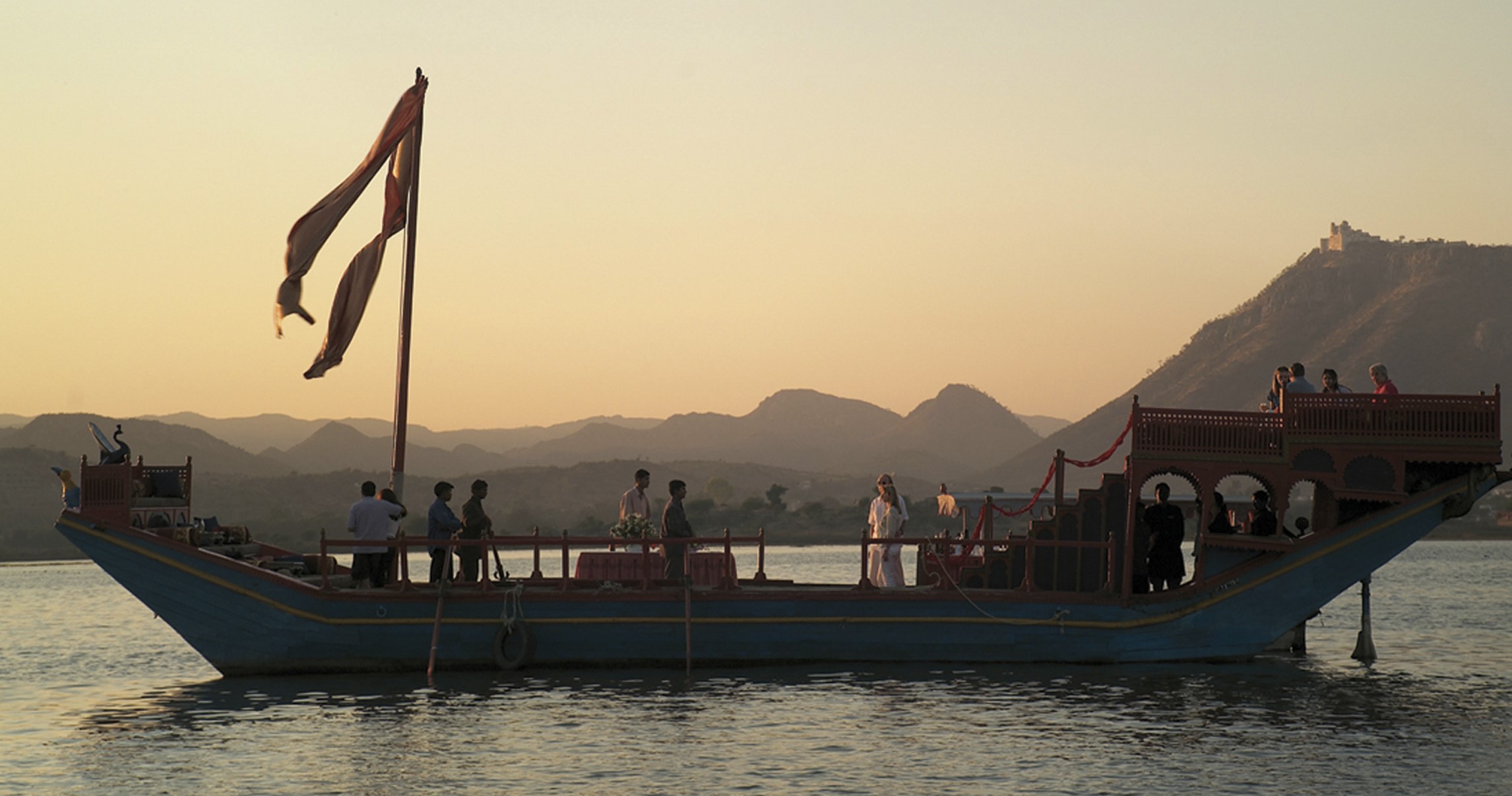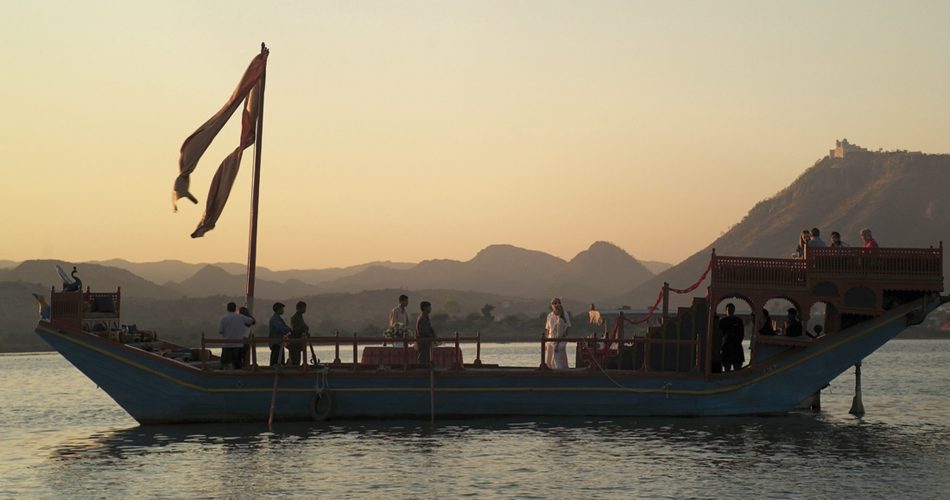 Final word
One word: Bucketlist.



…………………………..
THE OBEROI UDAIVILAS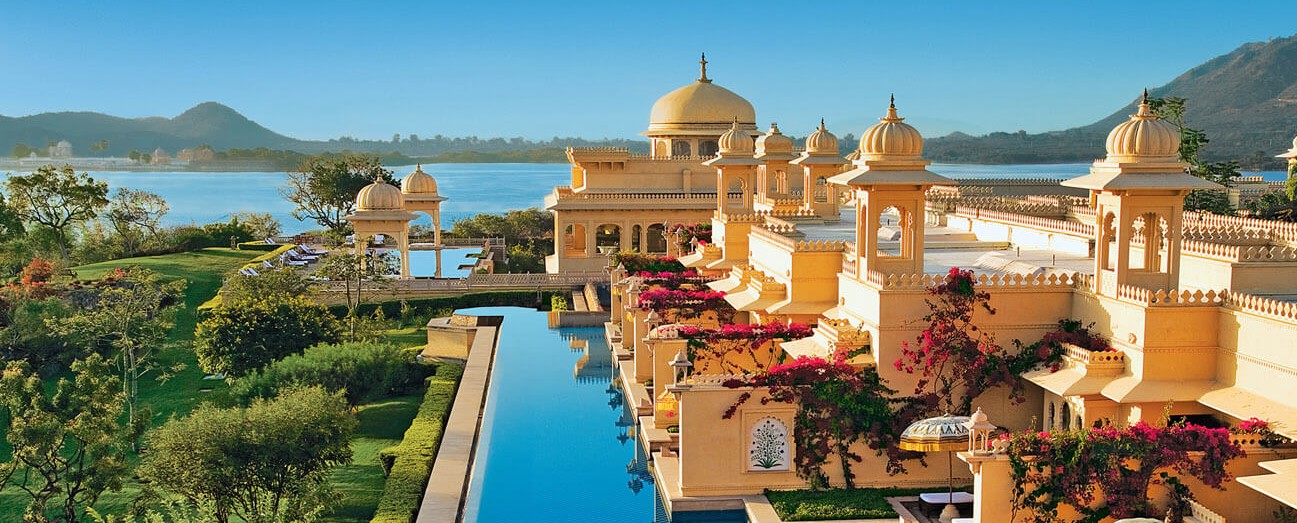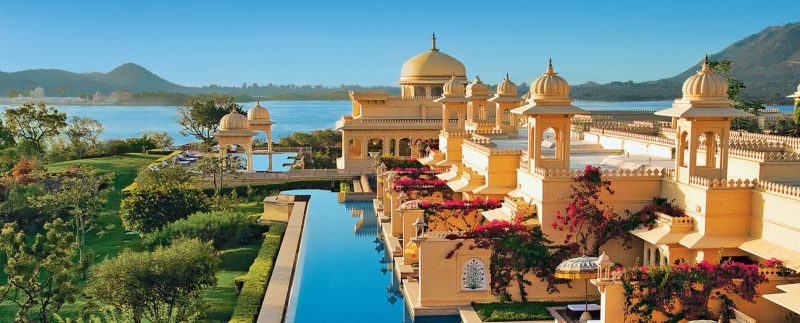 WHERE: UDAIPUR
WHO VISITED: Lynn Eaton from Spencer Travel
WHEN: April 2015
WHAT WE LOVED
This absolutely deluxe hotel is designed in the style of a palace with grand, interconnecting domes and corridors that cross tranquil, constructed waterways.
The hotel is situated across the Lake from the Taj Palace Hotel.


Located on the bank of Lake Pichola, The Oberoi Udaivilas is set on fifty acres, twenty of which are a wildlife sanctuary.
Rooms
All rooms have queen, king or twin rooms with small sitting areas. All have marble bathrooms with separate showers.
Several rooms have their own private pools and terraces.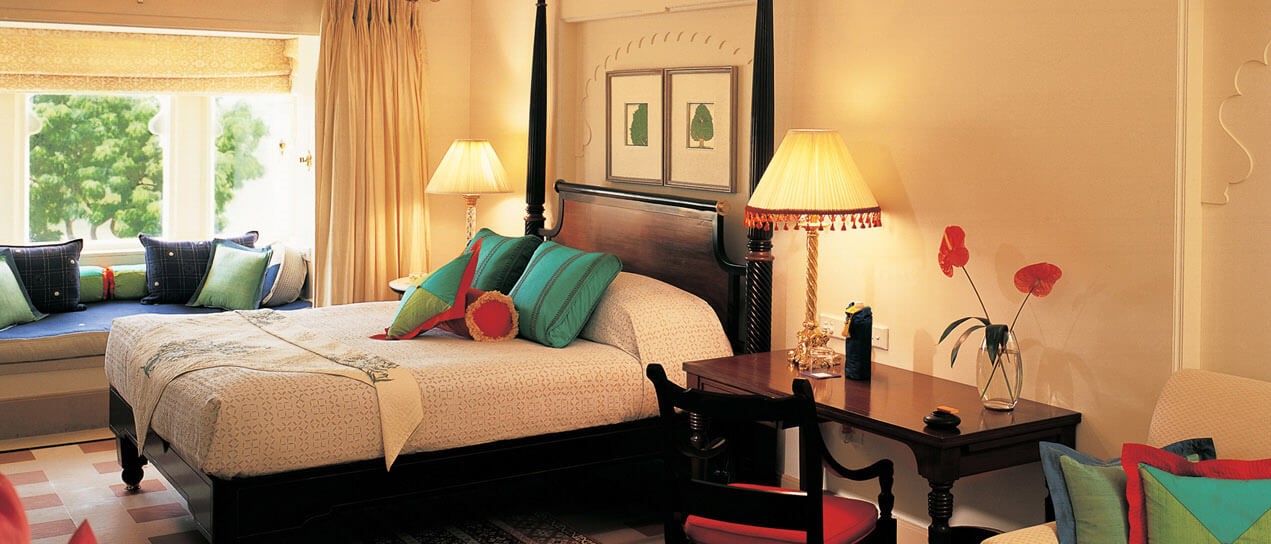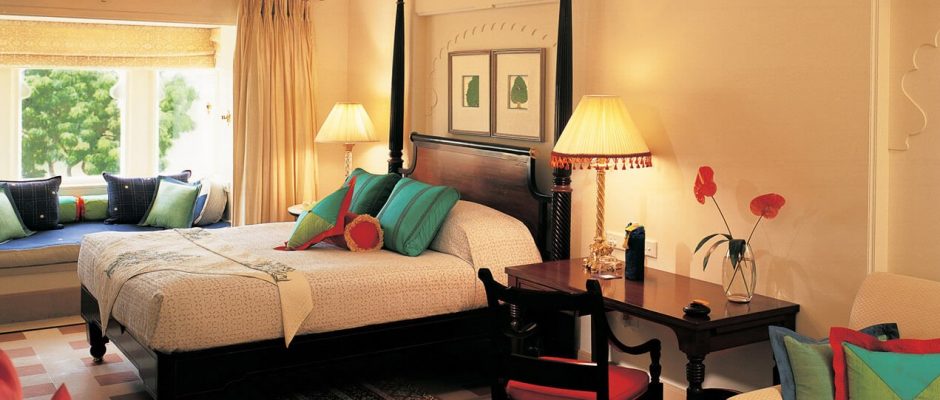 Beautiful rooms are available in the following categories:
> Premier Rooms
> Premier Rooms with Pool View
> Premier Room with Semi Private Pool
> Luxury Suite with Private Pool
> Kohinoor Suite with Private Pool


Pools
The resort has two wonderful outdoor swimming pools.
Spa
The resort's beautiful spa offers therapies that use natural oils, and international and Ayurvedic techniques. There is also a well-equipped fitness centre.
Dining
Suryamahal offers daytime dining with stunning views of the hotel's spectacular gardens, Lake Pichola and the City Palace.
The adjoining, outdoor dining space – Chandni, also enjoys wonderful views across Lake Pichola, and serves up a menu of classical Western and Indian cuisine.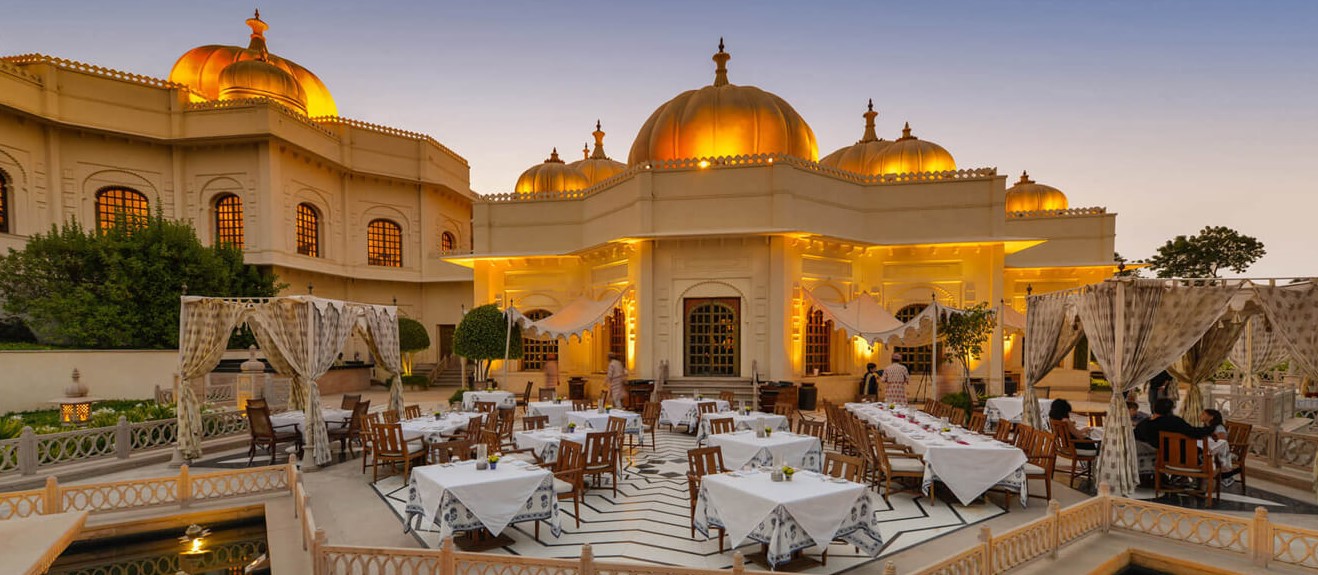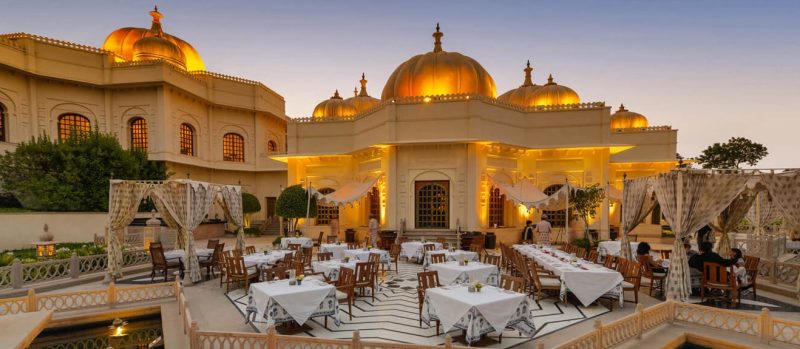 Udaimahal is open in the evening with a menu that features rare Indian dishes and reinvented classics.
Private dining is also available in the secluded spaces like an intricately carved dome by the pool.
The bar is also a popular place for guests to wind down.


Recommended experiences
Enjoy a leisurely lunch or afternoon tea while cruising on a boat in the beautiful Lake Pichola surrounded by the majestic views of the City Palace and Jagmandir.
Final word
Udaipur is the legendary land of kings and palaces, history and pageantry, perfectly reflected in every part of The Oberoi Udaivilas.
…………………………..
MOUNTBATTEN LODGE RANAKPUR


WHERE: RANAKPUR, RAJASTHAN
WHO VISITED: Lynn Eaton from Spencer Travel
WHEN: April 2015
WHAT WE LOVED
Owned by the grandson of Maharaj Ratan Singh of Jodhpur, Mountbatten Lodge is an exclusive 4 suite property in a stunning location that aims to recreate a sense of colonial times and the days of The Raj.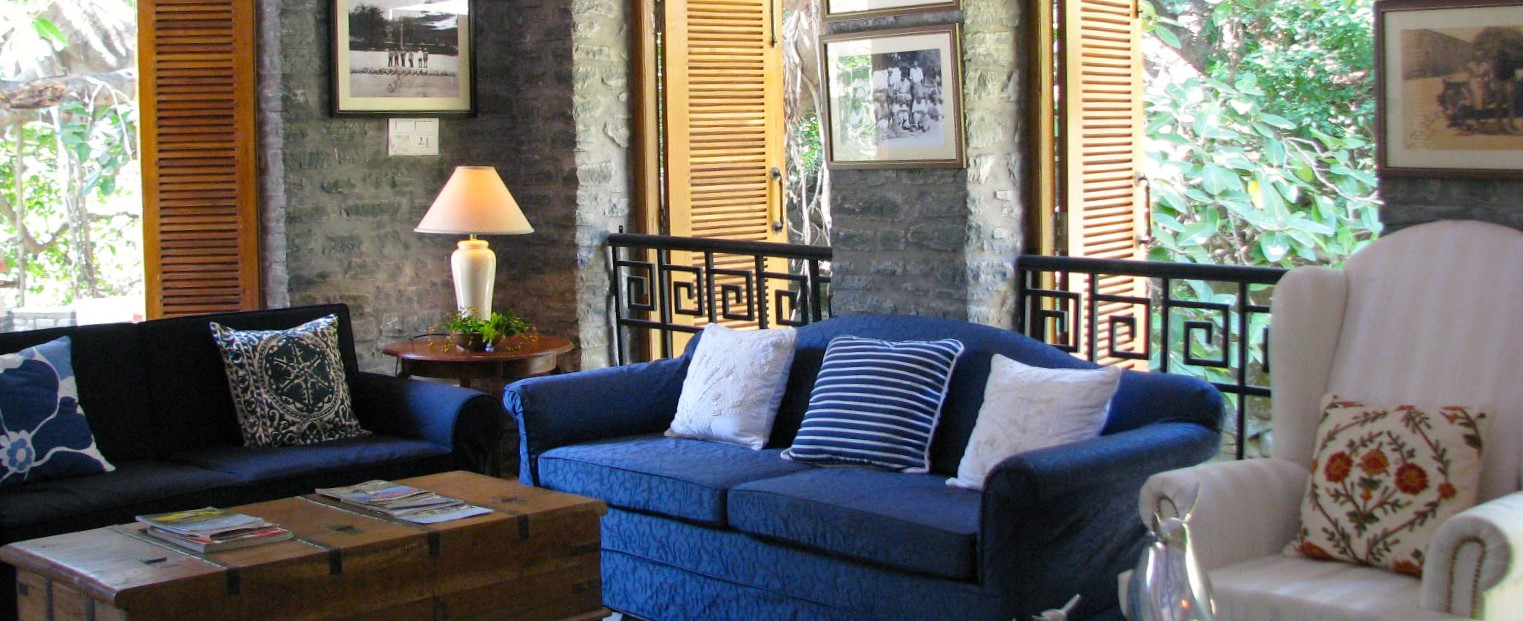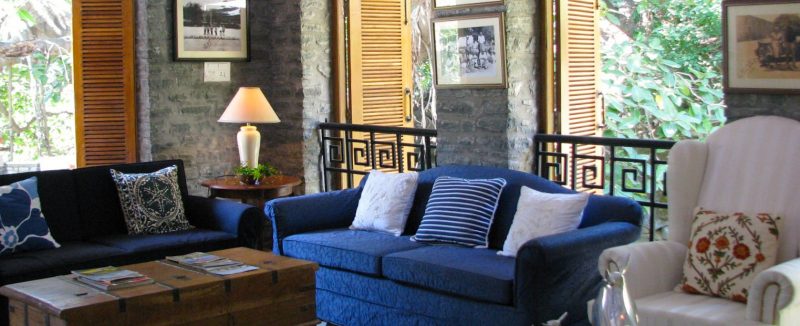 The Lodge, Ranakpur borders the Kumbalgarh wildlife sanctuary and has two significant historical sites right on its doorstep – the famous Ranakpur Jain Temples and The Kumbalgarh Fort.
Rooms
Of the property's 4 suites, 2 are Individual Suites each with a private plunge pool. The other 2 are Interconnected Suites (family Villa-with 2 bedrooms) with a shared swimming pool.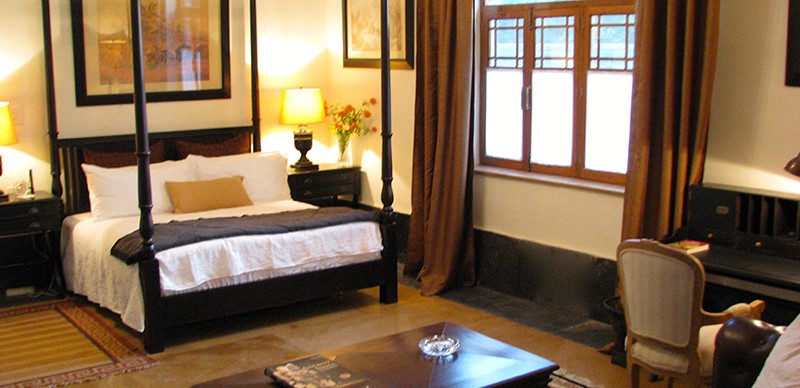 Pools
The individual suites have their own pools as described above.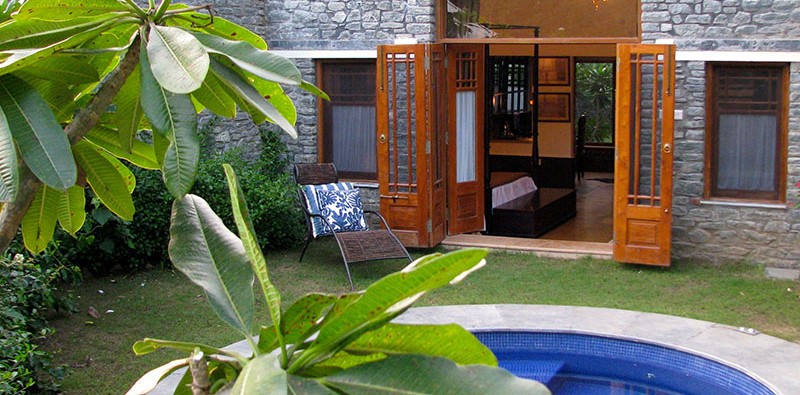 Spa
There is no spa on this divine, tiny property.
Dining
The lodge serves meals that are a combination of Indian, BBQ, Continental and Anglo Indian that make use of local, seasonal ingredients.
Recommended experiences
The property offers a wonderful selection of short and extended animal safaris and tours to nearby attractions like Ranakpur temple, Kumbhalgarh fort, even a late-afternoon drive to 'sunset point' for champagne sundowners.
Final word
It would be a wonderful 2 night stopover between Jodhpur and Udaipur. Whilst there, you can take a safari by jeep elephant or horseback or visit the amazing Ranakpur Temples.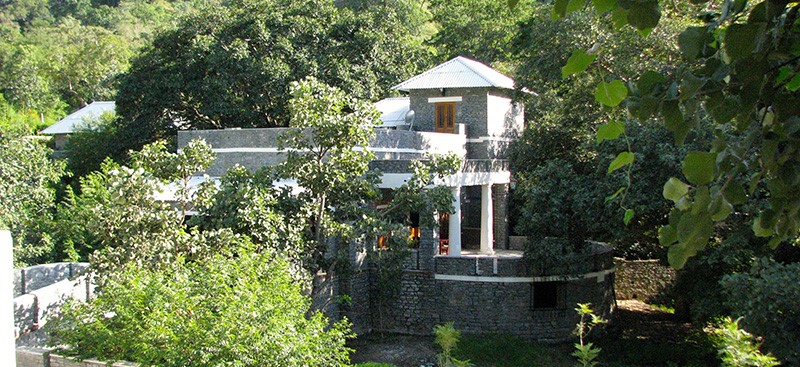 …………………………..
UMAID BHAWAN PALACE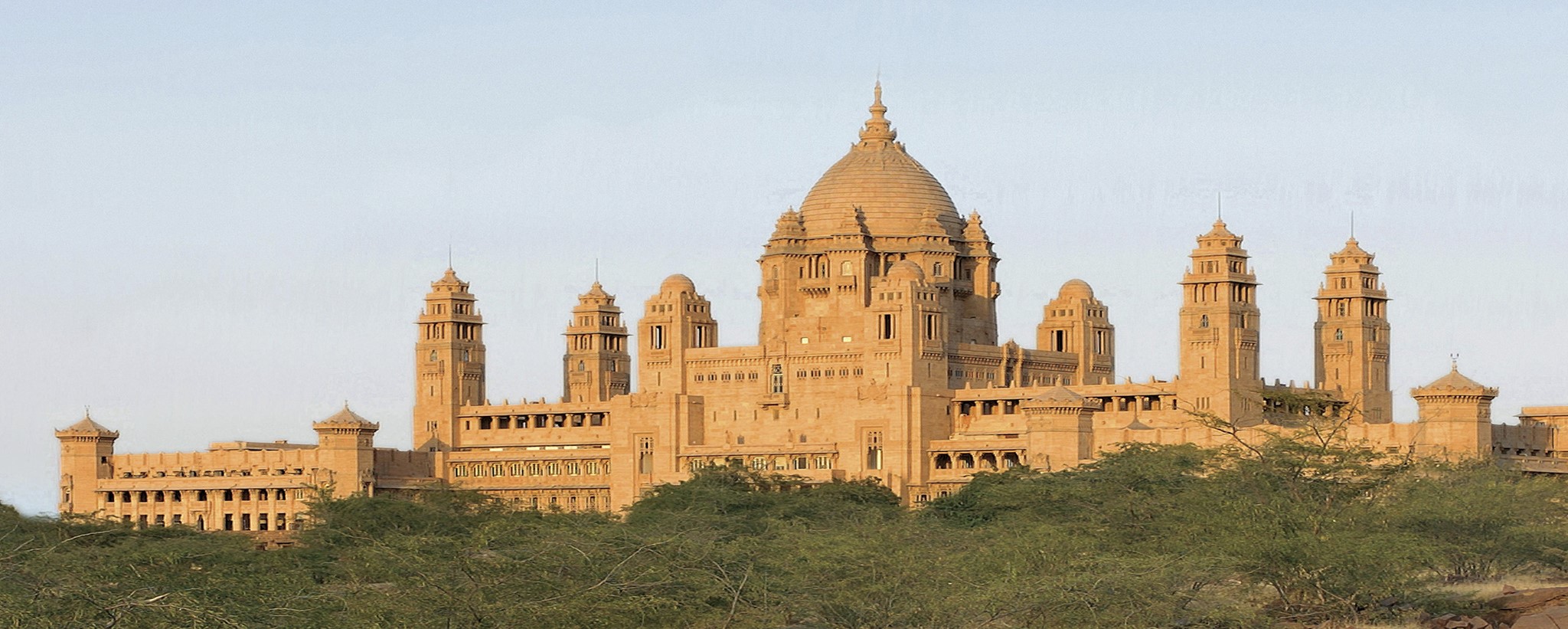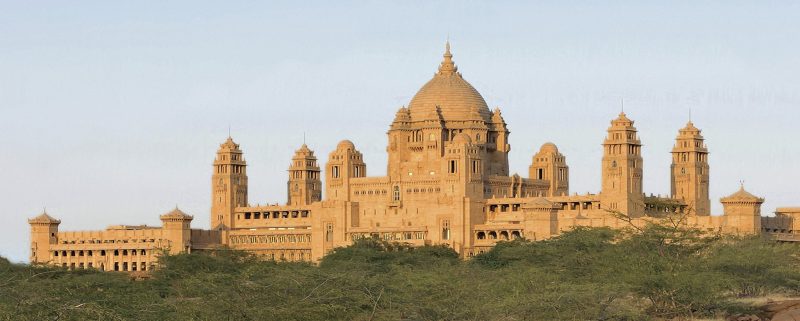 WHERE: JODHPUR, RAJASTHAN
WHO VISITED: Lynn Eaton from Spencer Travel
WHEN: April 2015
WHAT WE LOVED
A Taj hotel, is located in part of the Umaid Bhawan Palace the residence of the current Maharaja, an important piece of Rajasthan's heritage and currently the world's sixth-largest private residence.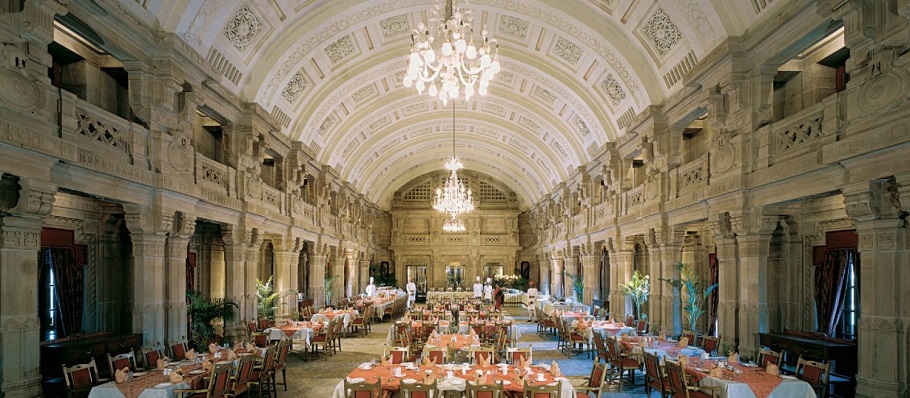 Perched on Chittar Hill – the highest point in Jodhpur, the hotel has views of the historical Blue City, vast sand dunes, and the Mehrangarh Fort.
Rooms
The hotel is home to 64 Art Deco-style rooms and suites.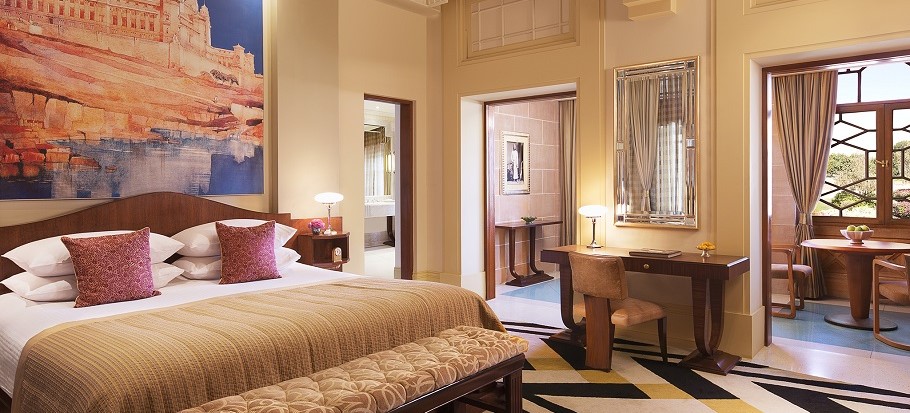 We were upgrade to an historical suite in this fantastic hotel and also saw all categories of rooms. Every room is spacious and beautifully appointed, and the suites are unique and all have a large separate lounge room with dining area.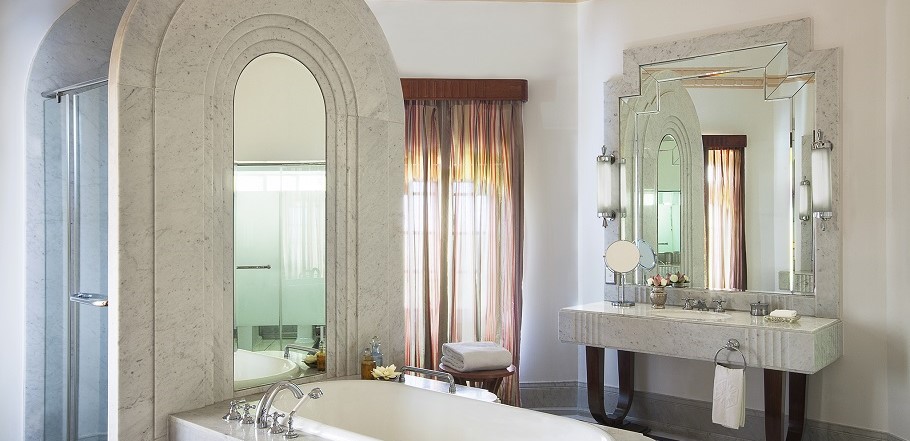 Each room has remote control board for all amenities. The marble bathrooms are beautifully appointed with large bathtubs and you can choose from several bath preparations. All rooms have separate showers and separate toilets, and come in the following types and configurations:
> Palace Rooms
> Historical Suites
> Royal Suites
> Grand Royal Suites
> Maharaja Suite
> Maharani Suite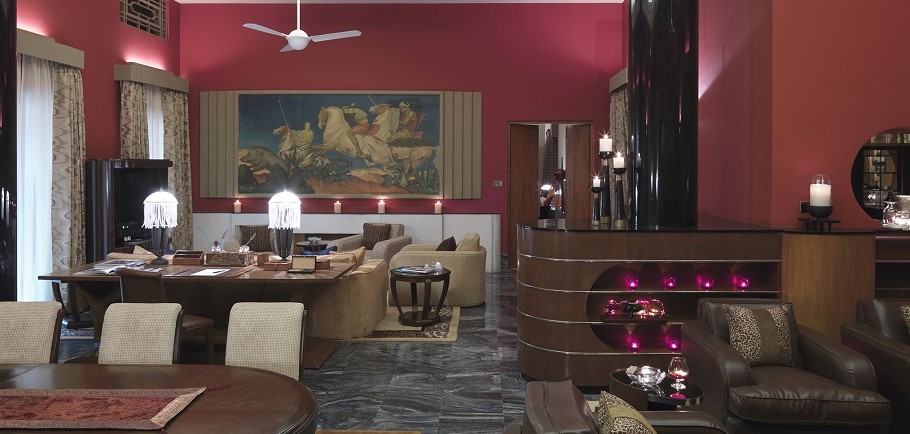 Pools
The hotel has large indoor and outdoor & kiddie pools.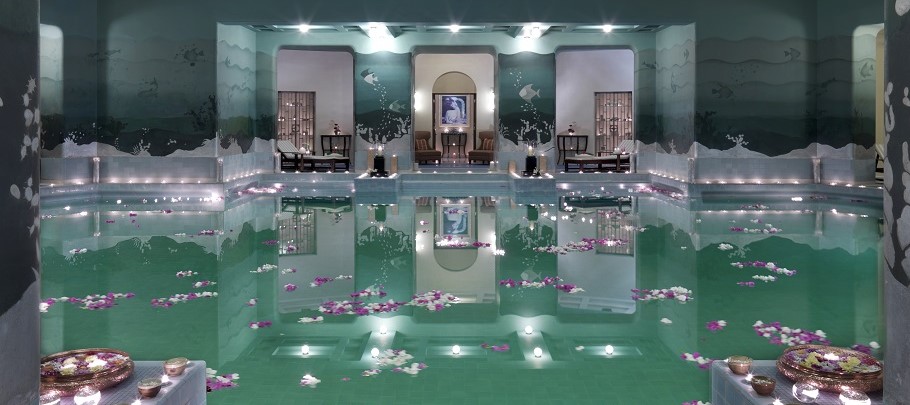 Spa
signature treatments and therapies are offered at the hotel's Jiva Grande Spa.
Dining
The hotel has several dining options for romantic or celebration dinners.
Pillars offers all-day dining and a variety of cuisine including European and Mediterranean delicacies.
The 5 star Risala restaurant serves authentic Rajasthani and Indian cuisine with great views of the gardens and city.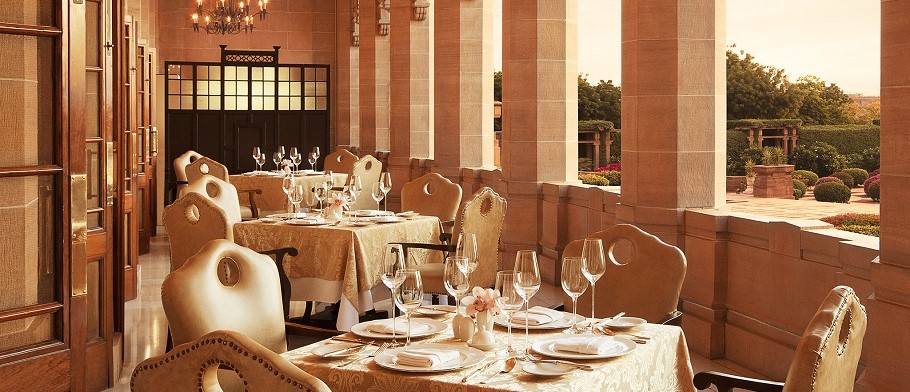 Private dining options are also available.
Unwind at the Trophy Bar with its hunting-themed décor and selection of alcoholic beverages and cigars.
24-hour in-room dining is also available
Recommended experiences
Take a heritage walk and relive a fascinating bygone era brought to life through majestic monuments.
Final word
Set in 26 acres of lush gardens with resident peacocks and a subterranean Zodiac Pool, this 5-star Taj heritage hotel offers 64 utterly breathtaking Art Deco-style rooms and suites.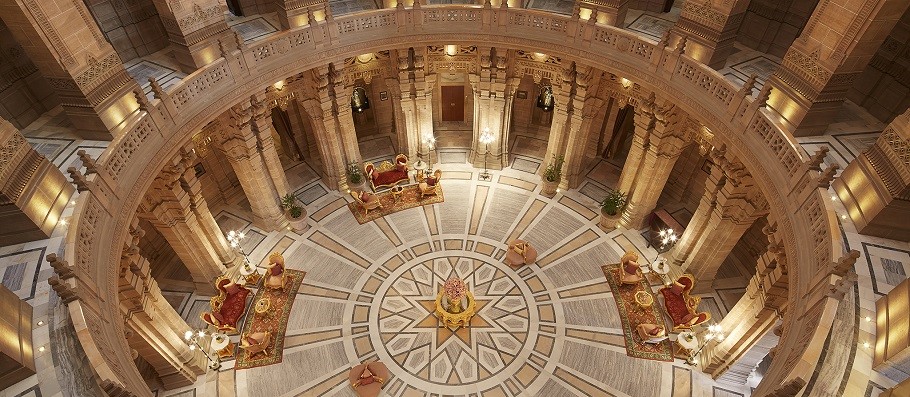 …………………………..
RAMBAGH PALACE HOTEL



WHERE: JAIPUR, RAJASTHAN
WHO VISITED: Lynn Eaton from Spencer Travel
WHEN: April 2015
WHAT WE LOVED
Originally built in 1835, Taj's Rambagh Palace Hotel was a former royal guesthouse and hunting lodge and residence of the Maharaja. In fact, the Maharaja still resides in a section of the Palace complex.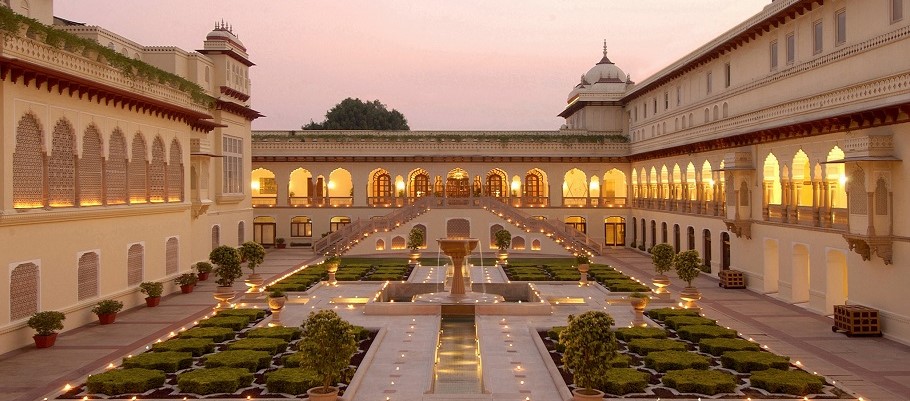 The property is located close to the city and is surrounded by manicured lawns, fantastic gardens.
Rooms
Rambagh Palace offers 78 stunningly restored grand luxury rooms and suites which were the chambers of the former Maharaja.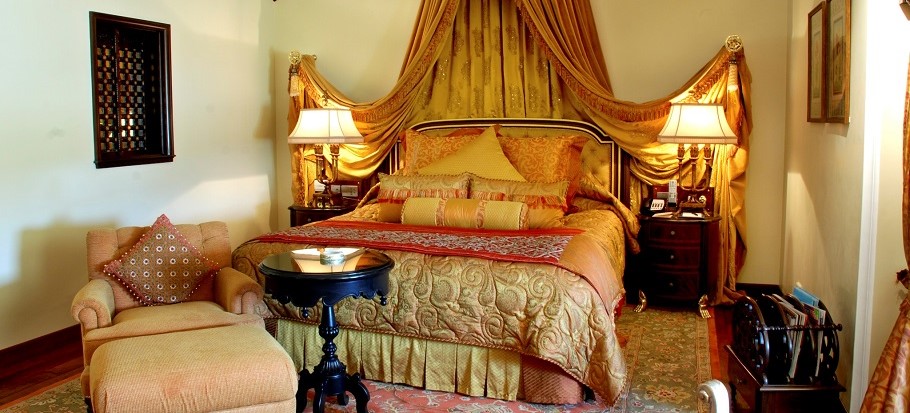 With lead-in rooms named Luxury, you know this just has to be a special property. Rooms are offered in 12 categories from Luxury Rooms through Place Rooms, various divine suites, right up to the Prince's Suite and beyond.
All rooms are spacious and decorated with rich furnishings, elegant carpets and hand-painted wall hangings. Each room has remote control board for all amenities.
The modern marble bathrooms have a walk-in shower and separate bathtub.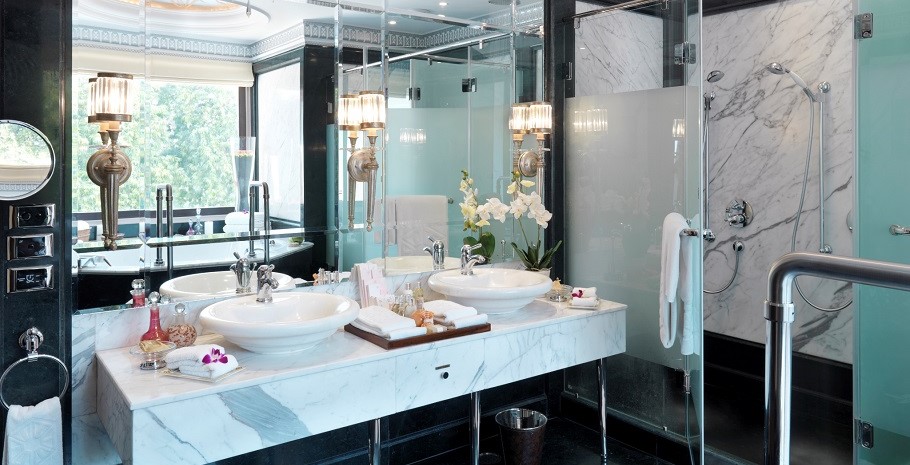 Pools
The hotel has an outdoor pool and fitness centre.
Spa
The hotel's Jiva Grande Spa and wellness centre offers a range of indulgent signature treatments.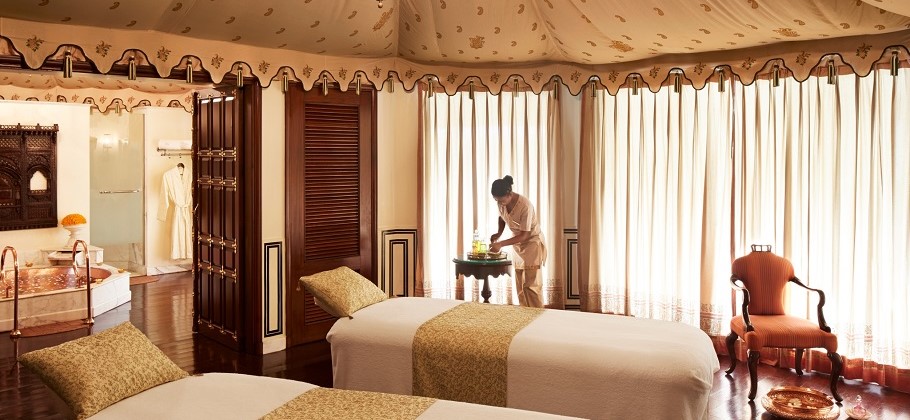 Dining
The hotel is home to some of the best fine-dining restaurants in Jaipur.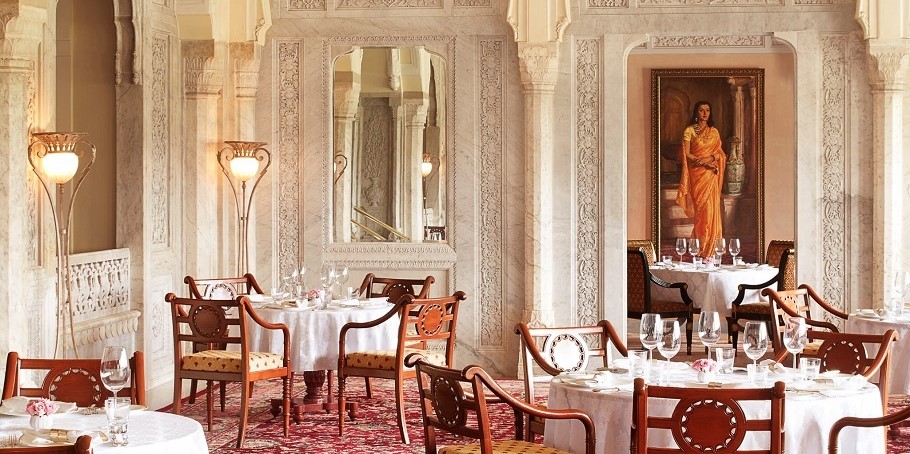 Breakfast and light meals are served at The Rajput Room while the Veranda features traditional afternoon tea, champagne and pre-dinner cocktails. Other dining options include Indian cuisine at Suvarna Mahal – the former palace ballroom built in the 18th-century French style with huge crystal chandeliers.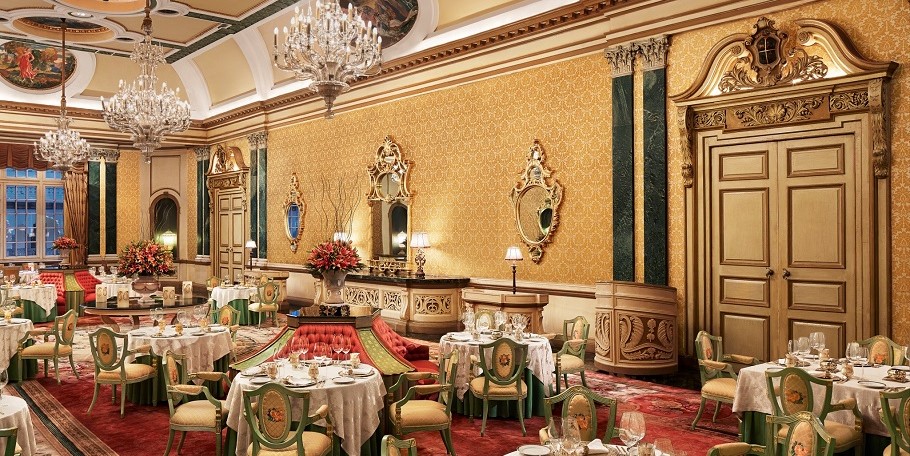 Find Mediterranean flavours at the lounge bar – Steam, or unwind in the sophisticated charm of the Polo Bar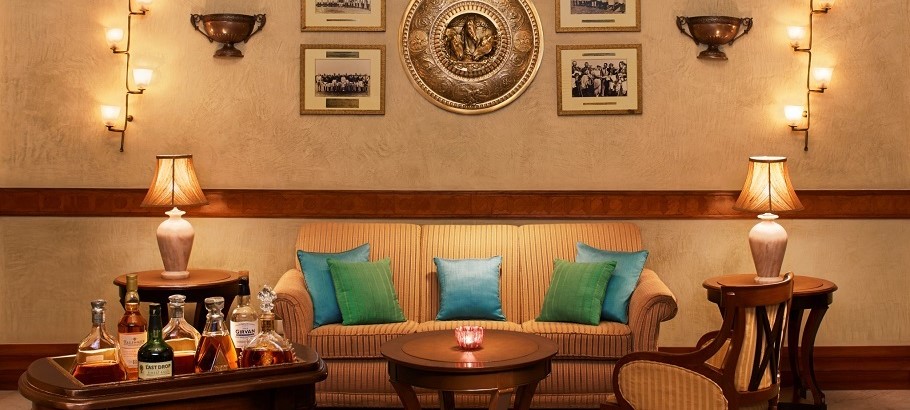 Recommended experiences
The hotel's Heritage Walks are guided by butlers who regale visitors with rich stories and anecdotes of maharajas and the palace's remarkable history.
Final word
Traverse the royal history of Rajasthan at Rambagh Palace, once the residence of the Maharaja of Jaipur. Partake in a range of wonderful experiences that echo with memories of a bygone era.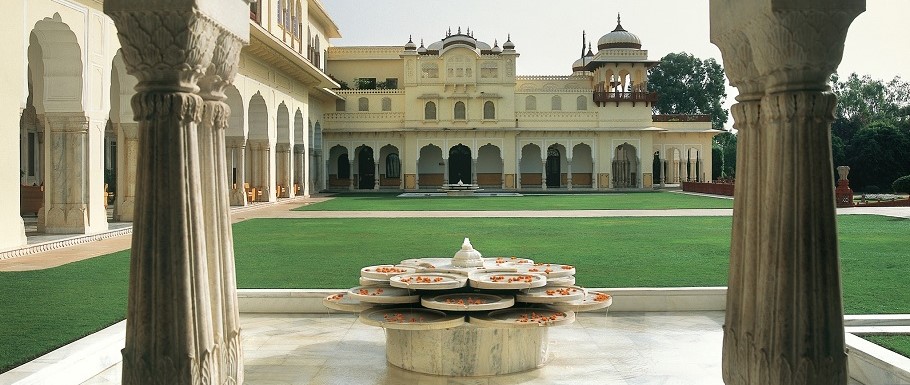 …………………………..
THE OBEROI RAJVILAS


WHERE: JAIPUR, RAJASTHAN
WHO VISITED: Lynn Eaton from Spencer Travel
WHEN: April 2015
WHAT WE LOVED
This wonderful 5-star property is built around an 18th century Shiva temple set in a 32 acre oasis of beautiful gardens.
Rooms
Rooms here are cleverly laid out in small clusters for privacy for couples, and convenience for families or small groups wishing to stay near one another. Each cluster opens onto a courtyard with a traditional fountain and a canopy of native flowers.


Accommodation is either in luxury tents or villas with en-suites, sitting area and bathrooms with marble bathtub, a separate glass-panelled shower and a double vanity.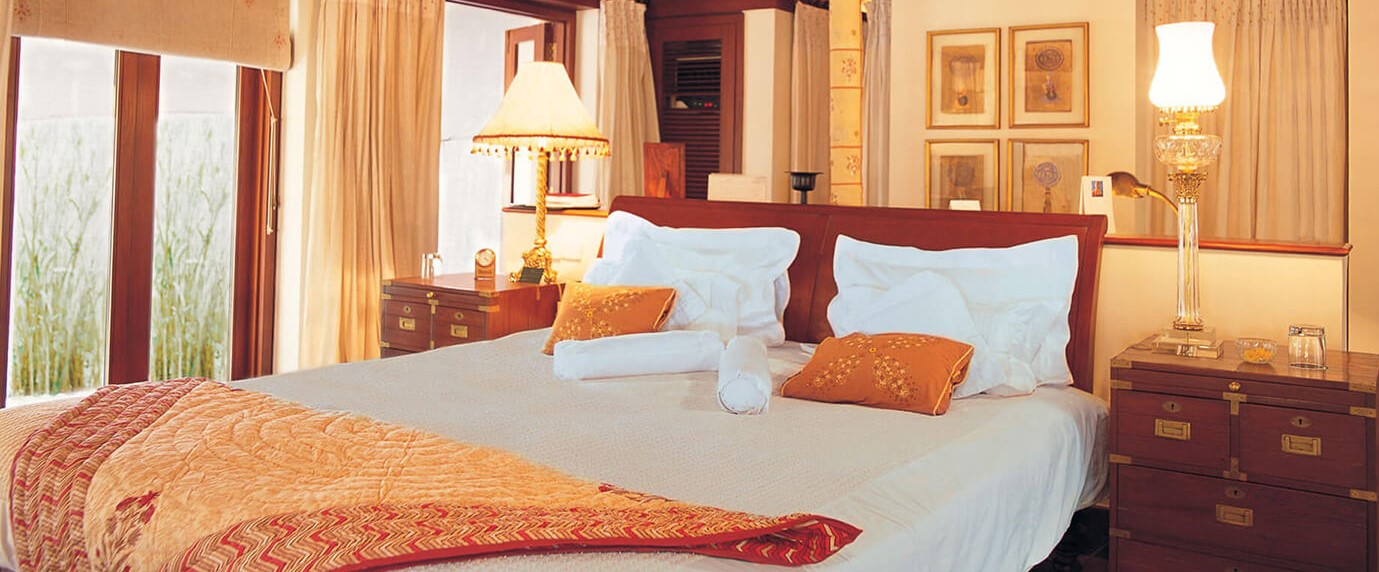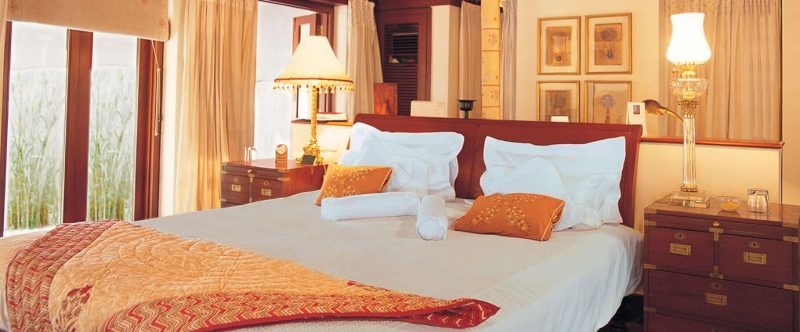 Lead-in rooms are known as Premier Rooms, and are complemented by the following room types:
> Luxury Tents
> Royal Tents
> Luxury Villa with Private Pool
> Kohinoor Villa with Private Pool


Pools
The hotel has a lovely, large outdoor pool.


Spa
The Oberoi Spa is located in an 18th century building and offers Ayurvedic and Western treatments.
Dining
Surya Mahal is open from breakfast to dinner. indoor, chandelier lit dining hall, a canopied outside dining space and a courtyard. The menu spans international and Indian cuisine.
Raj Mahal is a speciality Indian restaurant open only from October to March. indoor dining hall, outdoor, under cover dining area with outdoor sandstone fireplaces and a tree fringed courtyard.
Rajwada Library Bar decorated in a colonial style
Recommended experiences
Private cooking classes offer a culinary journey through secret herbs and spices with the hotel's masterchefs. Discover the secrets of authentic Rajasthani cooking. Yum.
Final word
This is another truly exceptional hotel that oozes traditional Rajasthani elegance and Oberoi luxury.
…………………………..
THE GATEWAY HOTEL GANGES VARANASI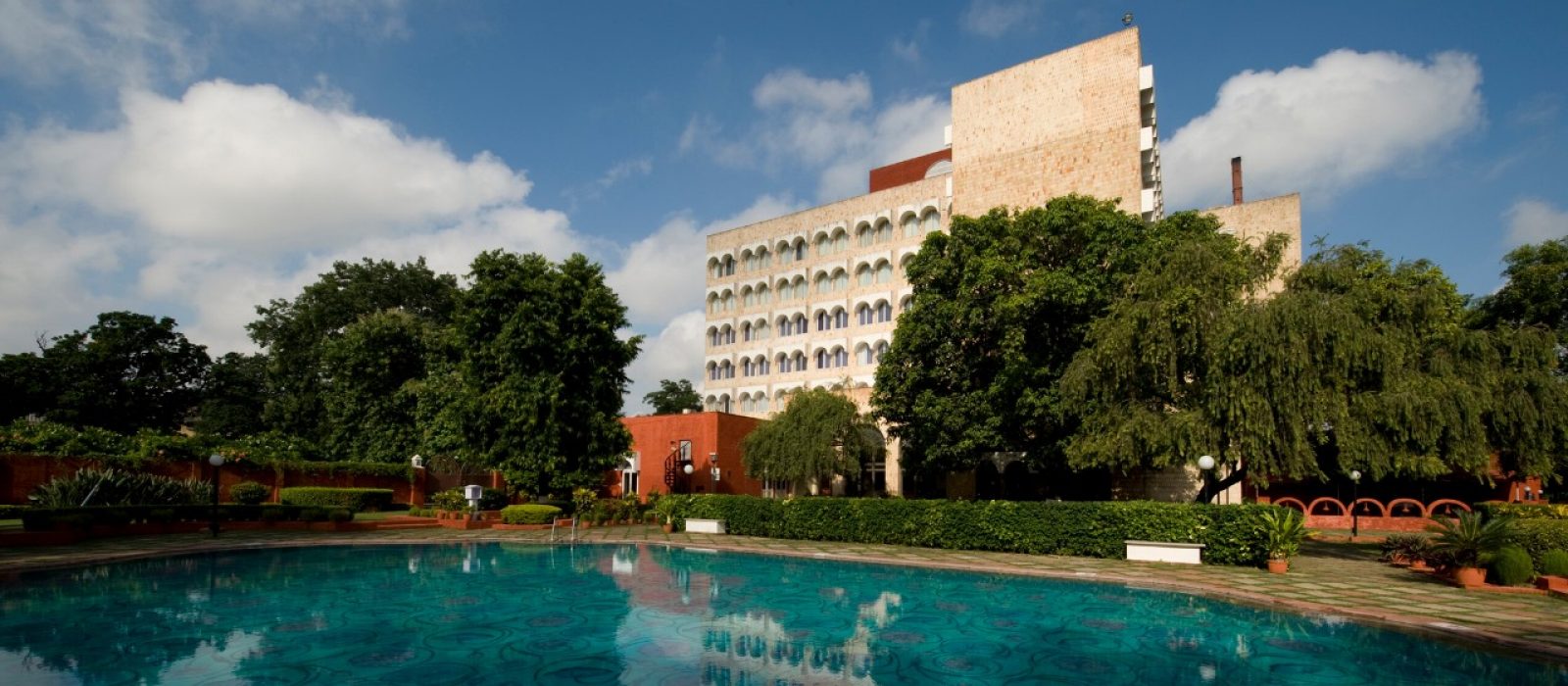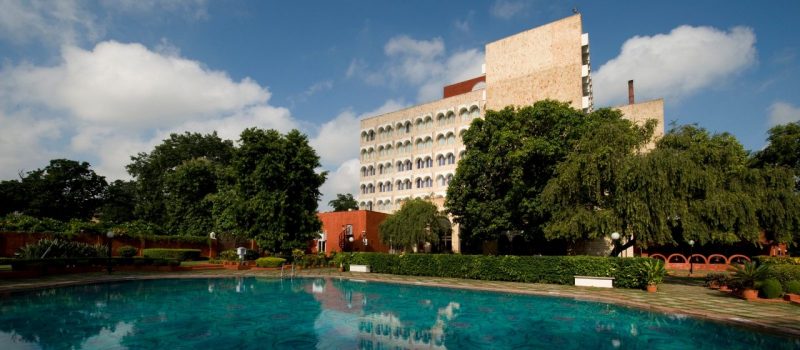 WHERE: VARANASI, UTTAR PRADESH
WHO VISITED: Lynn Eaton from Spencer Travel
WHEN: April 2015
WHAT WE LOVED
The Gateway Hotel Ganges Varanasi offers recently renovated & refurbished world-class contemporary rooms and suites with a range of views.
One of the top properties in Varanasi, the hotel is nestled in 40 acres of gardens roughly 45 minutes from the airport and just 6 kilometres from the Vanarasi' commercial centre – The Chowk.
Rooms
The hotel has 130 rooms divided in four categories.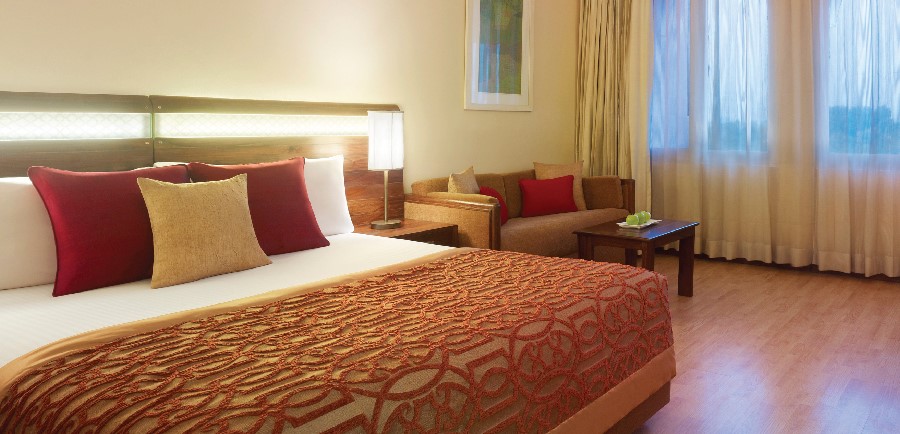 > Standard Rooms
> Executive Rooms
> Executive Suites
> Deluxe Suites
All rooms are spacious and well appointed. It is worth noting that the bathrooms have all have over-bath showers.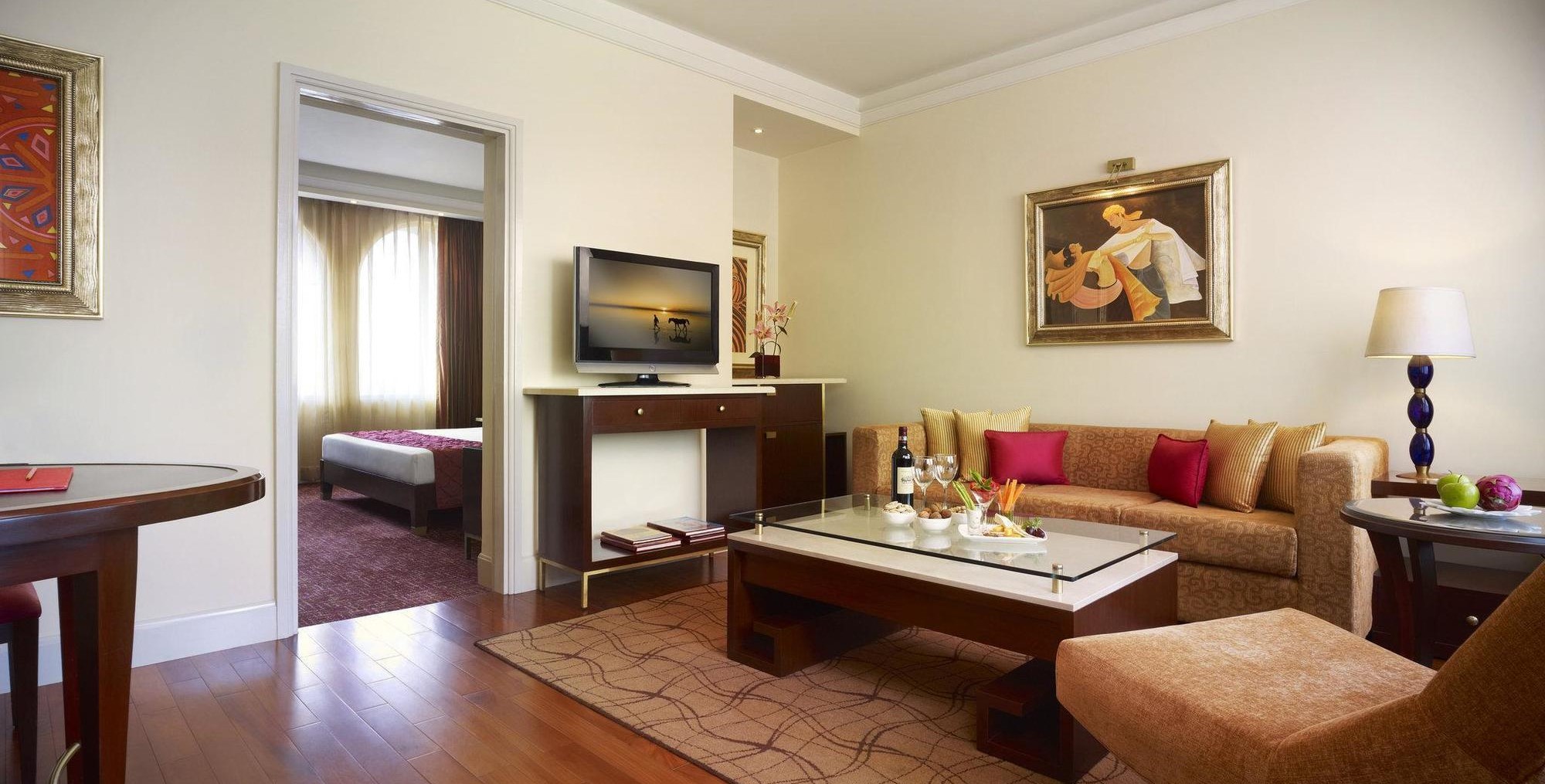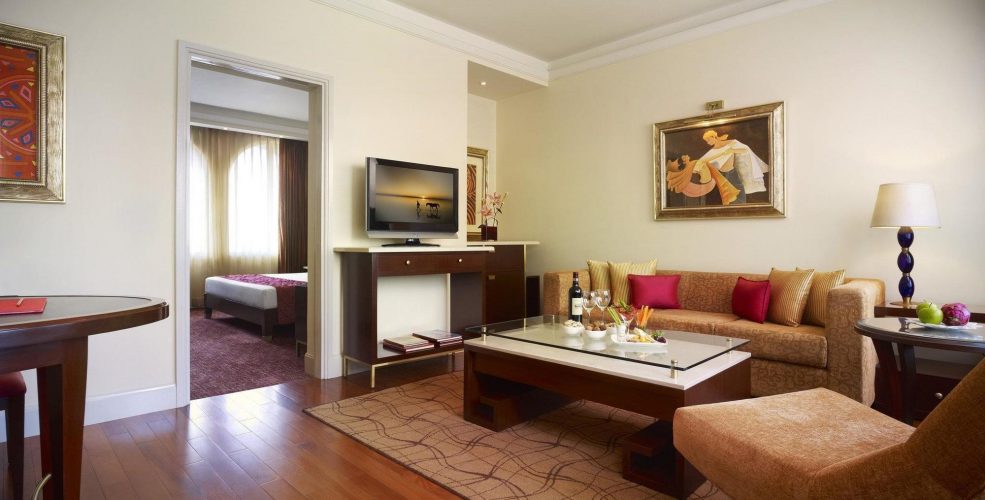 Pools
The hotel has a great outdoor swimming pool.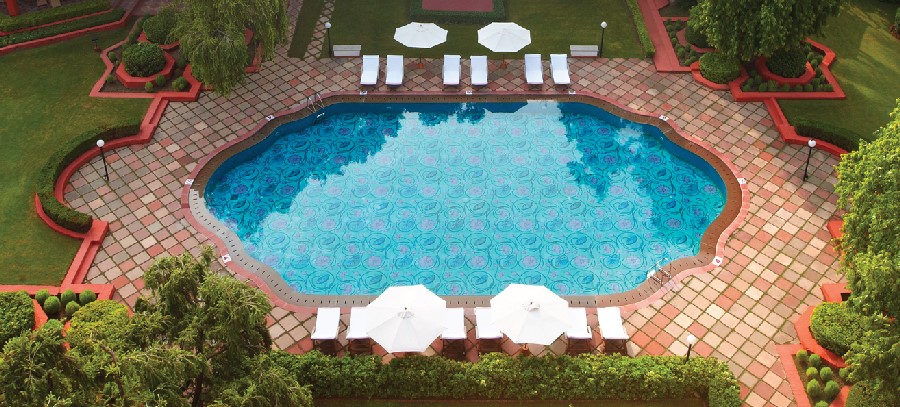 Spa
There is a great spa on the property offering a good range of treatments and services.
Dining
The hotel has three good quality dining outlets that offer a mix of cuisine.
Gad restaurant serves an international menu.
Varuna serves up up authentic Indian cuisine.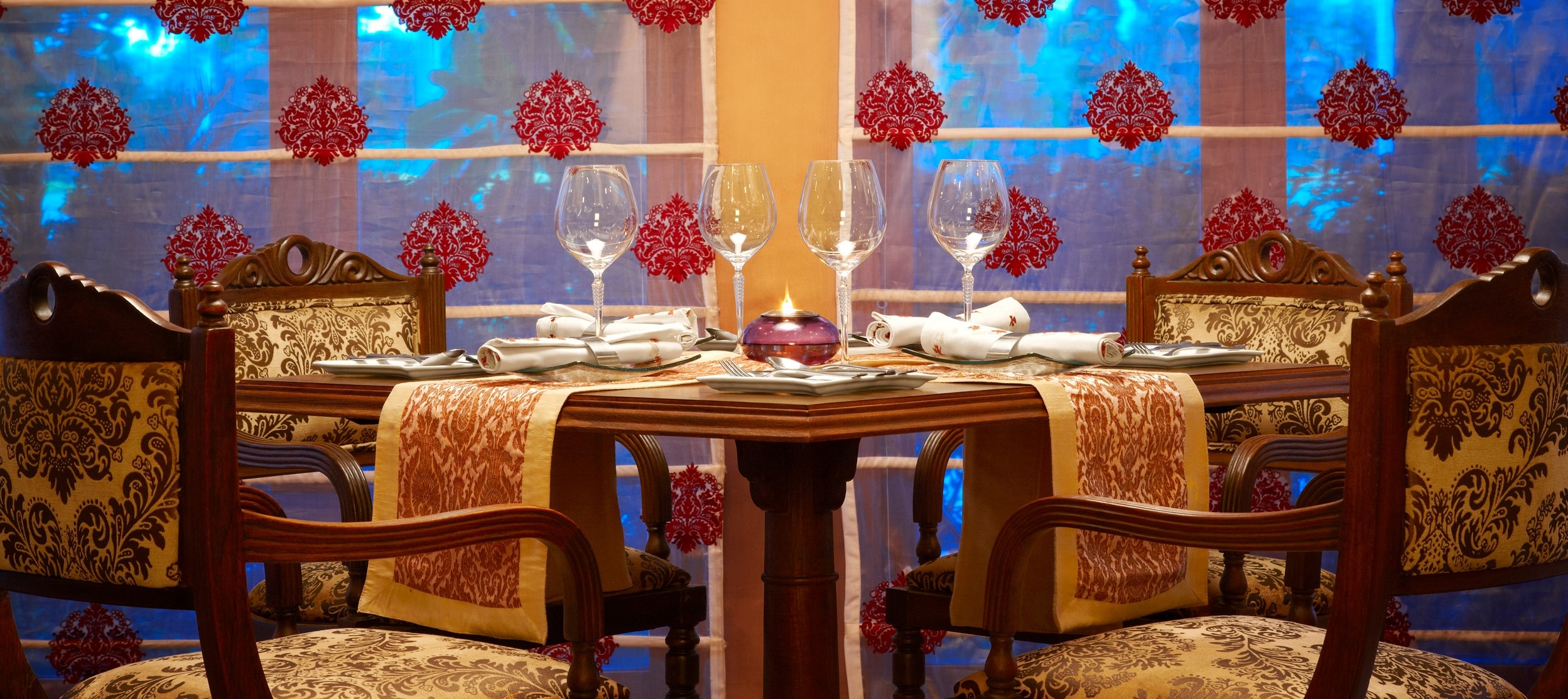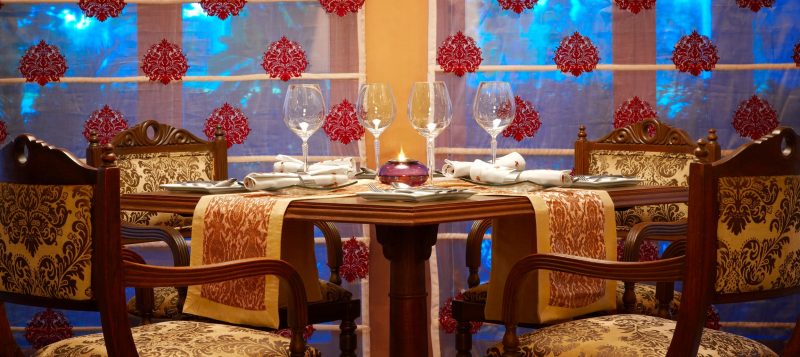 The colonial style Princep Bar serves zingy cocktails and finger food.
A 24-hour 'Quick Fills' room service menu is also available.
Recommended experiences
A visit here is really about exploring the city, sights and the sacred waters of the Ganges nearby.
Final word
The Gateway Hotel Ganges Varanasi is a perfectly good hotel for business or the leisure visitor here to explore the wonders of Varanasi – regarded by many as the spiritual capital of India.
…………………………..
NADESAR PALACE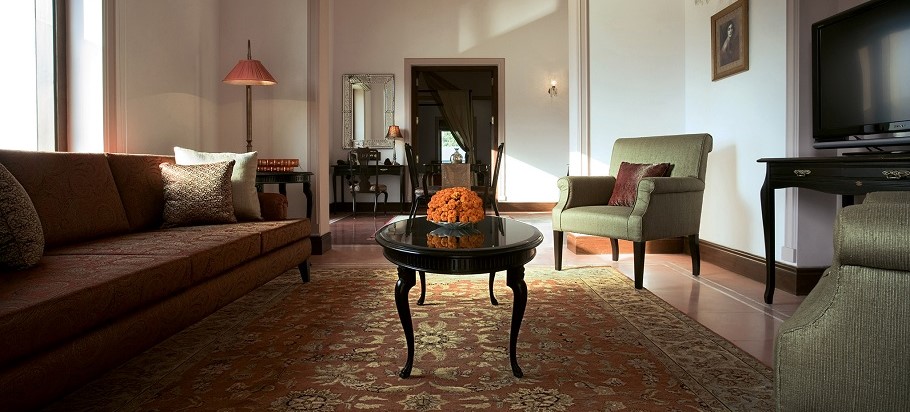 WHERE: VARANASI, UTTAR PRADESH
WHO VISITED: Lynn Eaton from Spencer Travel
WHEN: April 2015
WHAT WE LOVED
Nadesar Palace Hotel is a Taj property located in the same grounds as the The Gateway Hotel Ganges Varanasi. It is quite simply a magnificent hotel with 10 beautiful suites situated in one of the world's oldest living cities, on the banks of the river Ganges.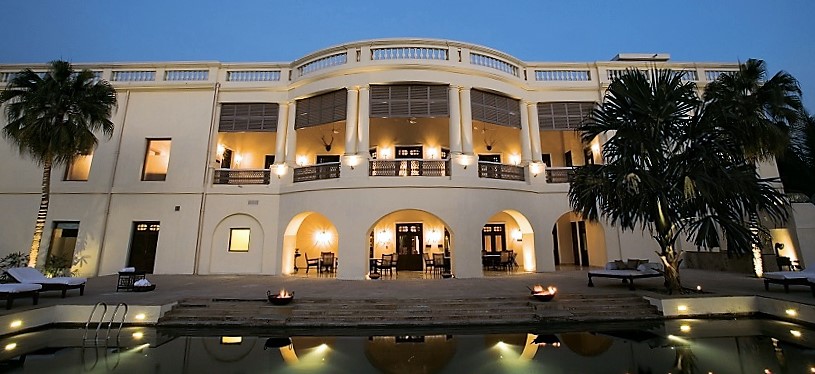 Nadesar Palace is Varanasi's crowning glory and one of the most striking Taj hotels. From 1835 to the present, the palace has royalty as well as statesmen and celebrities.
Rooms
The 10 luxurious suites at the Palace are popular with arty-types and anyone who appreciates beautiful things, as the walls are adorned with art from the Maharaja's personal collection.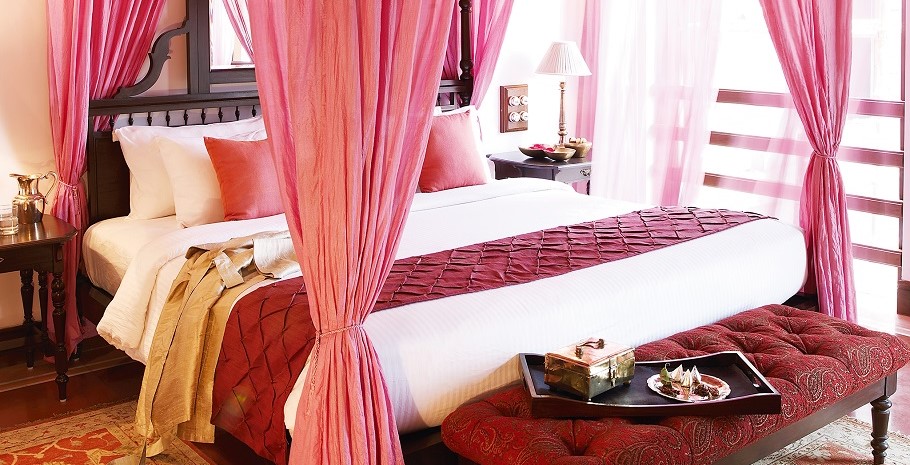 > Palace Room with view of the swimming pool or palace garden
> Historical Suite with garden views
> Royal Suite with garden views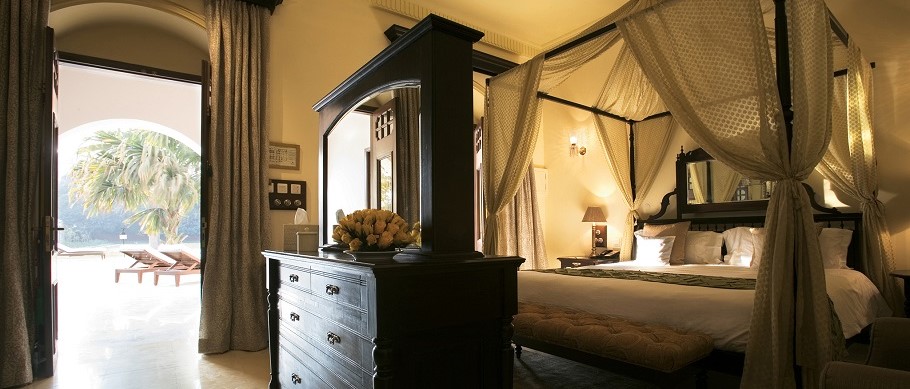 Pools
The hotel has a swimming pool
Spa
Jiva Spa, where you can try the rejuvenating 'Abhisheka' treatment, which draws inspiration from time-honoured Indian purifying rituals.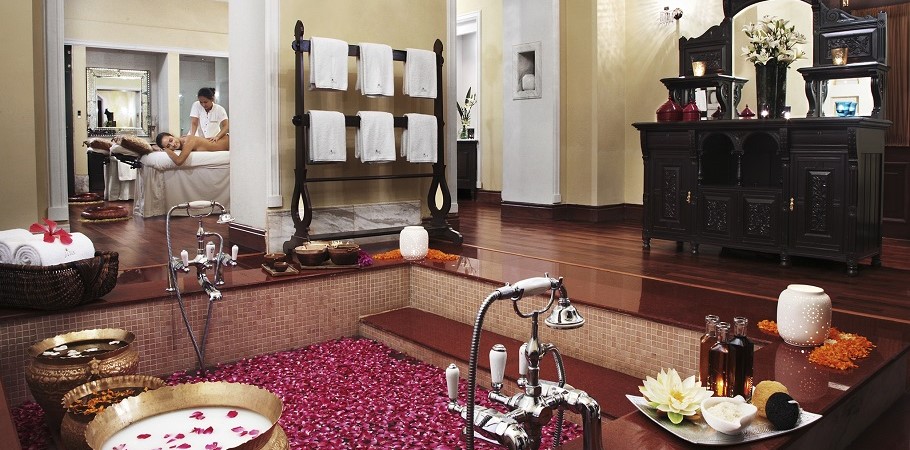 Dining
The hotel's Dining Area is exclusively for resident guests and serves cuisine that hints at a royal past, the cultural heritage of Varanasi and an array of gourmet global dishes.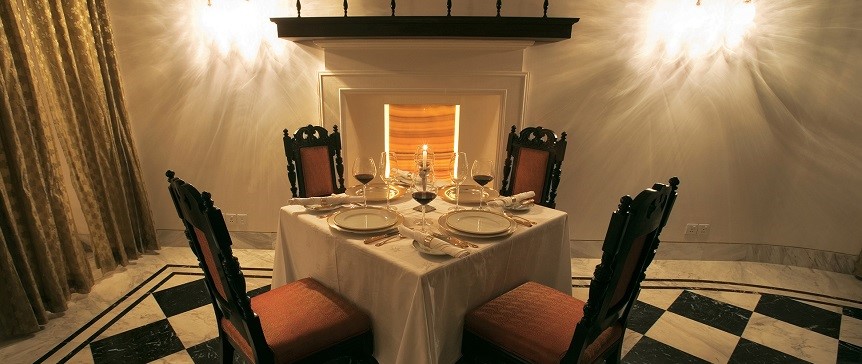 Recommended experiences
Benarasi chai experience: Sip hot tea from small earthen pots at the nirvana lounge set amidst mango orchards in full bloom.
Final word
The Palace has hosted royal families from all over the world and famous politician, business men and Hollywood stars. The hotel is decorated with furnishings from the original palace and is a quiet haven in the midst of this bustling city.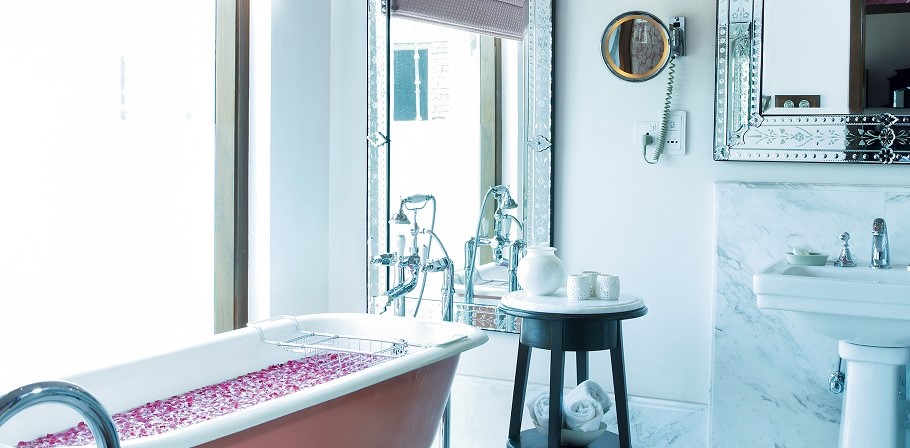 …………………………..
Disclaimer
Unless otherwise specified, all images belong to the resorts and suppliers showcased on these pages.
These recollections are generated by staff from the Spencer Group of Companies after they return from business or personal travel and visit the places listed. Their first-hand experience provides wonderful insights into resorts, airline offerings, cruises and local attractions. Their views are personal and by no means guarantee that other travellers will experience the same.