CHIVA SOM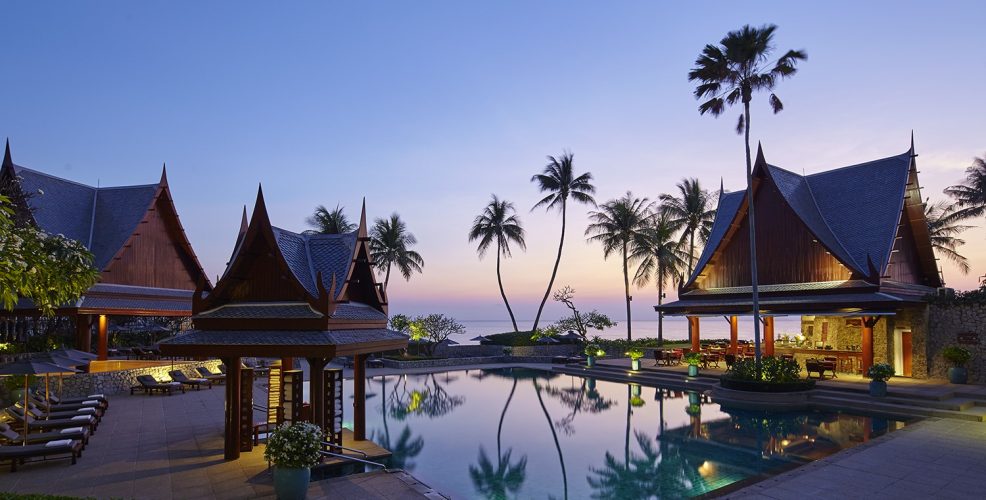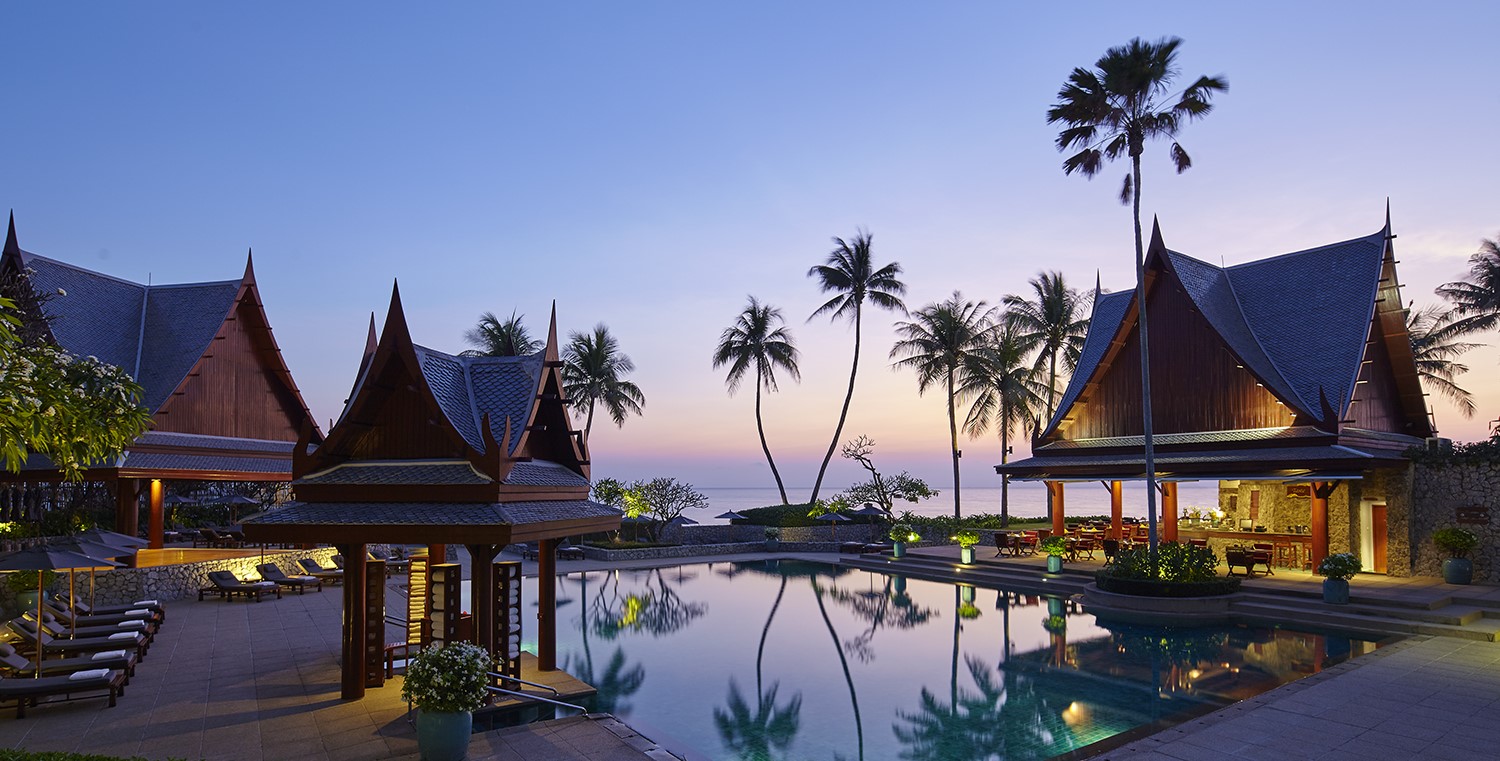 WHERE: HUA HIN
WHO VISITED: Heather Del Vecchio from Spencer Travel Eastside.
WHEN: May 2015
WHAT WE LOVED
Chiva Som is a true destination spa. Located in the Royal city of Hua Hin on the Gulf of Thailand, Chiva Som is 185 kilometres south of Bangkok.
Nestled within seven acres of lush tropical gardens with spectacular views of the Gulf of Thailand, the resort has more spa treatment rooms (70) than it has luxury rooms for accommodating guests (58).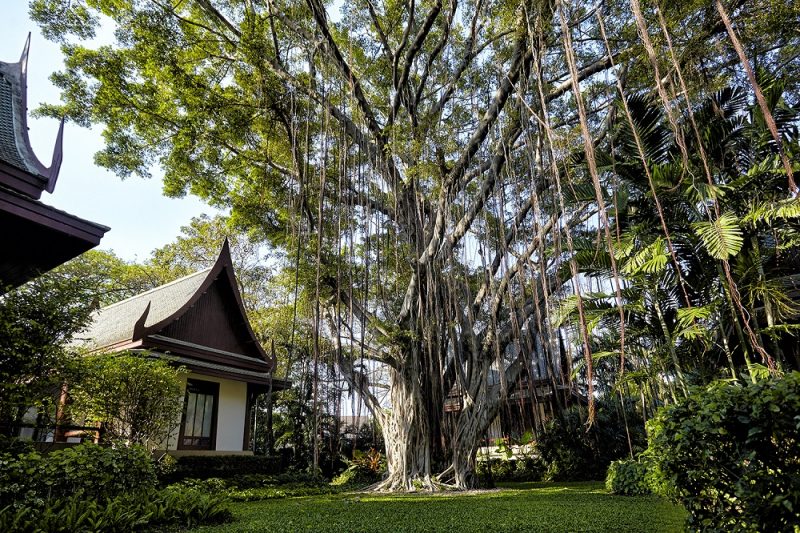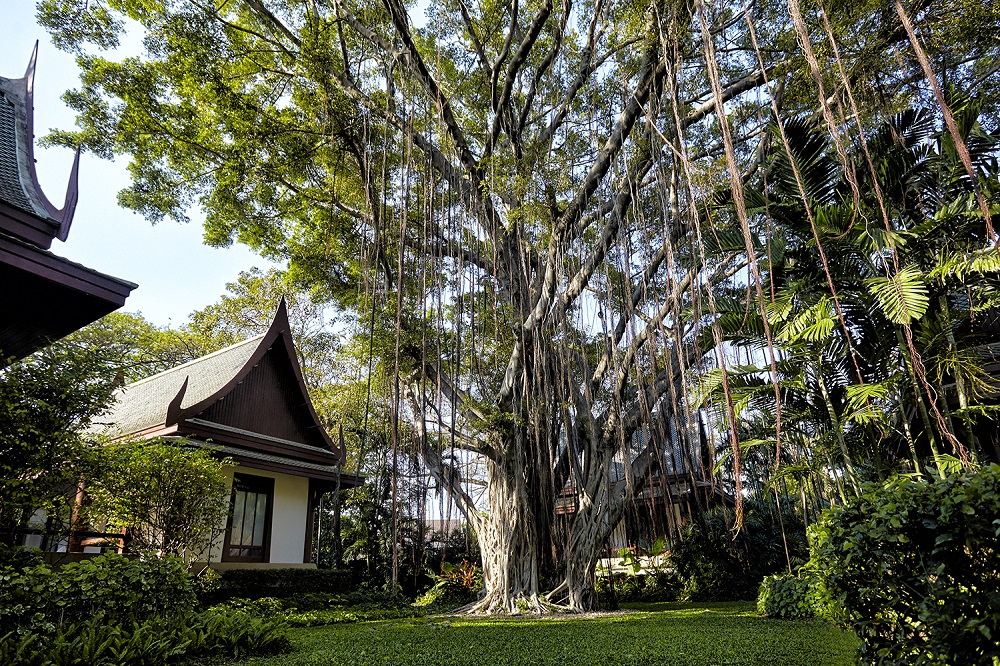 Chiva Som takes health, vitality, wellness and wellbeing very seriously, indeed. So much so that mobile phones and laptops are not permitted in public areas. At check-in you are asked to sign an agreement to this and they do enforce this. This is to ensure guest privacy, reduce distractions and electromagnetic interference. I must say this created a very social and convivial atmosphere with lots of guest interactions.
Guests must be aged 16 years and over.
The transfer to Chiva-Som was a little long (185 kilometres) but very comfortable. Every guest I spoke to at the resort mentioned the transfer. However, repeat guests were unanimous in that it is absolutely worth the trip. Some guests spend a night in Bangkok on the way in to overcome the long flight, but as most are travelling in business class they're sufficiently rested to transfer directly to the resort. Heli transfers are also available.
On arrival you are offered a complimentary Health and Wellness consultation. This is designed to assess your goals and objectives, your current state of health and ability to achieve those goals. Your advisor will then devise a personal program of treatments and services for your stay. These will typically include diet, exercise, activity, rest and relaxation, physical ailments, emotional issues and your inner self.
After arriving late we were given a quick buggy tour and then shown our Thai Pavilion Villas. We also managed to have a wonderful dinner dinner at Siam restaurant by the beach. The villas are large and extremely comfortable.
The resort environment is lush and tranquil making you feel so relaxed that leaving the property and venturing into the hustle and bustle of Hua Hin can be a bit of a shock.
Rooms
The resort has a range of accommodation options including Ocean Rooms, Thai Pavilions and 5 different categories of Suite.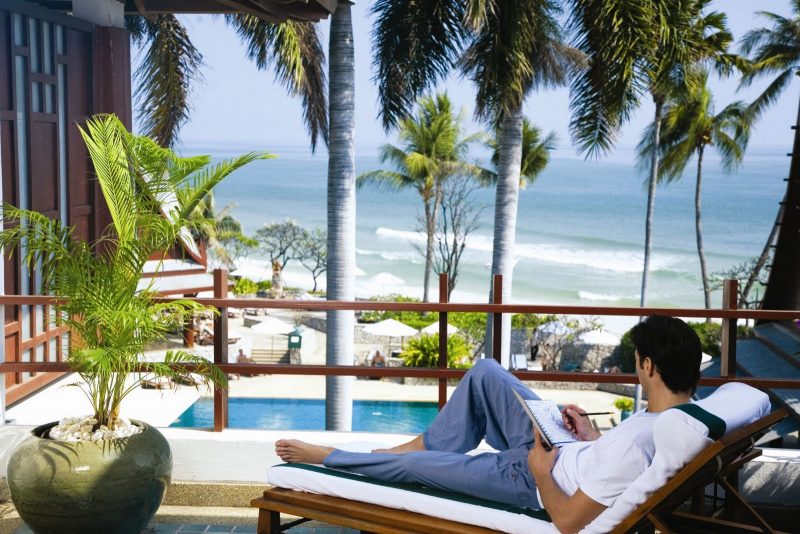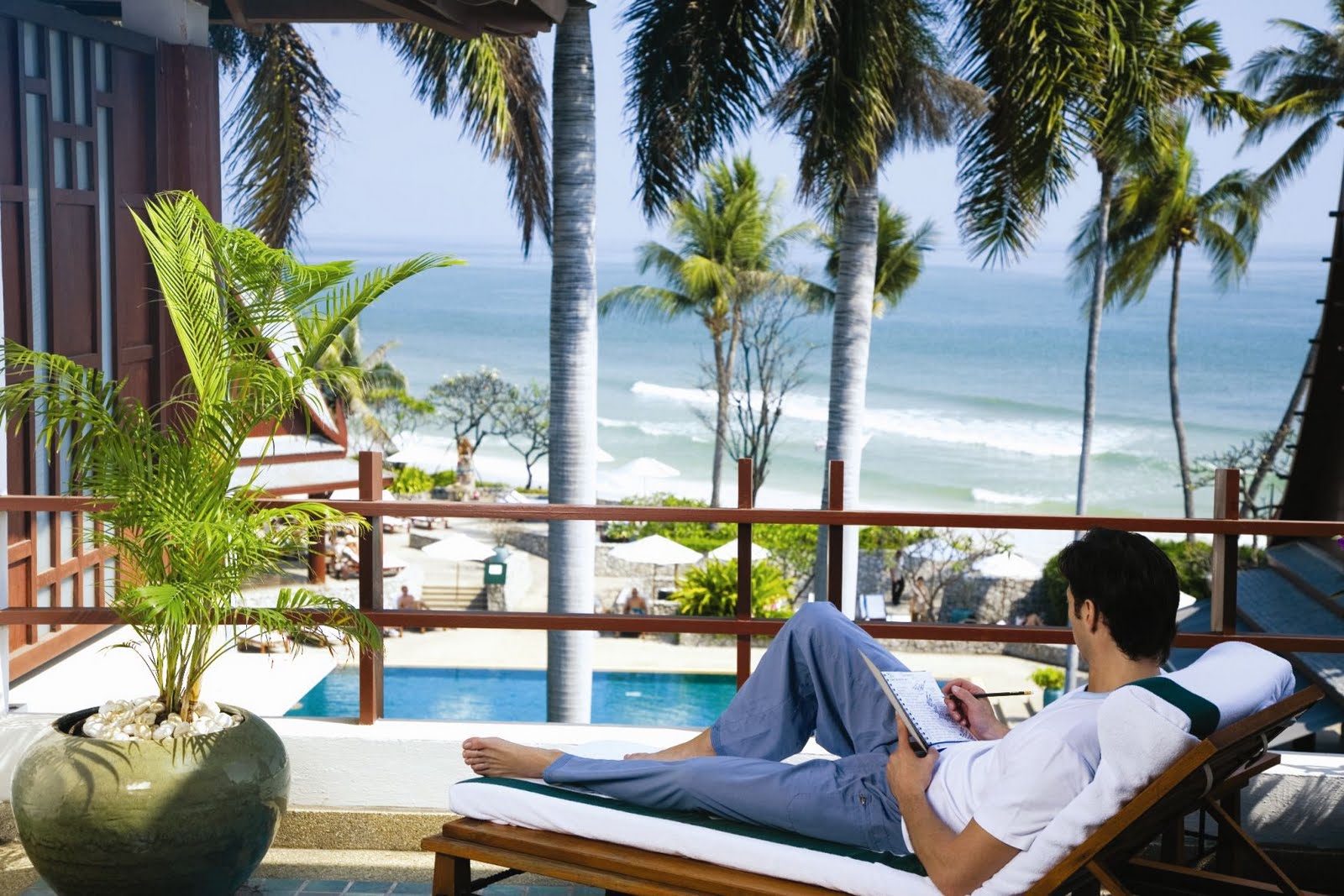 Each room has satellite colour TV, a DVD player and ceiling fans. Air conditioning is available for maximum temperature control and comfort, International Direct Dial telephones, bathrobes, hair dryers, refrigerators and room safes are standard in all rooms.
All Chiva-Som suites come with private butler service.
Pools
Chiva-Som has two pools, indoor and outdoor.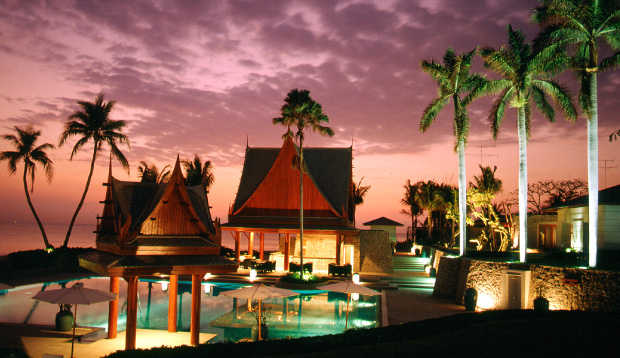 Spa
In addition to the 70 treatment rooms, the resort also features a kinesis studio, gym, watsu pool, flotation pool, large outdoor swimming pool, bathing pavilion with kneipp bath, sauna, steam, jacuzzi, and indoor swimming pool.
The consultants are very well trained and I had a lovely lady who had also studied Health and Nutrition in Sydney and therefore very much in touch with health products available here. The Therapists are very qualified and experienced in their field. I tried every massage and all were quite different and cater for different needs. A lot of the therapists have been there over 10 years and many over 20 years. They know the repeat clients by name and needs and have everything prepared for them.
Dining
Chiva-Som chefs create daily menus to offer the widest range of dishes to suit a healthy lifestyle. The food was amazing and you can choose to eat as much or as little depending on your reason you have chosen to come to the resort. The food is prepared with little or no sugars, salt or fats. They use some ingenious alternatives.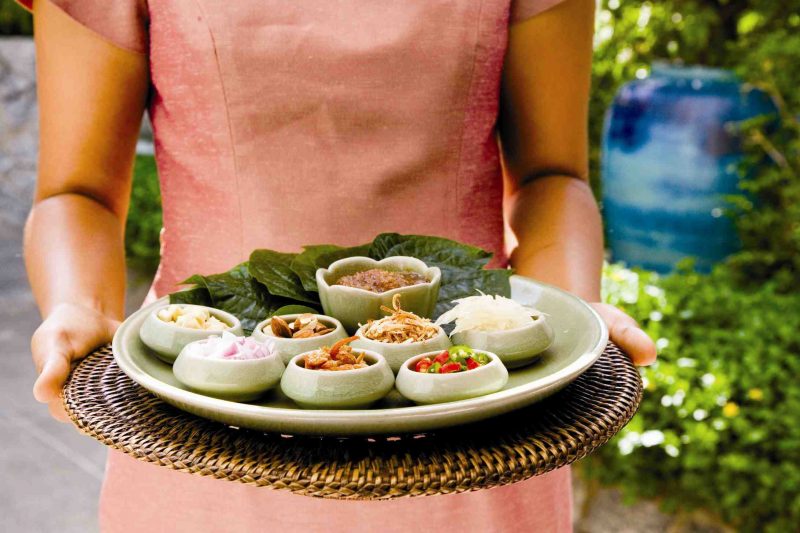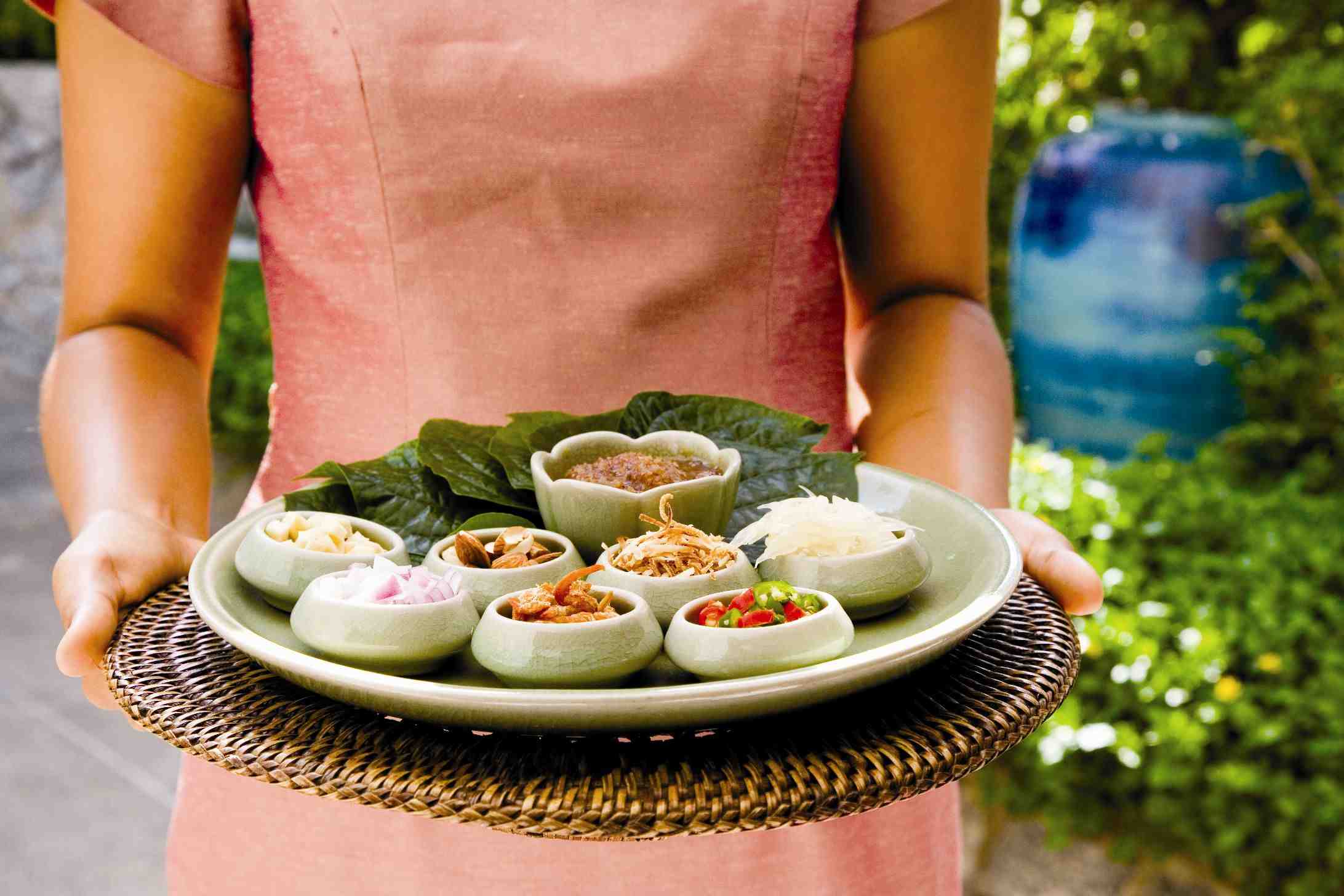 Three spa cuisine meals are included in your daily tariff and can be taken at the Emerald Room or Taste of Siam by the beach. Taste of Siam offers authentic Thai dinners and a wide range of international snack foods and drinks for those not participating in a strict meal plan.
In the Orchid Lounge, you will find an extensive choice of drinks (mocktails and teas) and refreshments.
Tea and coffee were not recommended, nor was alcohol. Although, all are available should you wish to indulge.
In-room dining is also available.
Recommended Experiences
Let go and immerse yourself in the complete spa experience. Take advantage of every treatment and consultation available.
Final Word
The beach was lovely, but don't compare it to Australian beaches. It's great for a brisk stroll in the morning and it is very clean.
I also ventured out to the Market one night with our host and it was a lovely experience. The town is around 15 mins away by taxi and it seemed very safe and in general the people were lovely. It is a lovely area with the lovely Thai restaurants and beaches but without all the pollution and crowds.
Overall Chiva-Som is a great Health and Wellness resort with all your needs catered for and the repeat guests definitely make you realise it is just so wonderful for the mind body and soul.
…………………………..
FOUR SEASONS RESORT KOH SAMUI


WHERE: KOH SAMUI
WHO VISITED: Danielle Reilly from Spencer Travel.
WHEN: November 2015
WHAT WE LOVED
The arrival – Wow! This is a stunning property that delivered impeccable service from all staff throughout our entire stay. On arrival we were escorted to our rooms for a quick freshen up before a refreshing welcome drink.
Initially I found the resort layout surprising as the only way to get around is by resort buggy. They are, however, plentiful and arrive just as you need them.
We enjoyed breakfast at Koh Thai Kitchen & Bar, serving delicious fare and the most amazing panoramic views of the neighbouring islands. We loved the evening BBQ dinner with cocktails followed by (optional) games at the Beach House and an amazing fire spectacular that went for at least 30 minutes.
The popular rum cocktail making class was popular (recommended), after which we visited a nearby fishing village for a quick market shop followed by dinner at the local Barracuda restaurant. Whilst the resort was faultless in every aspect, it was nice to get a feel for the local area and enjoy a meal elsewhere.
Rooms
The resort is renowned for its chic, al fresco living spaces each with a private infinity pool and astonishing panoramas of Laem Yai Bay, Koh Phangan and the Gulf of Siam.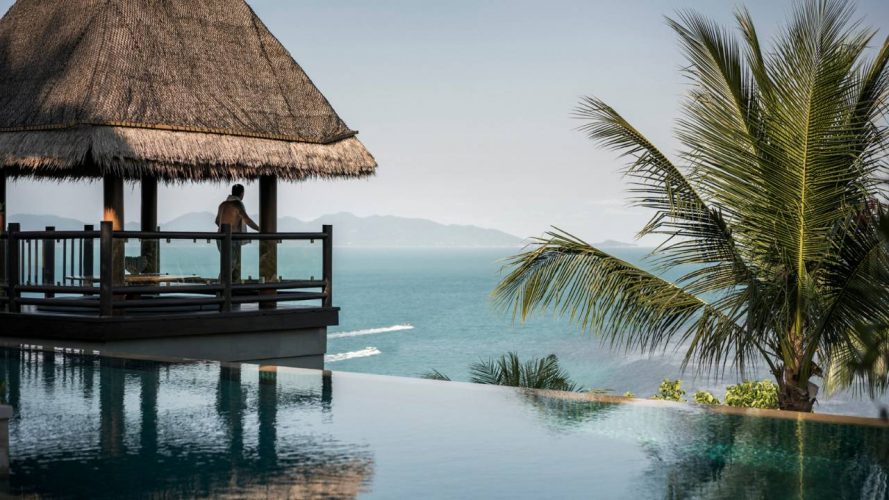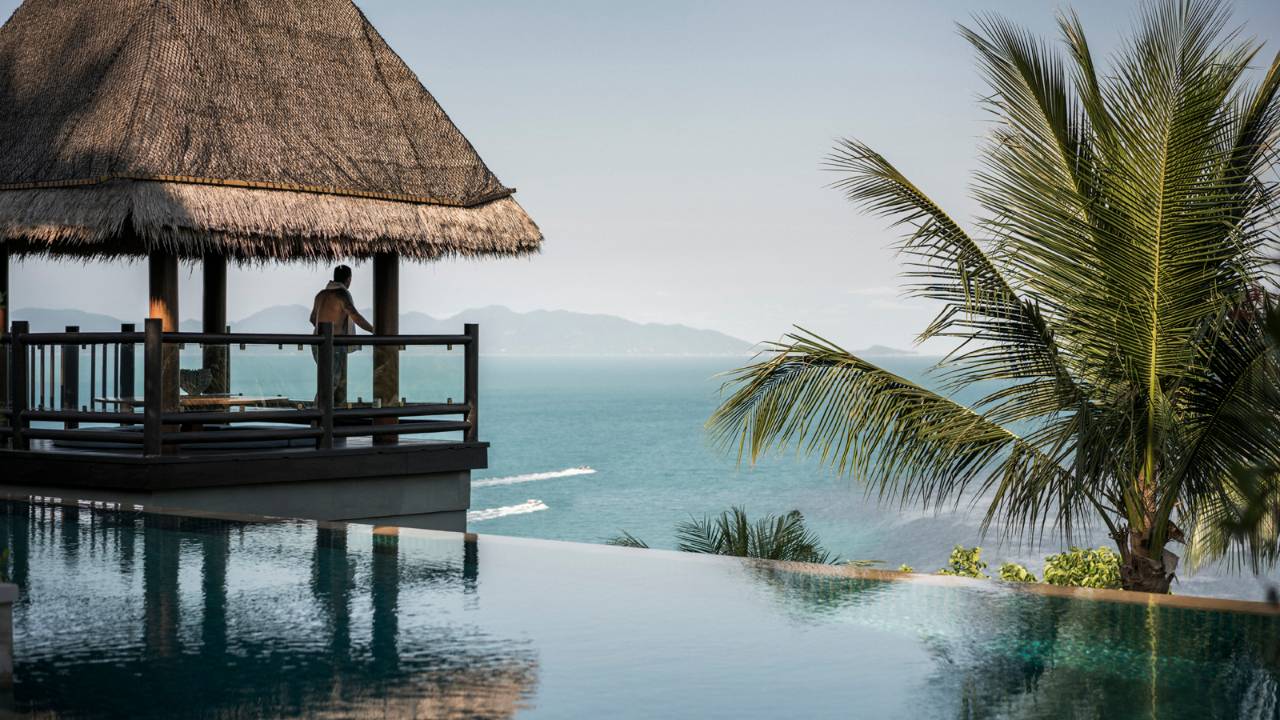 There are 70 Villas and Private Residences in various configurations in hillside and beachfront locations, each with private pool – lavish island retreats with every modern convenience.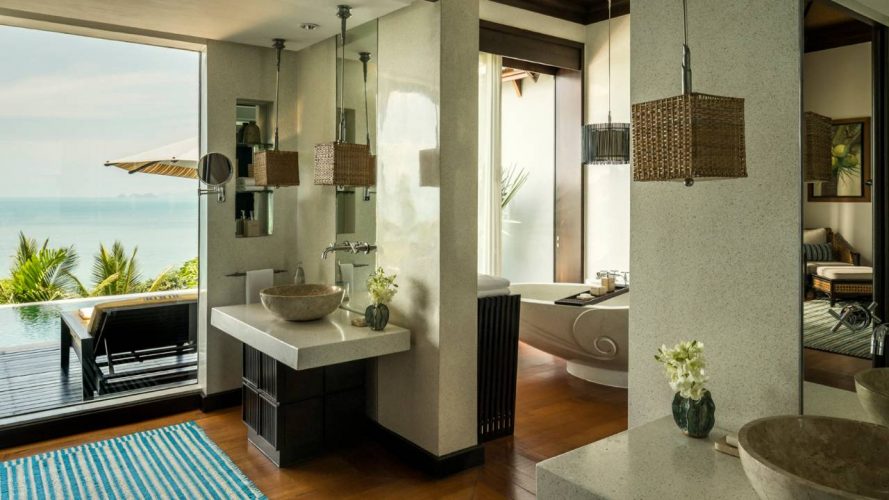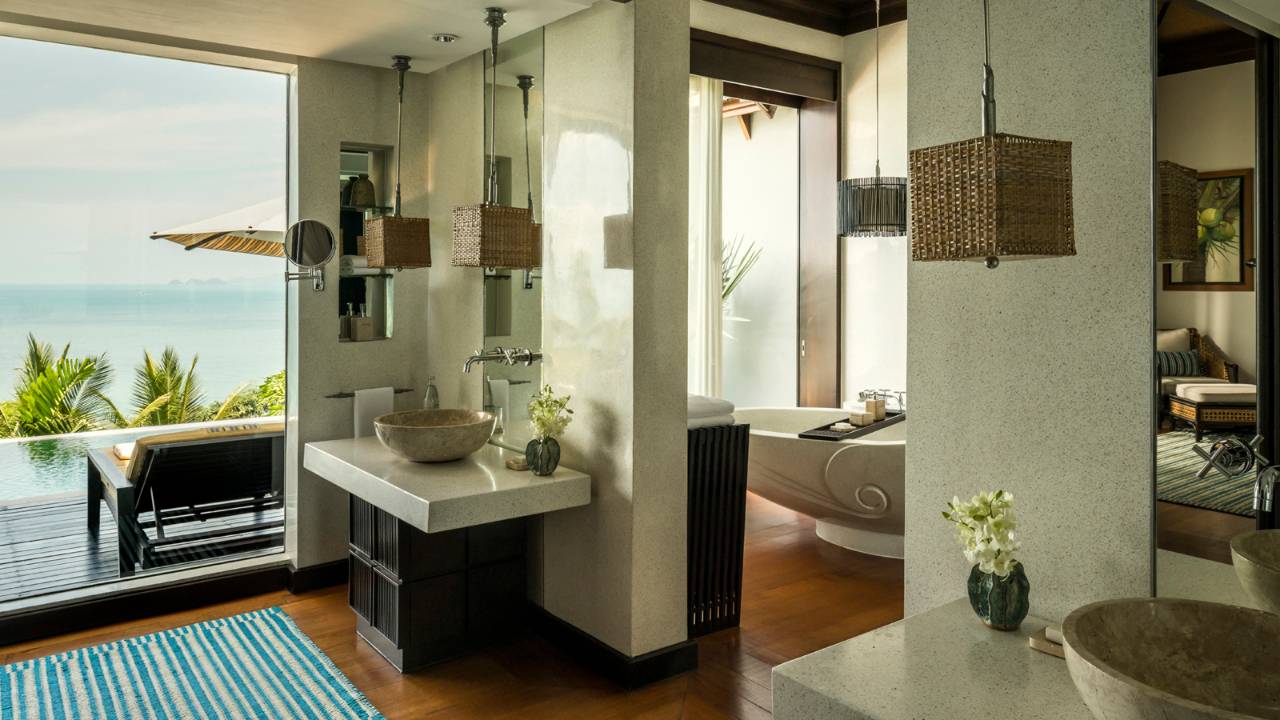 The Private Residences offer maximum space and added privacy for friends and family from one-bedroom right up to five-bedrooms.
At the very top end is the Owner's Residence, a four-bedroom wonder with private butler, chef and fully equipped kitchen at your disposal – the last word in island luxury. Take your private yacht out for a breezy spin in the crystal-clear ocean waters or hop into your exclusive luxury van to discover the sights and sounds of Koh Samui.
Pools
The resort is home to a stunning, 50m long infinity swimming pool.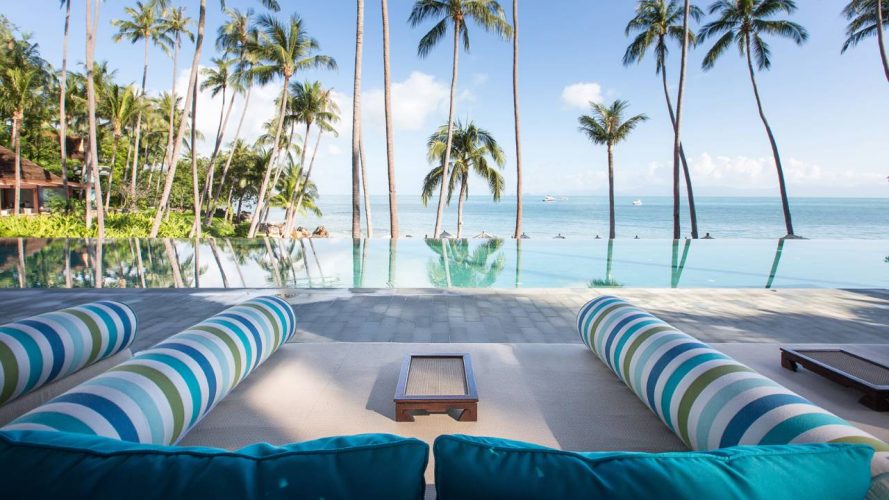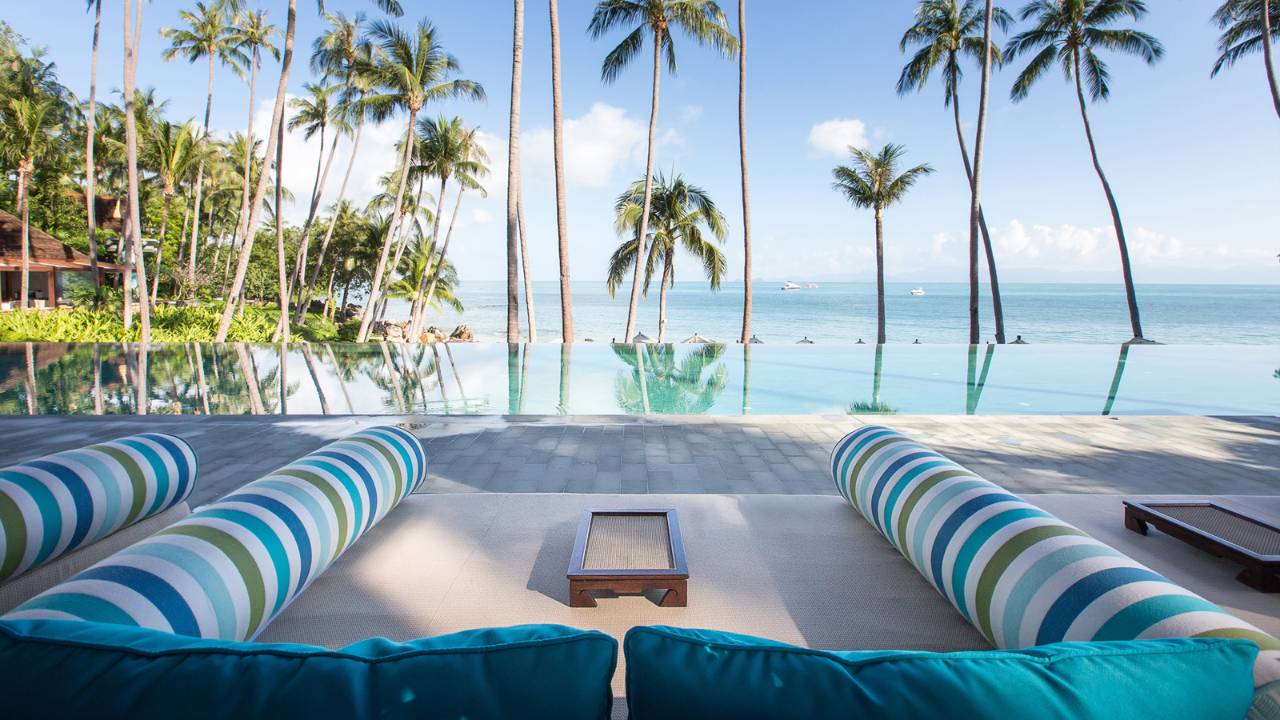 Spa
Set amid the gentle sights and sounds of the jungle, the individual spa treatment rooms are housed in five salas – covered verandas – each with two indoor and two outdoor Thai-style massage beds, an outdoor shower, an outdoor bathtub and a steam room or indoor rain shower.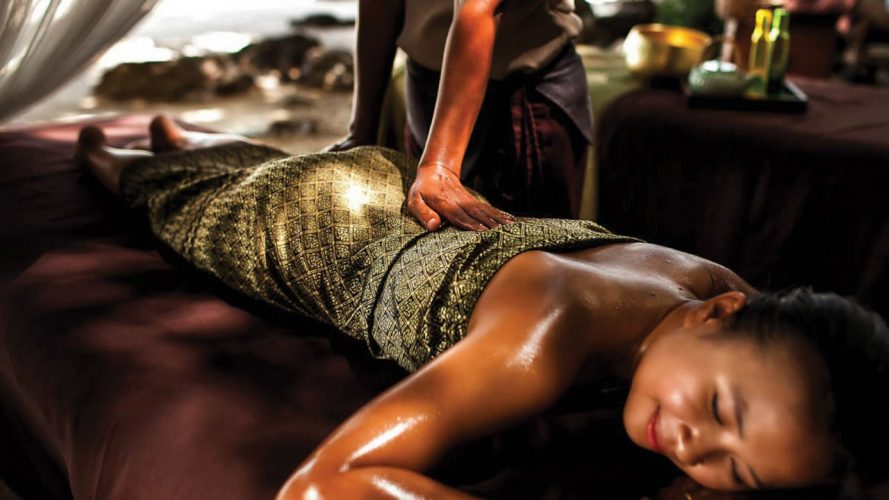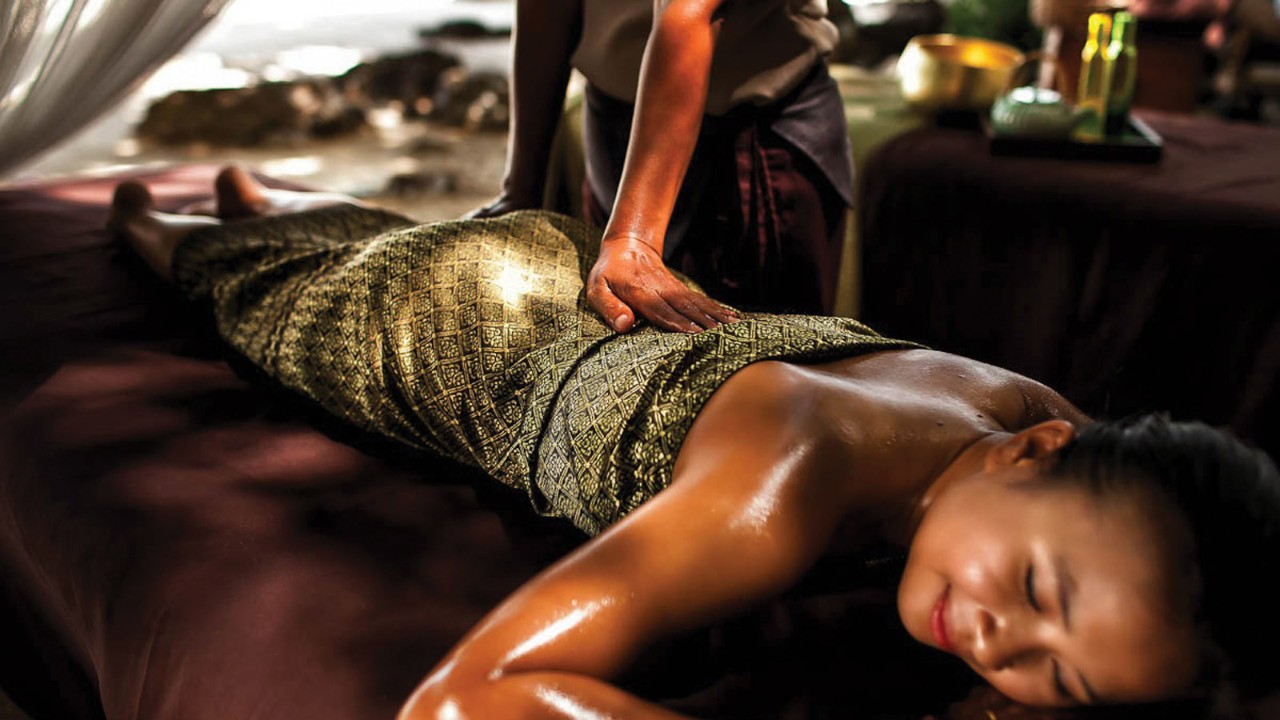 Dining
As you would expect from a Four Seasons property, dining plays an important part in the overall, premium experience. The resort has a number of high quality dining options.
Koh Thai Kitchen And Bar: Authentic Thai cuisine and flavours from the islands, along with great wines.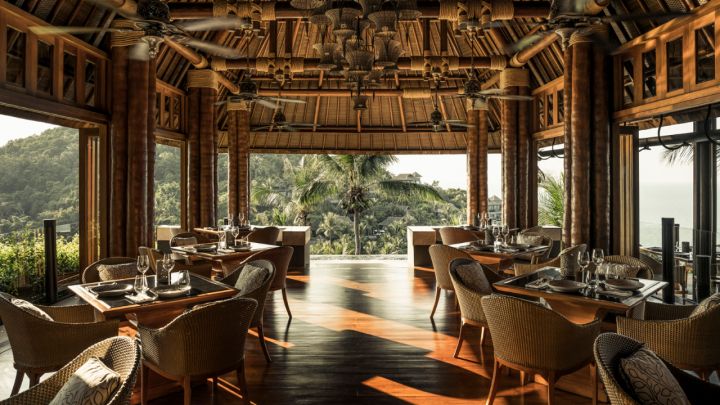 Pla Pla: Located right on the beach, Pla Pla is a casual spot for fish, seafood, Western and Thai favourites in the daytime. In the evening, the restaurant transforms into a stylish Mediterranean venue.
Dinner On The Beach: Available every night at Four Seasons Resort Koh Samui, Dinner On The Beach includes welcome champagne and wine pairing.
CoCoRum: Set on the edge of a 50-metre-long infinity lap pool at the Resort's private beach, this is the perfect location for a refreshing dip between decadent cocktails, Latin-American bites and international favorites.


Recommended Experiences
A totally unexpected offering here is a full-day immersion in Muay Thai, the 'Art of Eight Limbs'. Learn the art of Muay Thai kick-boxing with a professional fighter, take a specialised spa treatment to soothe sore muscles, and watch a real match from VIP seats.
Final Word
Four Seasons Resort Koh Samui is the perfect place to discover the idyllic bliss of Thailand's island life.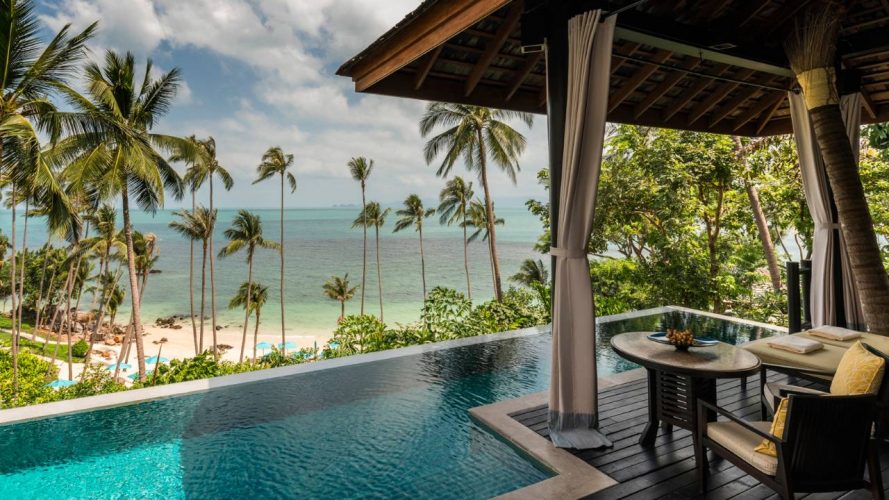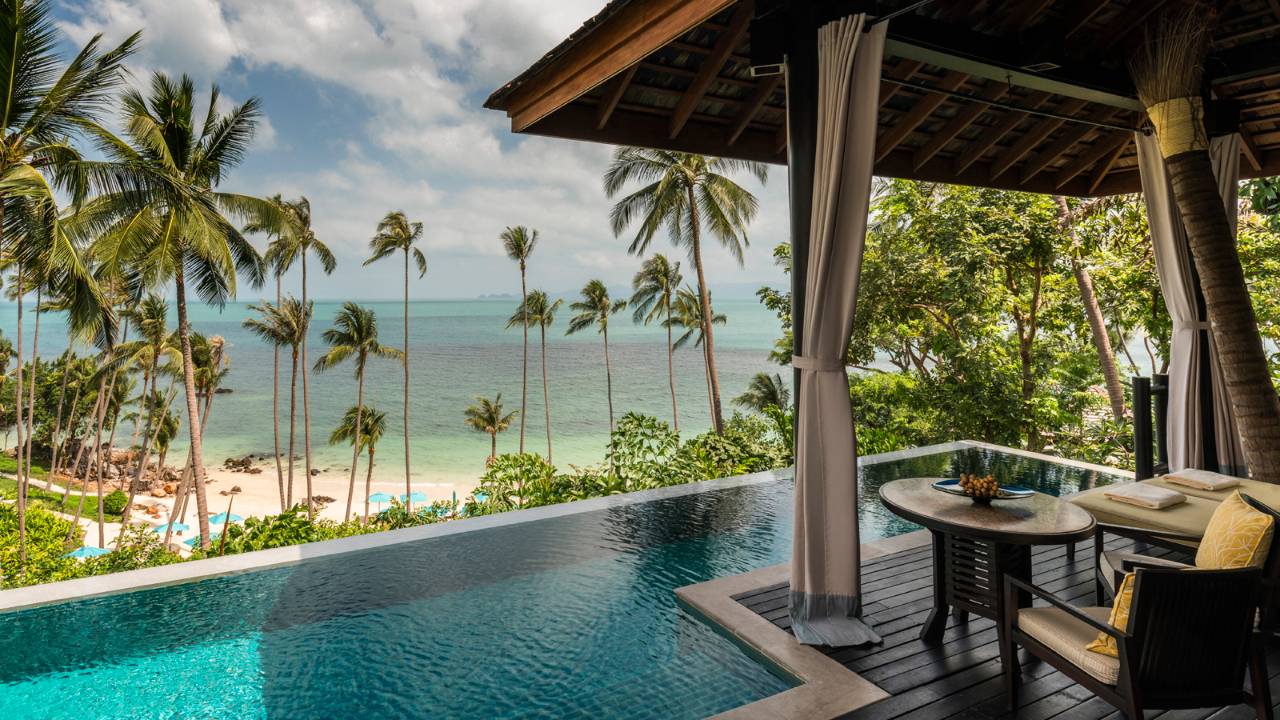 …………………………..
FOUR SEASONS RESORT CHIANG MAI


WHERE: CHIANG MAI
WHO VISITED: Danielle Reilly from Spencer Travel.
WHEN: November 2015
WHAT WE LOVED
Four Seasons Resort Chiang Mai is the perfect place to discover the treasures of Northern Thailand.
We were met on arrival and taken straight to lunch at Terraces Restaurant with the view of rice paddy fields. Food plays a huge role at this resort, and at 5.30pm we met the General Manager for a sundowner before taking part in a Cooking School challenge. Our host was brilliant and ensured that everyone had a ball. And even though we bribed the judge, we didn't win!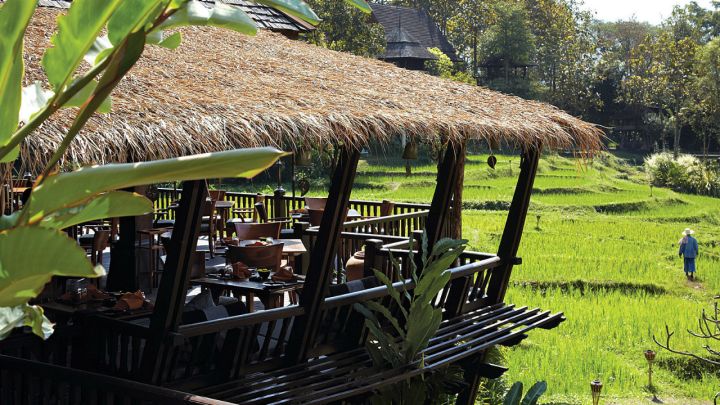 Another brilliant activity is the optional yoga lesson before a delicious breakfast at the Sala Mae Rim restaurant.
We also took part in an 'Immerse yourself by becoming a farmer' tour for the afternoon which involved dressing up in local gear and trekking through the paddock. We really got our hands dirty and planted rice in the mud. The experience concluded as we sat with local gardeners to make special baskets made from banana leaves to be floated on the lake during the evening's celebration dinner.
We had a very special farewell dinner at Ratree Bar. I was so impressed with every member of staff I came across over the duration of the week. Everyone was so friendly, helpful and genuine.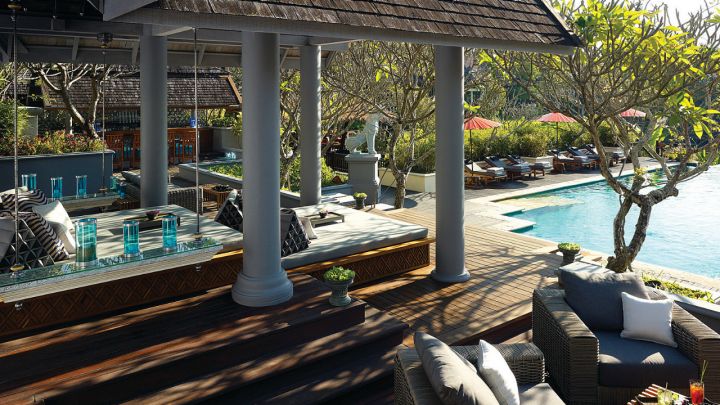 Rooms
With vaulted ceilings and covered verandas, each of our 98 spacious pavilions and luxury villas in Chiang Mai features polished teak floors, rich Thai cotton decorations and beautiful Siamese artwork, all under cooling overhead fans.
Pavilions: With grand interiors and a covered outdoor veranda, your pavilion blends the best of traditional Thai design with stunning natural beauty.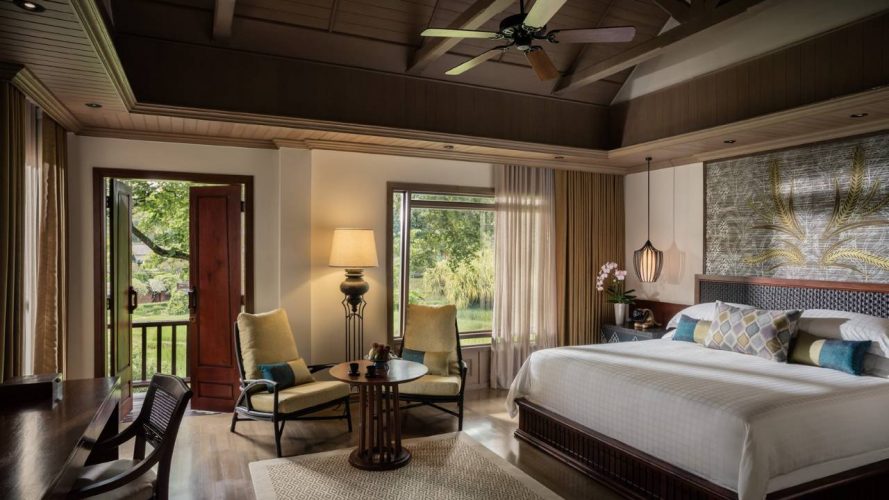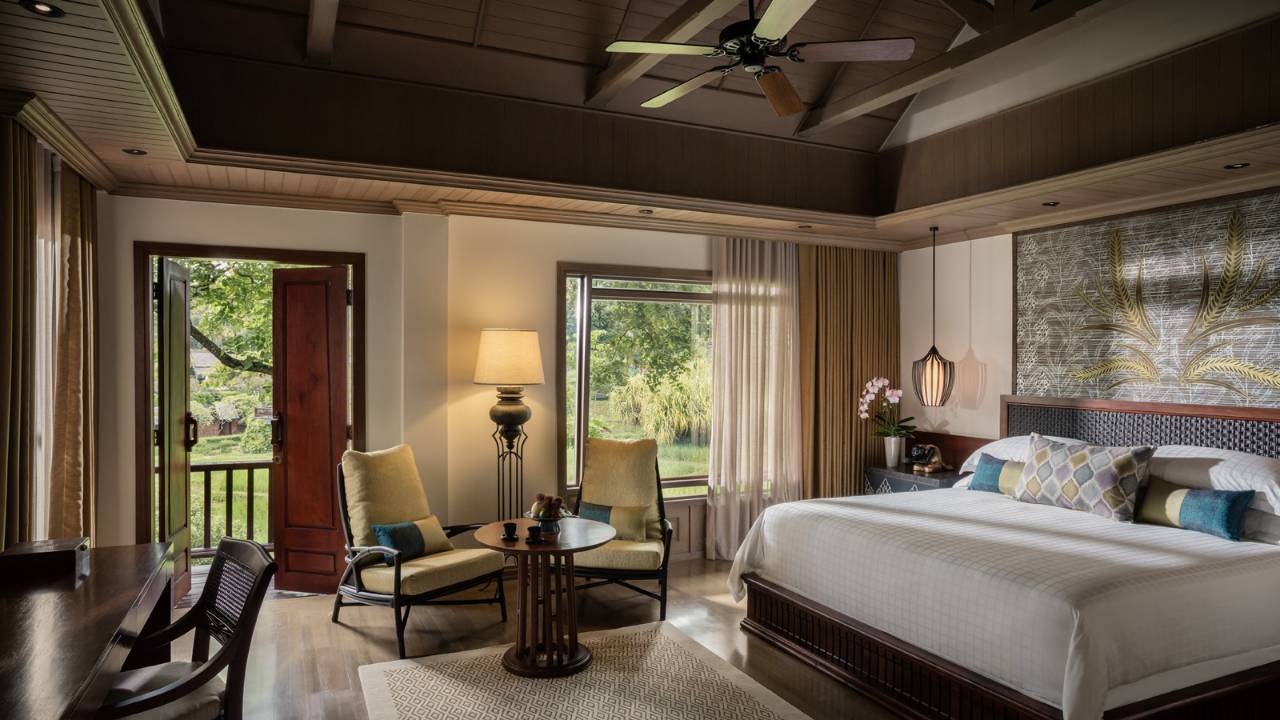 Villas: More of a private home than a guest room, your One-Bedroom Villa offers a large private pool with views of the Suthep mountain range and tropical gardens.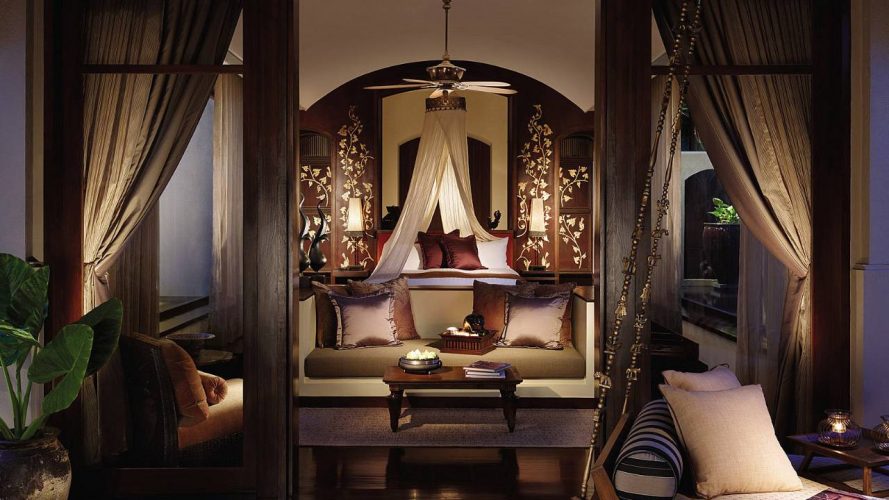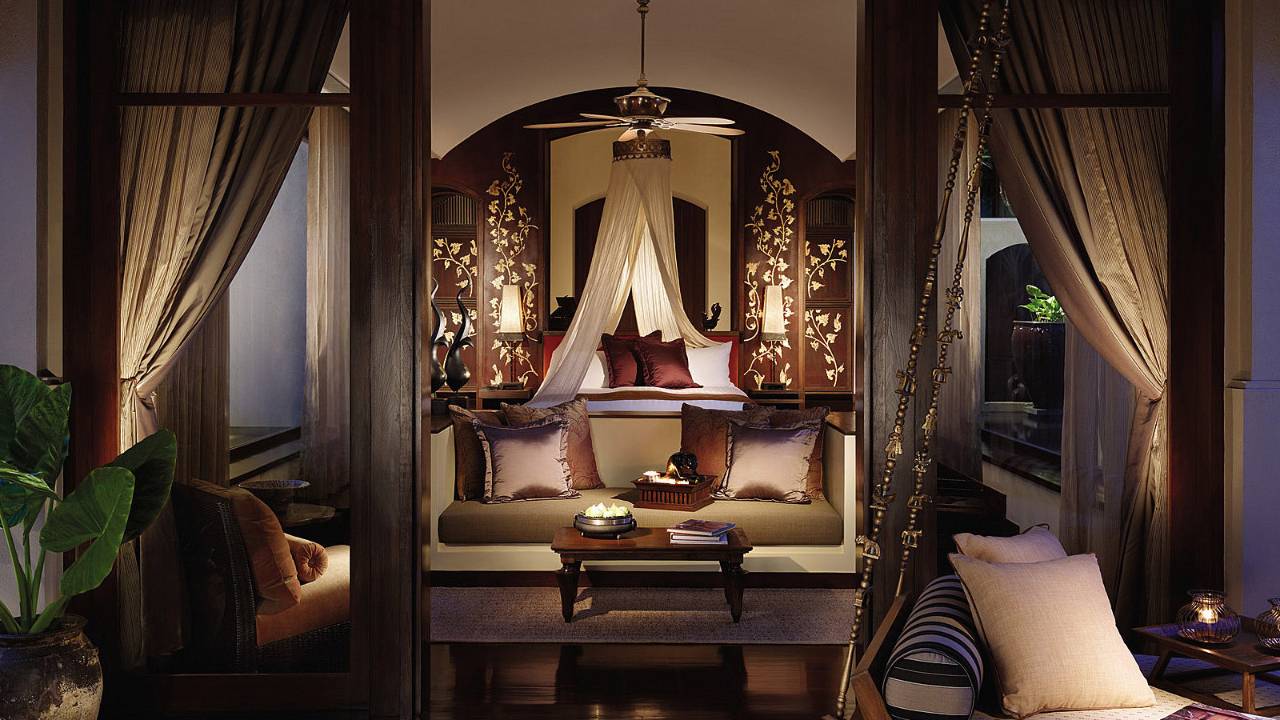 Private Residences: Offering the exclusivity and comfort of private homes, the Resort Residences are located in three- and four-storey buildings influenced by traditional Thai-Burmese temple architecture.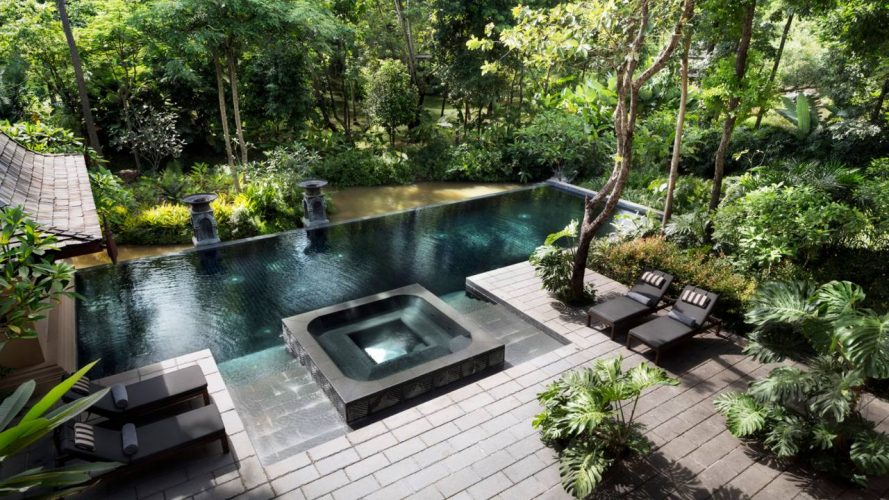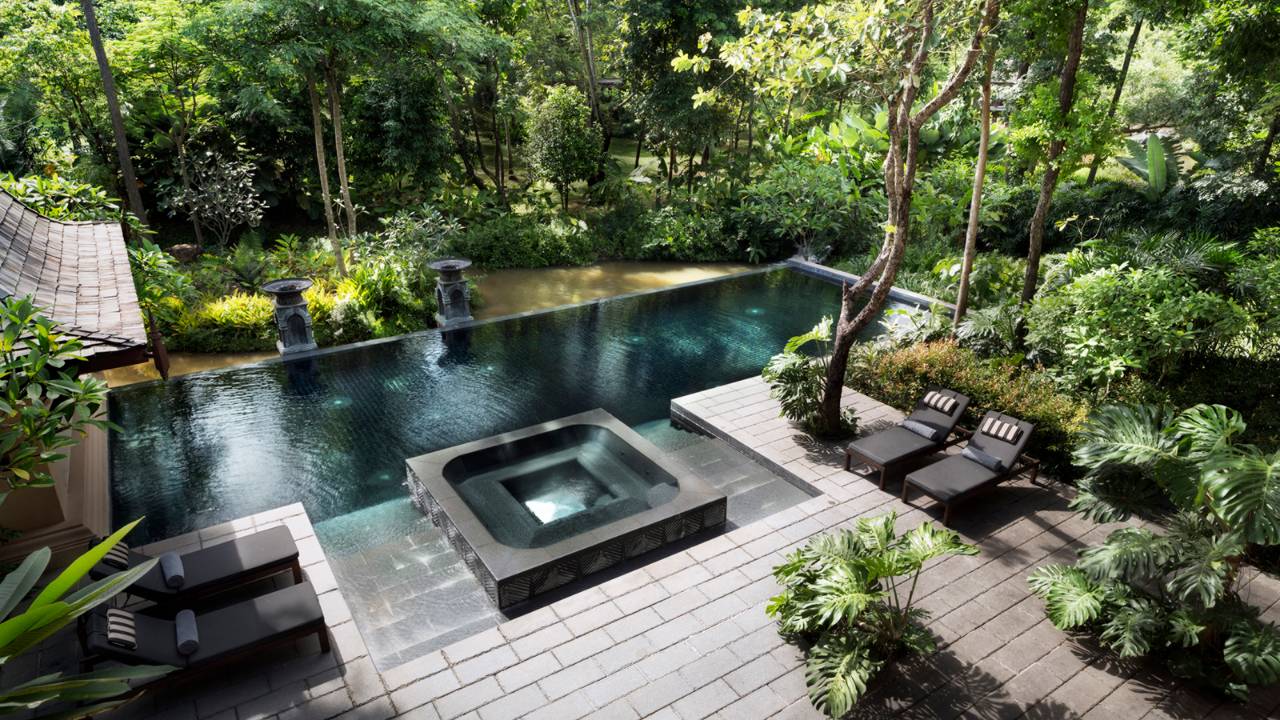 Pools
The 20-metre infinity pool has beautiful views of the Mae Rim Valley over picturesque rice terraces. On a lower level, there's a second, adults only infinity pool. Poolside foot massage service is also available.
Spa
seven spacious treatment suites offer total privacy for individuals or couples. Each suite offers a variety of facilities, including outdoor showers, private herbal steam rooms and outdoor soaking tubs. Two of the suites have tropical rainshower massage tables.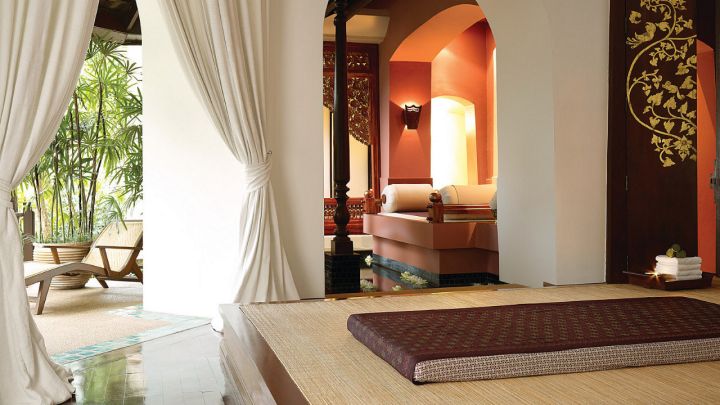 The spa also features a Lanna-style beauty salon.
Dining
Sala Mae Rim restaurant: Specialises in the unique flavours of vegetarian and Northern Thai specialties.
Terraces: Showcases home-style Italian cuisine with a menu of authentic flavours and exceptional ingredients
Ratree Bar: The resort's home of Thai-inspired cocktails in a casual Thai-style ambience complete with fine wines, and a delicious selection of Thai and international snacks.
Elephant Bar: This is the perfect place to watch the sun set as you relax on the terrace under large Thai umbrellas. This open, pavilion-style lounge offers a truly relaxing atmosphere. Enjoy a creative selection of cocktails, after-dinner drinks and refreshments.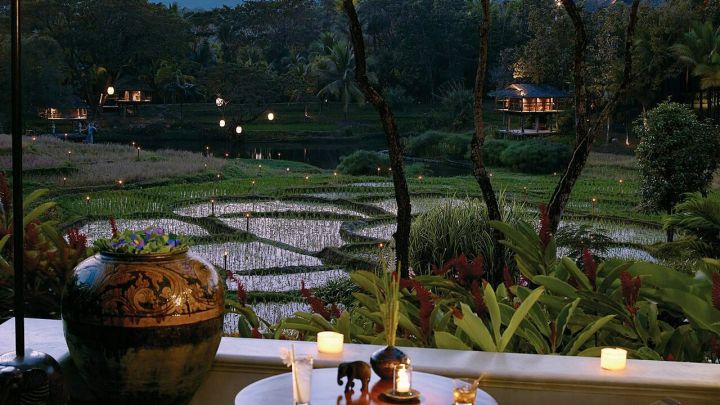 In-Pavilion Dining is a 24-hour fine-dining experience within the comfort and convenience of your pavilion, villa or residence suite.
Recommended Experiences
Your own Thai Kitchen: The Cooking School at Four Seasons Resort Chiang Mai. Spend the morning immersed in the energy and excitement of local markets as you and the chef-guide examine fresh, local ingredients before returning to the Resort Cooking School for a hands-on lesson in Thai cuisine.
Final Word
The resort offers an ideal combination of luxury accommodation, signature service and unique experiences for the discerning traveller.
…………………………..
METROPOLITAN BY COMO


WHERE: BANGKOK
WHO VISITED: Theresa Reynolds from Spencer Travel.
WHEN: September 2015
WHAT WE LOVED
The Metropolitan by COMO is in a good location for both Business and leisure, and combines a sleek, urban style with a contemporary Asian aesthetic.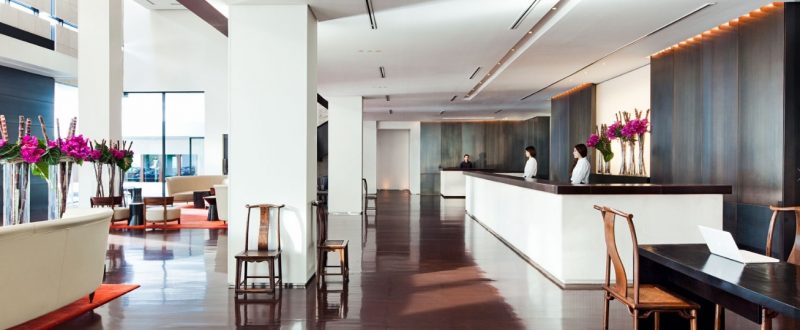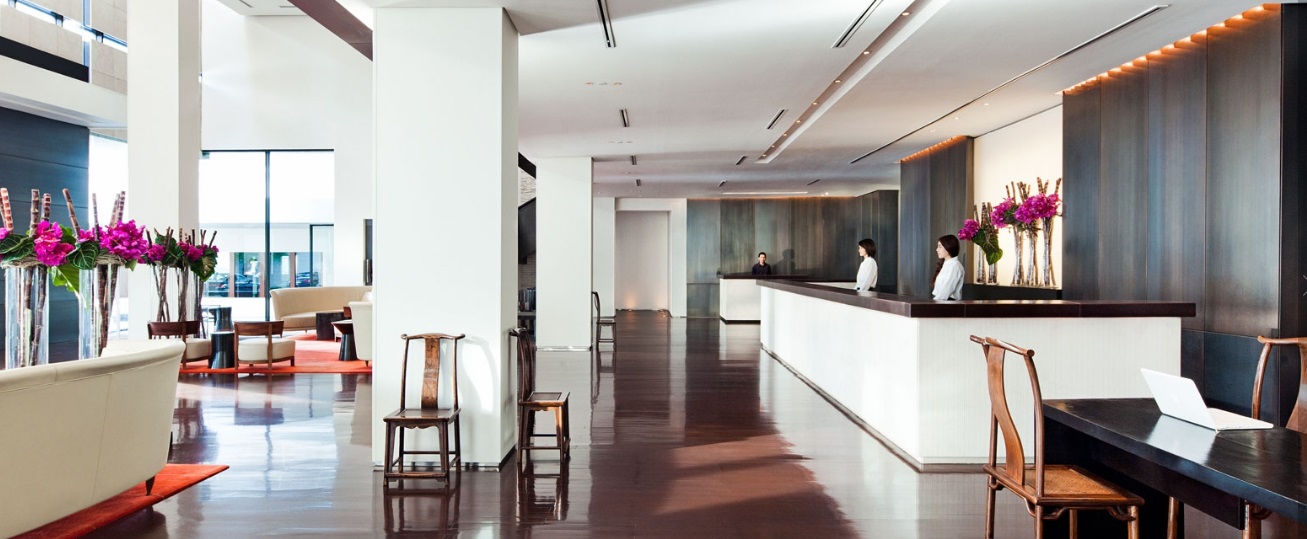 I really liked the décor of the reception area of this contemporary Bangkok design hotel which provides a great introduction to the style of the rest of the property. The staff was wonderful. The service was attentive and everyone sported that authentic, lovely Thai smile.
The nearest Skytrain station to the Metropolitan is Saladaeng, which is about a 10-minute walk from the hotel. During our stay we took the Skytrain the few stops to the Siam Paragon Shopping Centre. Very convenient and considered by many to be the very centre of Bangkok.
The hotel's outdoor pool, yoga studio and spa create a place of calm amid the urban buzz surrounding it.
Rooms
The Metropolitan by COMO has 169 rooms and suites.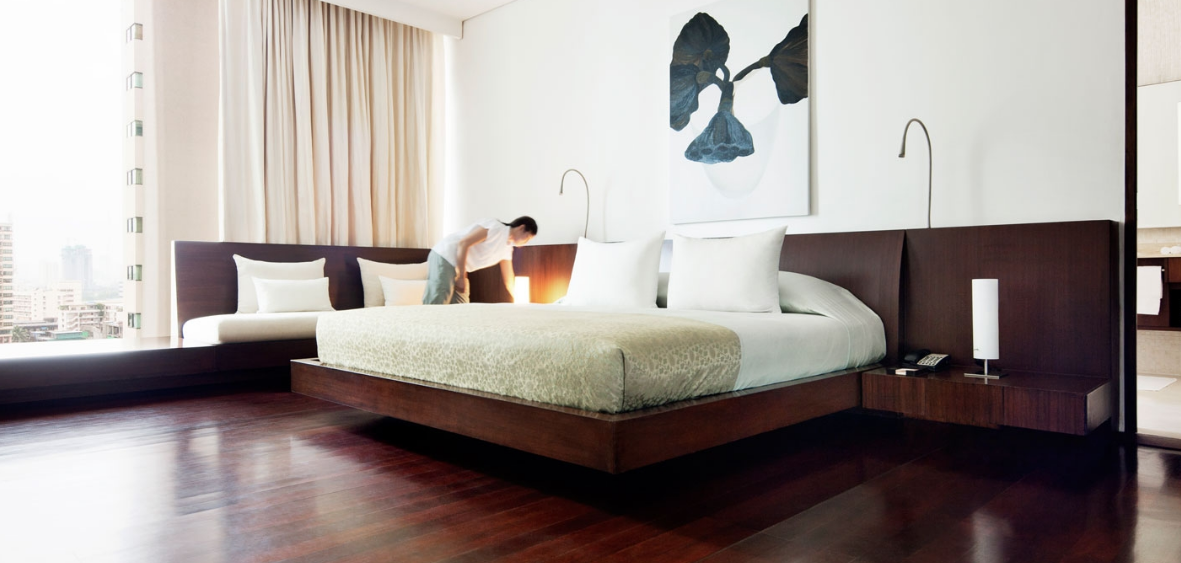 I stayed in a Metropolitan room which was very spacious with a neutral, contemporary style. The bathroom was a great size with a lovely clean open feel.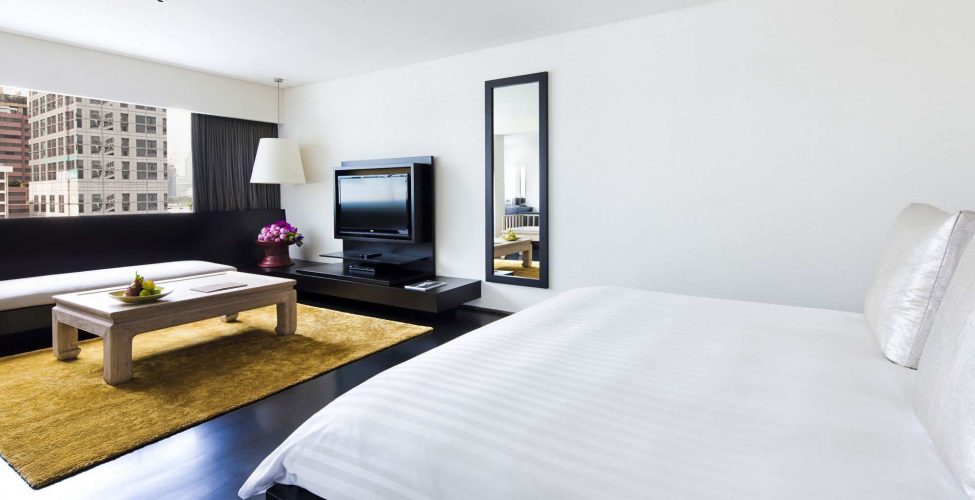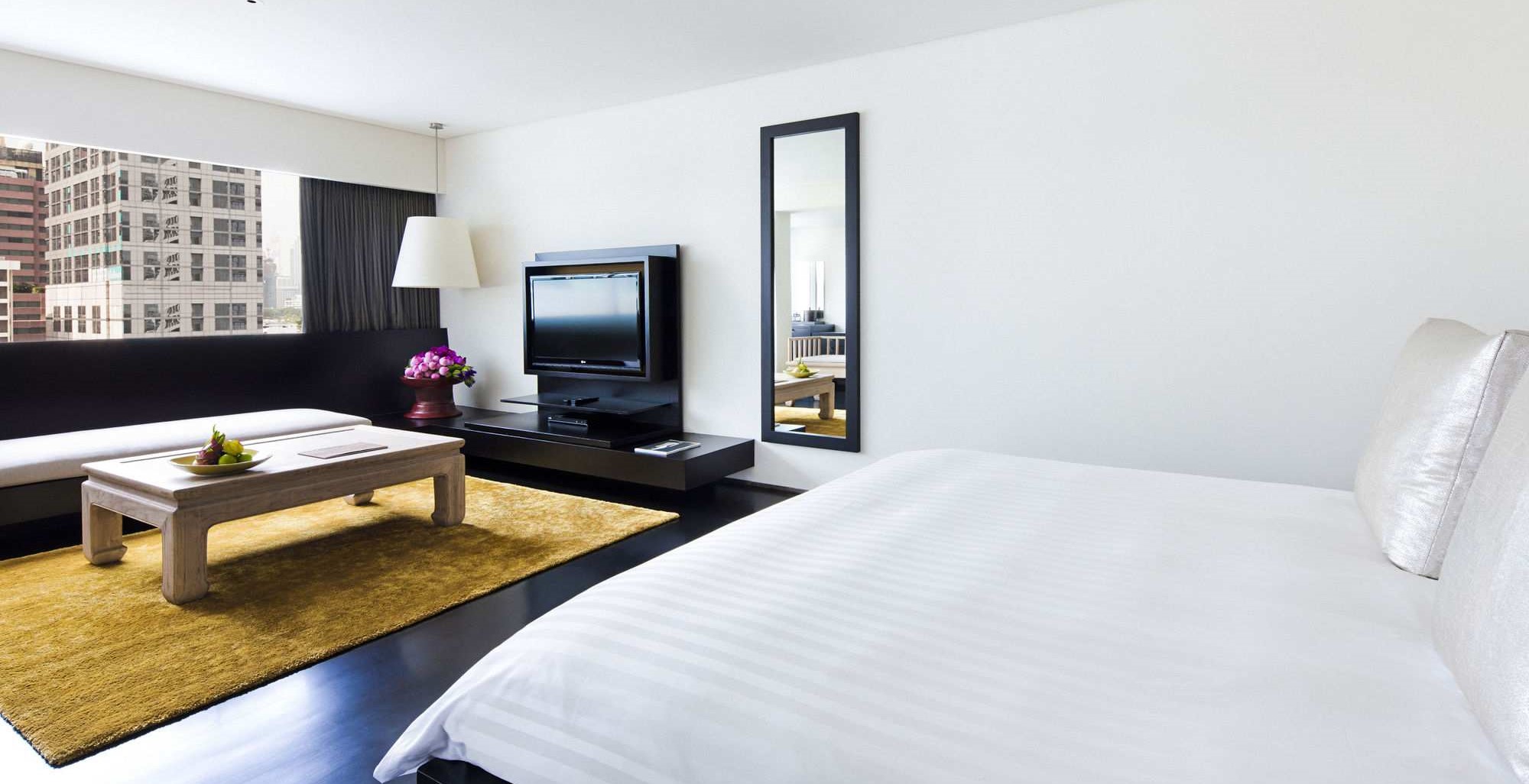 The hotel offers a range of room types as follows:
City Rooms
Studio Rooms
Metropolitan Rooms
Terrace Rooms
Executive Suites
Penthouse Suites
COMO Suite
Pool
The hotel has a quiet, well-maintained 20m outdoor lap pool available from 6am to 8pm.
Spa
The COMO Shambhala Urban Retreat spa was of a very high standard and offered numerous treatment options using the Shambala range of products. We tried Tai Chi and would recommend to guests if time permits. The hotel offers a daily schedule of complimentary Tai Chi, yoga and Pilates classes, along with male and female steam rooms and hydro pools, plus 10 serene treatment rooms.
Dining
The hotel is home to the vibrant award-winning Thai restaurant 'nahm' by David Thompson, 'glow' restaurant, Met Bar and its location puts in within easy reach of some of Bangkok's renowned shopping and nightlife.
The dining options and spaces were excellent. We were fortunate to enjoy a meal at nahm which delivered an outstanding offering of the finest of Asian cuisine. In 2014 nahm was voted number one in Asia's 50 Best Restaurants.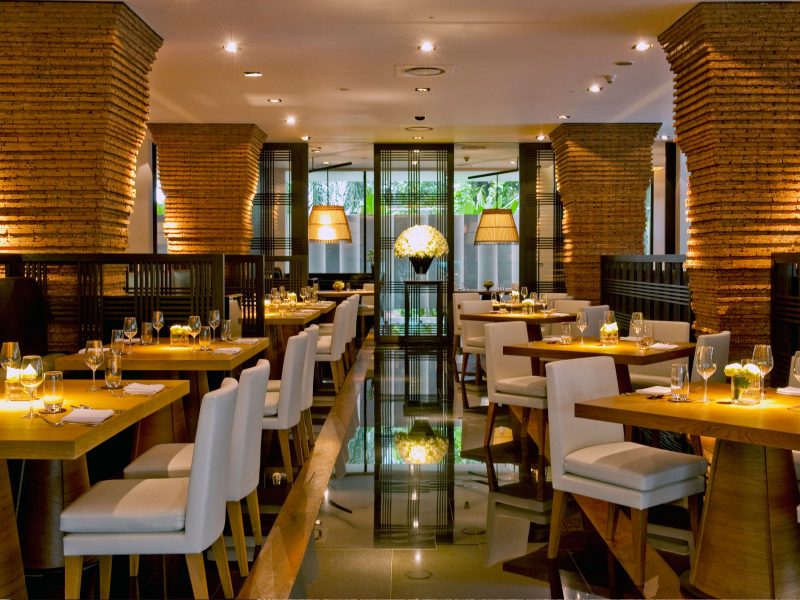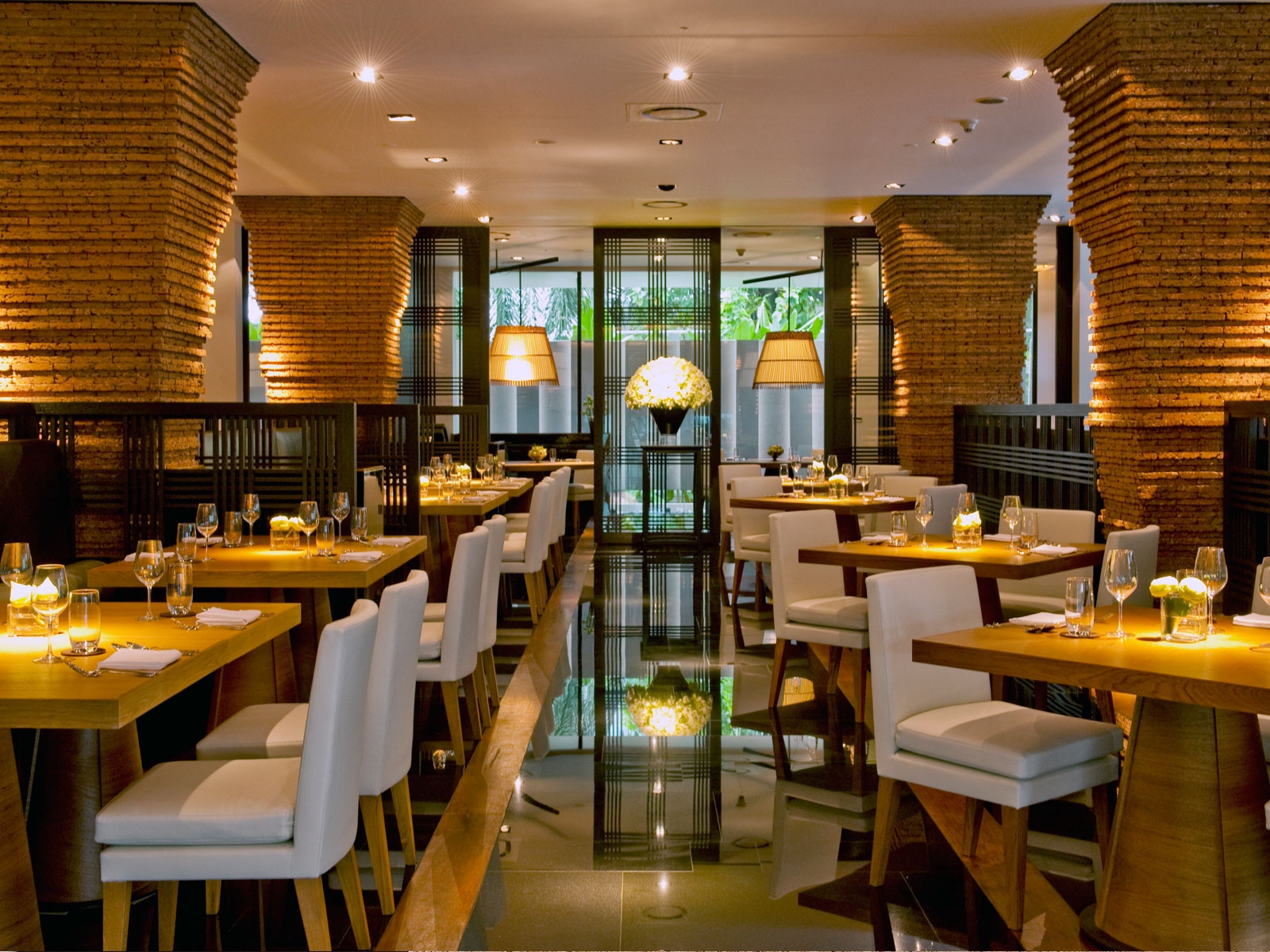 Glow offers healthy, Asian-inspired dishes on its menu of COMO Shambhala cuisine. The daily breakfast in 'glow' was of a very high quality offering numerous healthy choices in a lovely light room with wonderful large images of lilies.
For cocktails and late night snacks, there's the chic Met Bar a favourite of the Bangkok's design, music and fashion crowds.
A range of all-day dining options—Thai, Italian and kid-friendly comfort dishes—are available on the hotel's Room Service menus.
Recommended Experiences
One evening we travelled by Tuk Tuk to the riverfront for a local dinner followed by a visit to Asiatique market.
The hotel also offers curated experiences of the city. These range from customised street market trips, designing a program of treatments at COMO Shambhala Urban Retreat, or securing guides to the city's so-hot-right-now fashion stores.
Final Word
Metropolitan by COMO is a boutique city hotel with a chic, contemporary design. Home to 169 generously sized rooms and suites, the hotel offers clean, crisp open spaces with good natural light from floor-to-ceiling windows. It enjoys a great location that suits business and leisure travelers.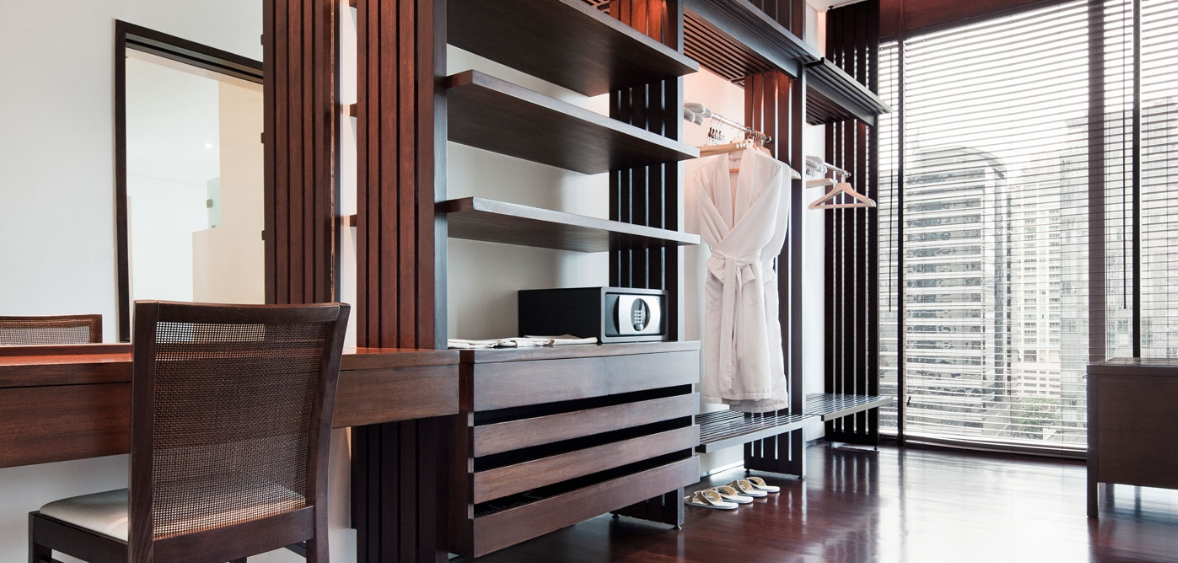 The hotel is on South Sathorn Road in Bangkok's Central Business District just 40 minutes from the International Airport, with good access to the city's cultural highlights, shopping and nightlife.
……………………….
POINT YAMU by COMO

WHERE: PHUKET
WHO VISITED: Theresa Reynolds from Spencer Travel.
WHEN: September 2015
WHAT WE LOVED
This is a fantastic resort. I personally loved the décor and atmosphere of this property. The staff and food are amazing and nothing was too much trouble.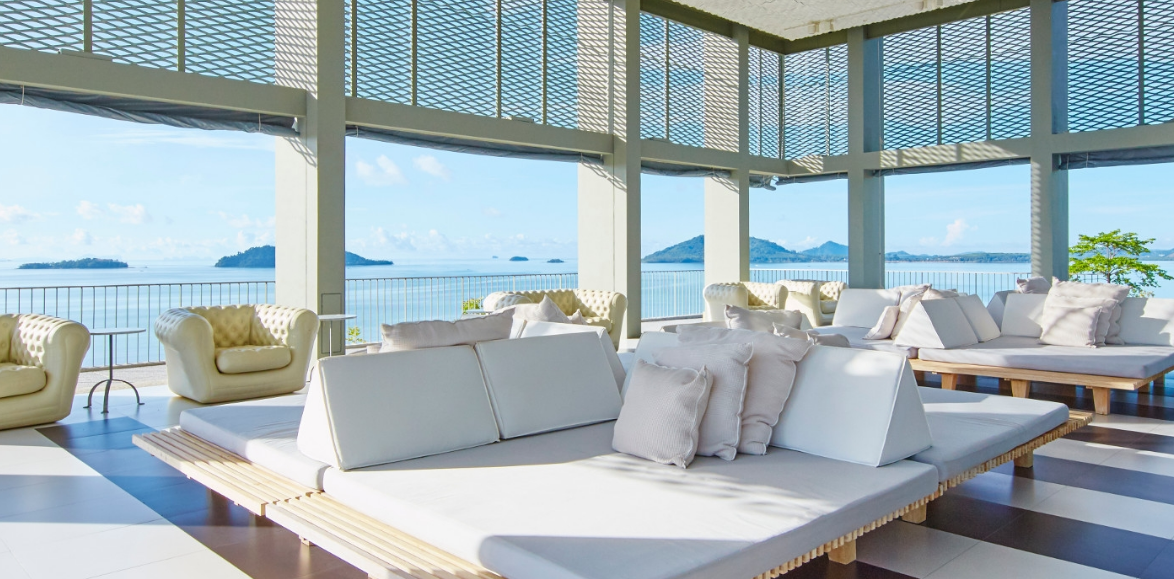 I stayed in a Bay Suite room which was lovely and light plus very spacious. All rooms look over the bay dotted with islands. This luxury resort sits at the tip of Cape Yamu overlooking the Andaman Sea and the dramatic limestone formations of Phang Nga Bay.
It's important to understand the resort's location. It is on a secluded headland a 25-minute drive from Phuket International Airport with great views but no nearby town or beach. The COMO Beach Club, however, provides guests with the beachiness the main resort lacks.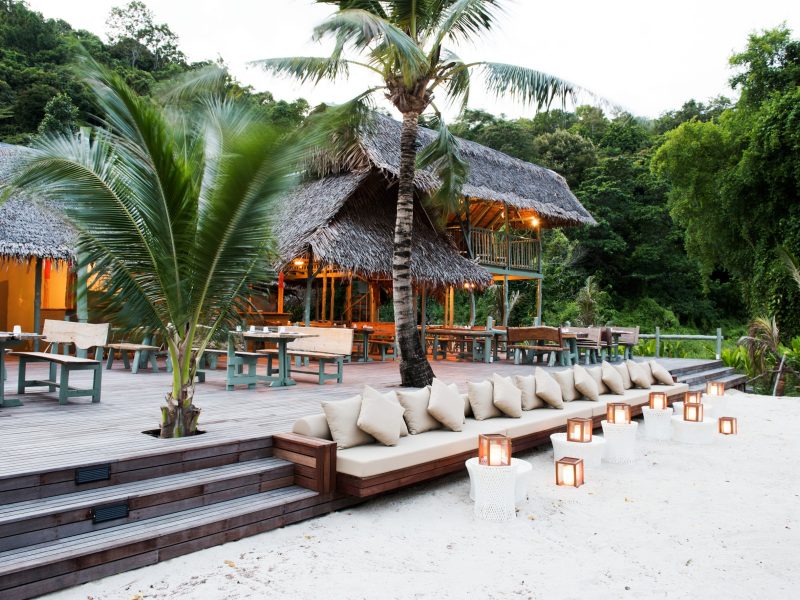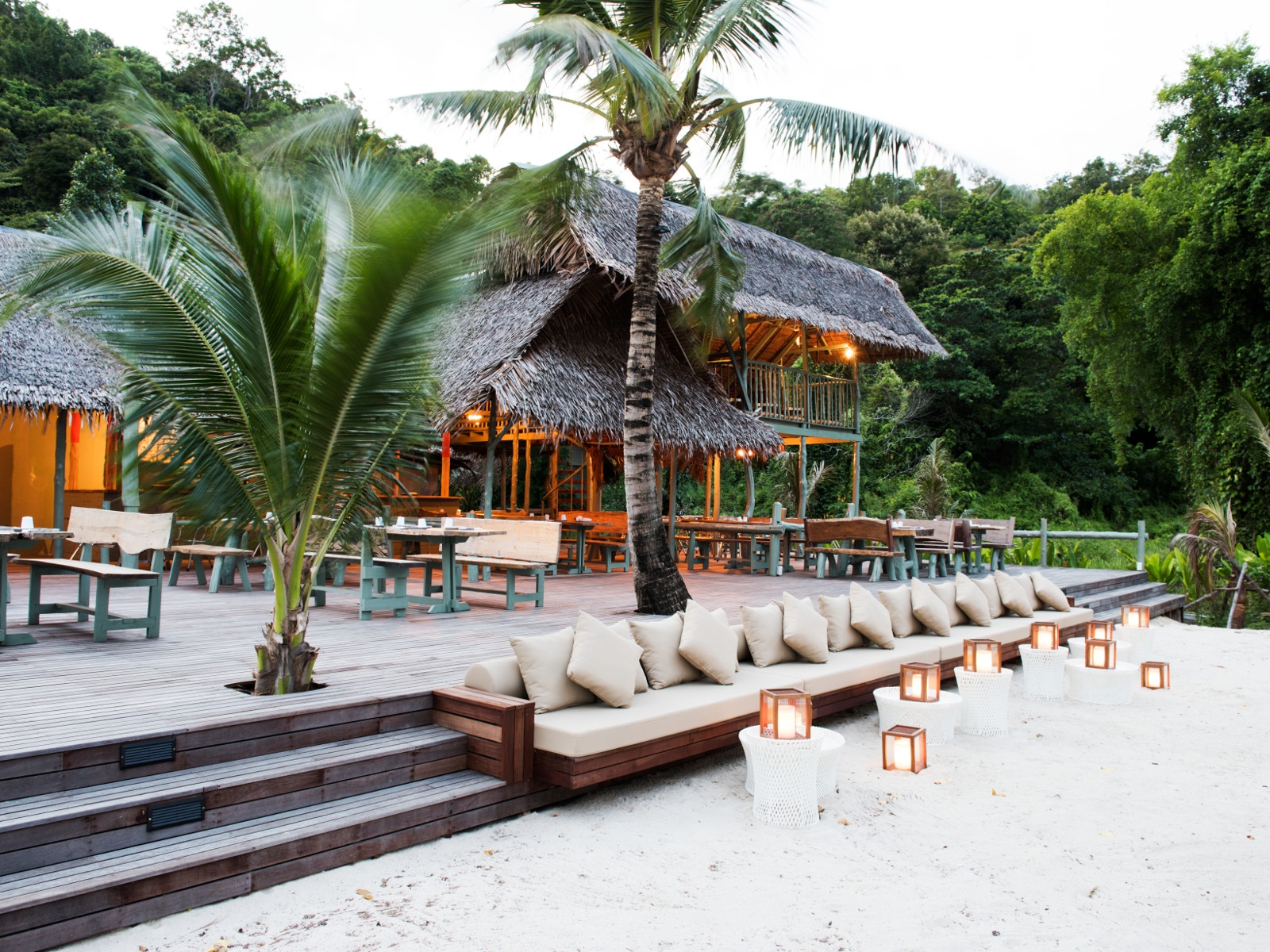 The Beach Club sits on a private beach on nearby Naka Yai Island in the Andaman archipelago. It offers the perfect daily dose of island escapism. It is only 30-40 minutes by boat from Yamu Pier, which itself is only five minutes from Point Yamu by car.
Point Yamu by COMO caters well to families, with a very good kids club and also a dedicated area for teens. The resort pool also has a separate family area.
Rooms
Guests enjoy panoramic, floor-to-ceiling views across the bay from each of the 106 rooms and suites.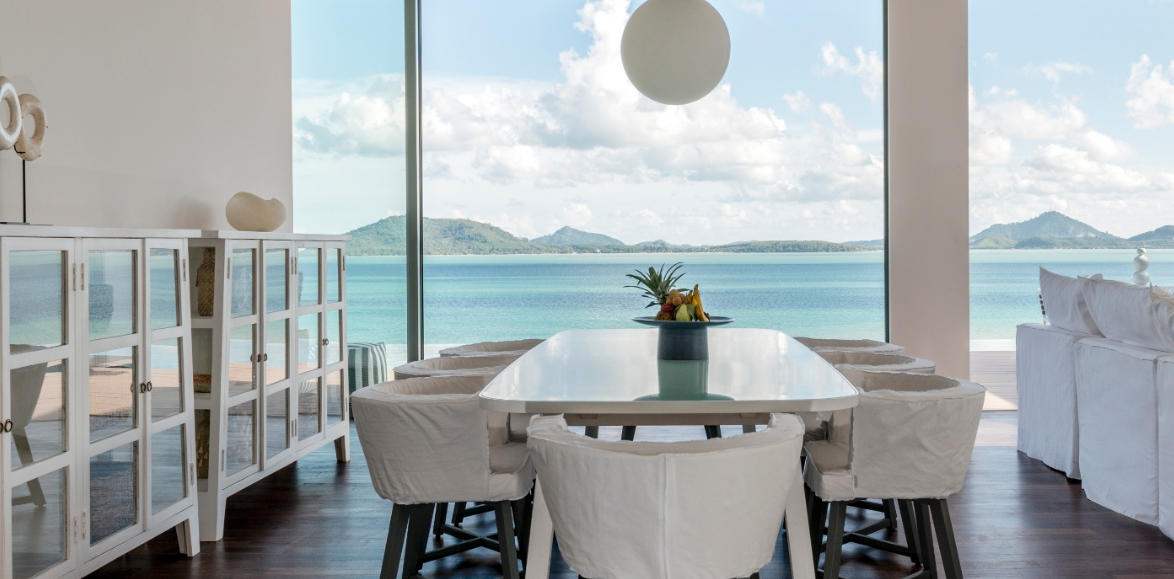 Accommodation is available in the following categories:
Bay Rooms
Verandah Rooms
Verandah Room with Pool
Bay Suites
Bay Pool Suites
Verandah Suites
Verandah Pool Suites
Phang Nga Suites
Phang Nga Pool Suites
Point Yamu Suite
COMO Suites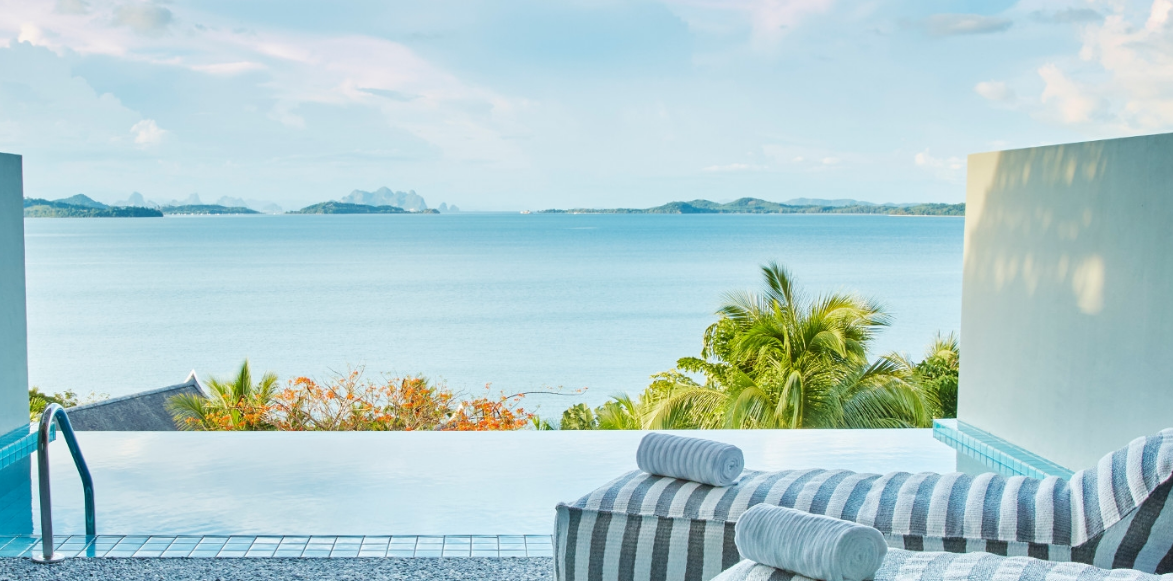 Pools
The resort has an outdoor, infinity pool that is a massive 100 metres long.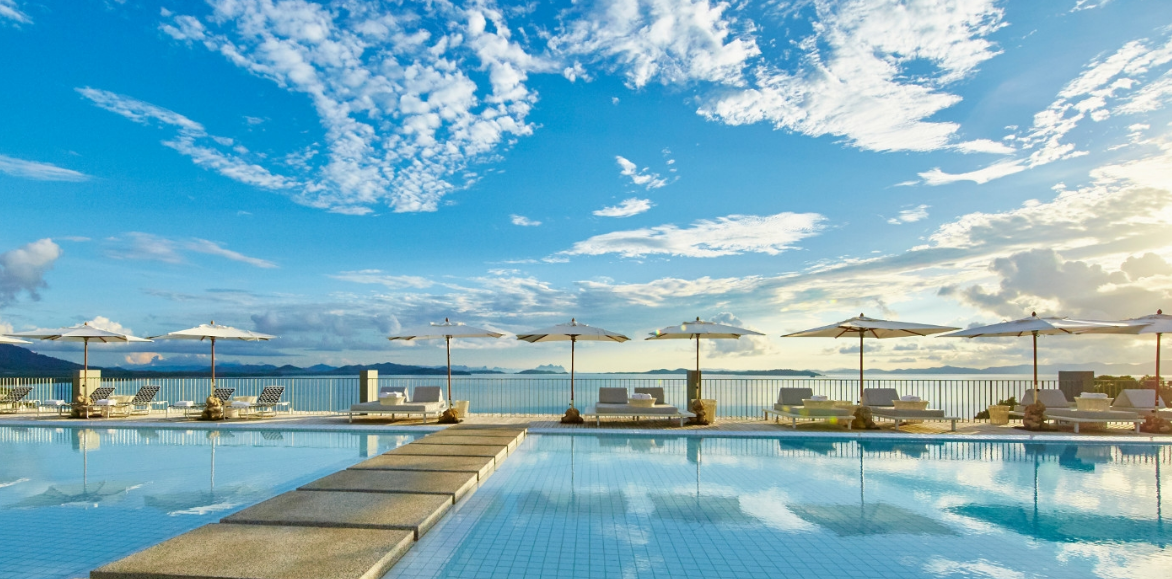 Some accommodation categories have their own private pools.
Spa
COMO Shambhala Retreat offers holistic treatments to improve mental quietude, physical wellbeing and spiritual balance. It is home to a yoga studio, two double and five single treatment rooms, four Thai massage alcoves, plus separate male and female steam rooms, Jacuzzi and gym.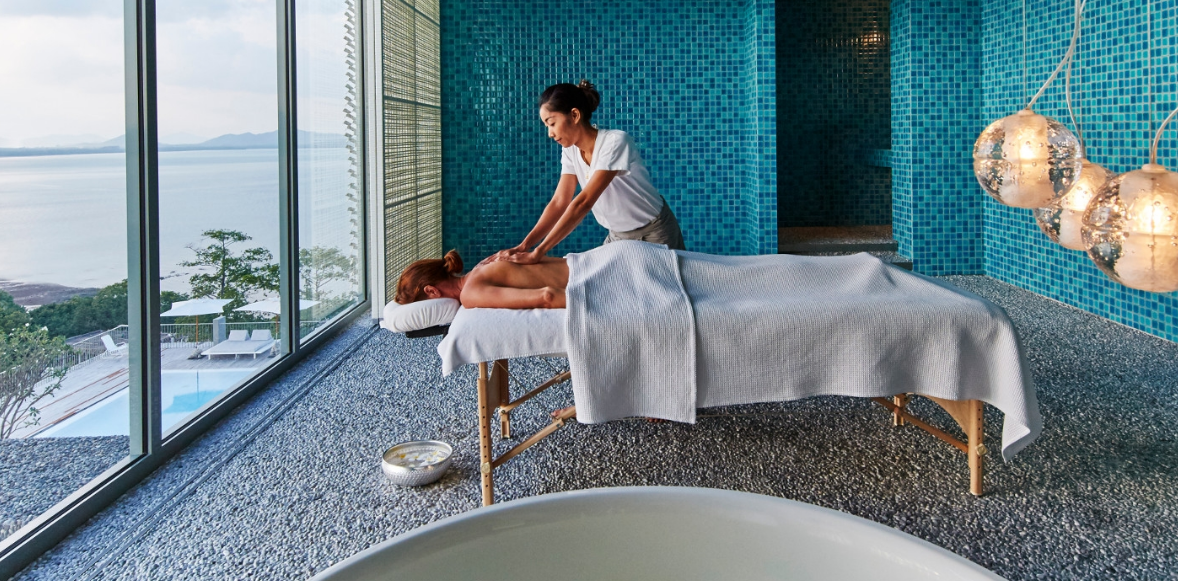 Dining
The food at point Yamu was outstanding and is renowned for having some of the best dining in Phuket. F&B outlets include a choice of Italian, Thai or healthy COMO Shambhala Cuisine. The resort's restaurants draw on local seafood, and can serve meals as beach picnics, poolside or in-suite.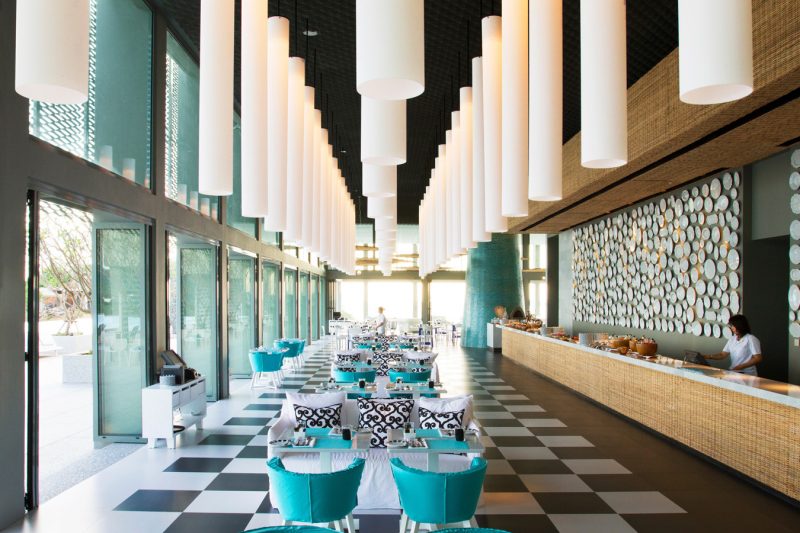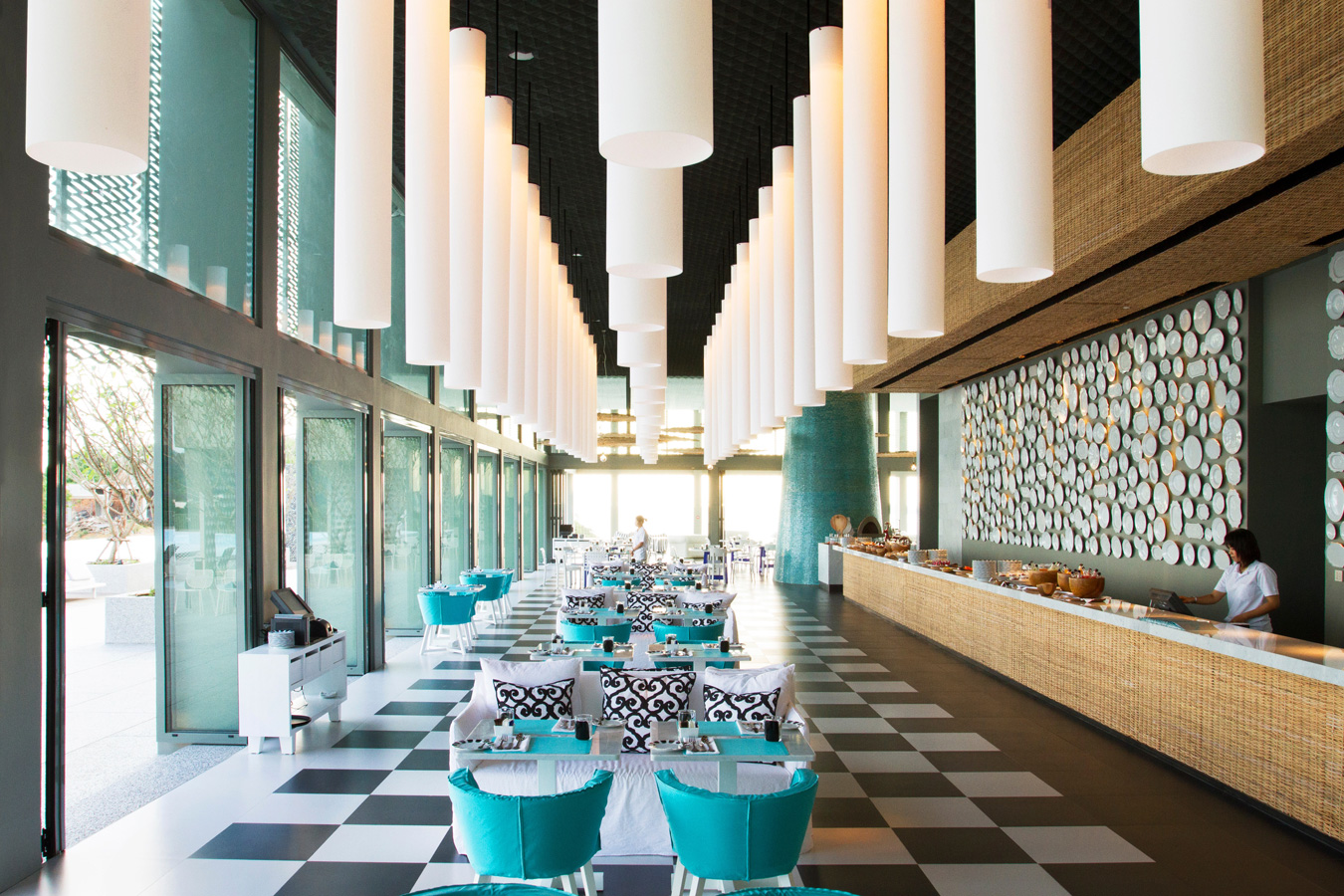 La Sirena Italian Restaurant is located poolside, and open breakfast, lunch and dinner.
Nahmyaa Thai Restaurant is open daily for lunch and dinner and is inspired by Thai street food cooking.
Aqua Bar is open daily from 9am until midnight serving up cocktails, smoothies and juices to be enjoyed poolside.
Room service is available 24 hours and offers a range of international classics.
Recommended Experiences
There are plenty of activities including yoga, Thai Chi, bike tours, cook schools and the excellent Como Shambhala Spa. But you simply must spend a day (or more) out at COMO Beach Club. A shuttle runs daily to the pier before the hotel's private boat sails to the island.
The Beach Club boasts a secluded beach, a saltwater pool with large sun deck, beachside restaurant and bar, two COMO Shambhala treatment rooms, private 'salas' complete with a daybed, seating area, shower and bathroom, a watersports centre, kids' club, and Internet connection. It is open from 10am – 4pm daily.
Final Word
Point Yamu by COMO is not a conventional beach resort; its location above the Cape, overlooking Phang Nga Bay, affords a 360 degree spectacular Andaman Sea views, but not direct access to private beach. However, the private COMO Beach Club does make up for that shortcoming.
As this property is the East of the island the airport transfer is shorter than to other resort areas, and does not get affected by the notorious traffic jams on the other side of Phuket.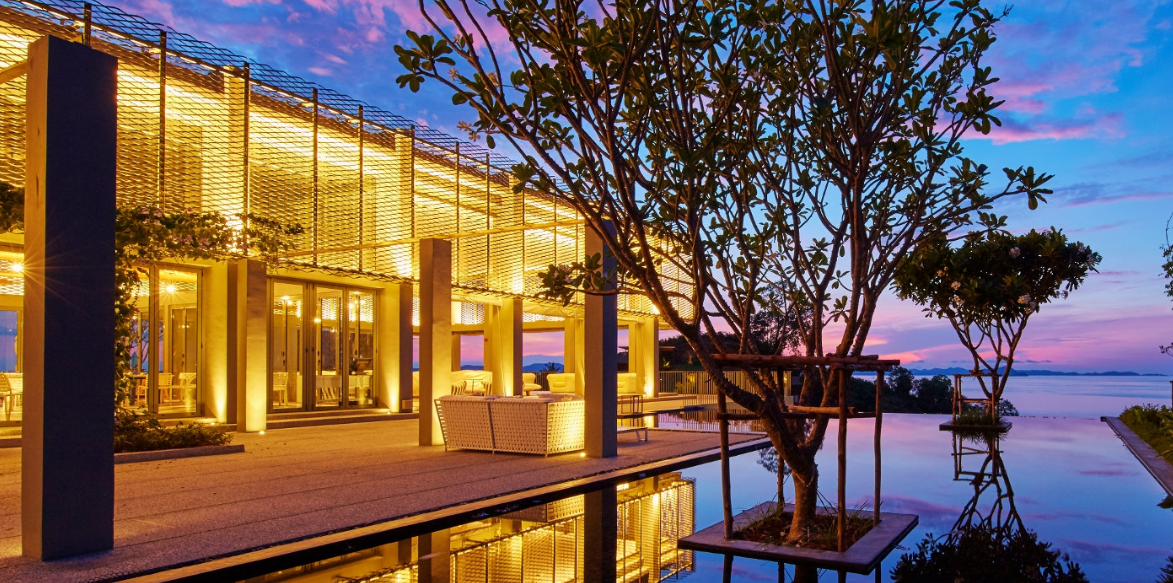 ……………………….
INDIGO PEARL

WHERE: PHUKET
WHO VISITED: Theresa Reynolds from Spencer Travel
WHEN: September 2015
WHAT WE LOVED
Indigo Pearl is a well-known design hotel with a unique aesthetic just 10 minutes from Phuket airport. Despite this proximity, there really was no airport noise to speak of during my stay. The hotel is located close to a beach, the gardens are lovely, beautifully designed and maintained.
Physically, the property is very interesting with lots of quirky detail, evidence of Phuket's industrial past, everywhere you look. It has an industrial funky style to it which doesn't appeal to everyone but seems to be popular with Australian guests.
There are numerous excellent resort facilities, activities and places to sample the high quality food and drinks.
The Villas here were excellent and offered really good value compared to other villas on Phuket. I stayed in a pavilion pool room which has plenty of space and its own small yard and pool.
There are good facilities for families and many room types seem set up specifically for them. The Tin Box Kids Club is popular with the little ones.
Rooms
Indigo Pearl offers a wide range of suites and villas to choose from.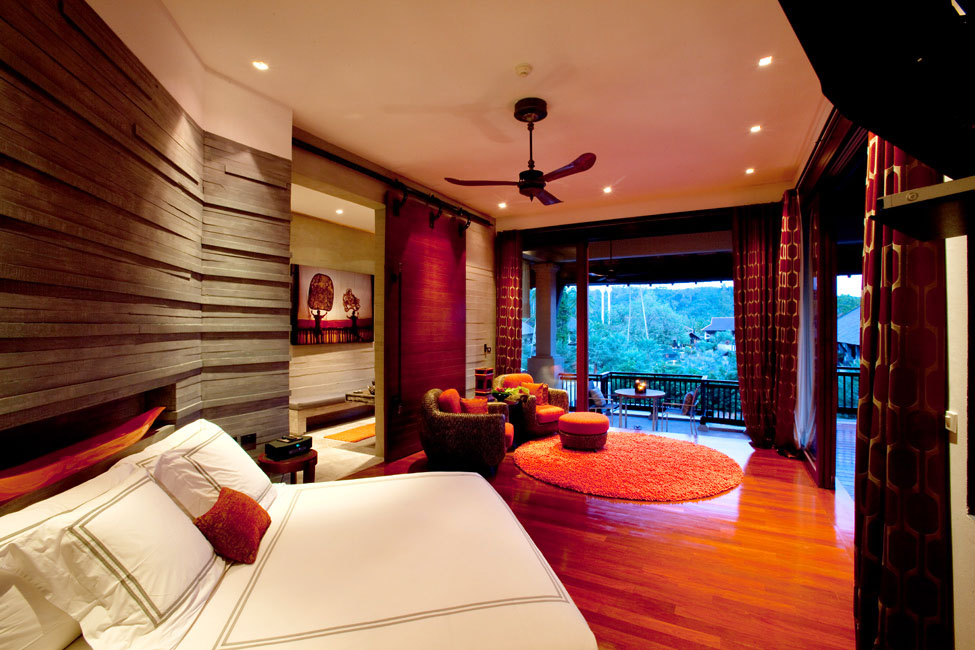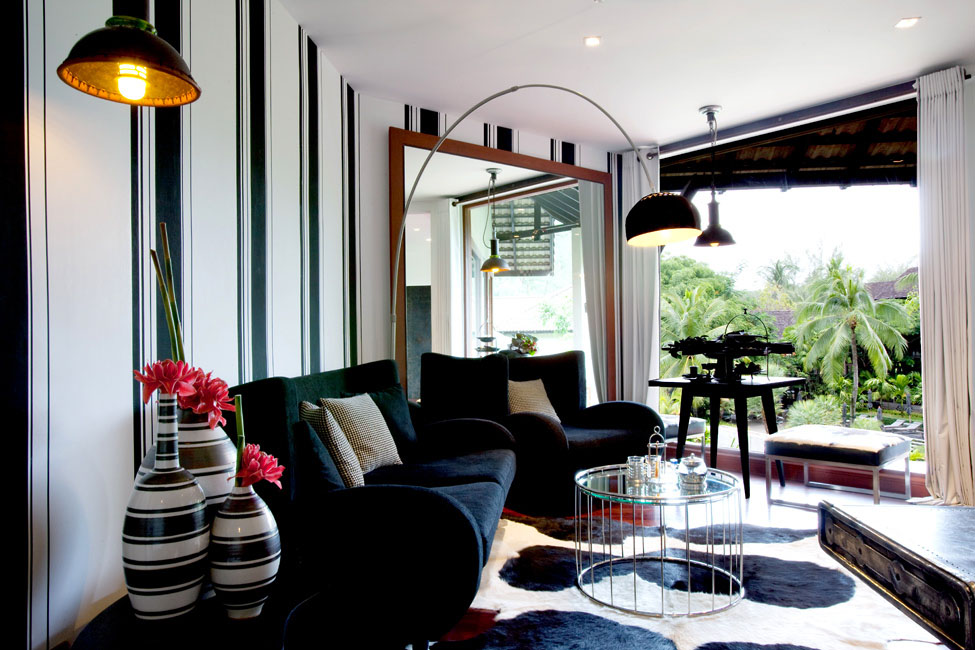 Suites come in six different configurations, accompanied by one and two-bedroom Private Pool Villas with butler service.
Pools
Indigo Pearl features 3 swimming pools: A family pool with children's area, and 2 adults only infinity pools.
Spa
The Coqoon Spa is a visually striking part of the resort.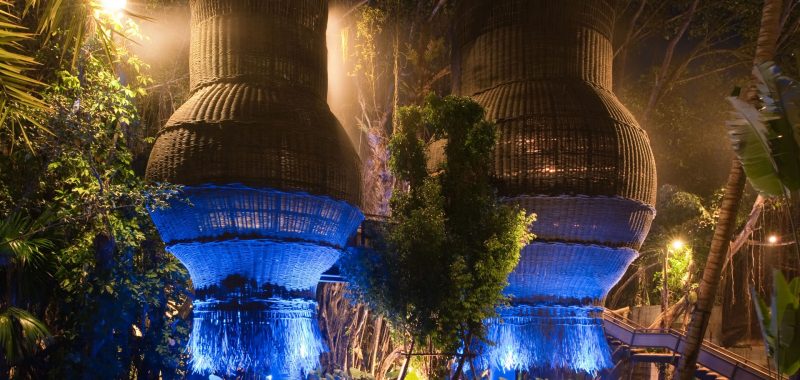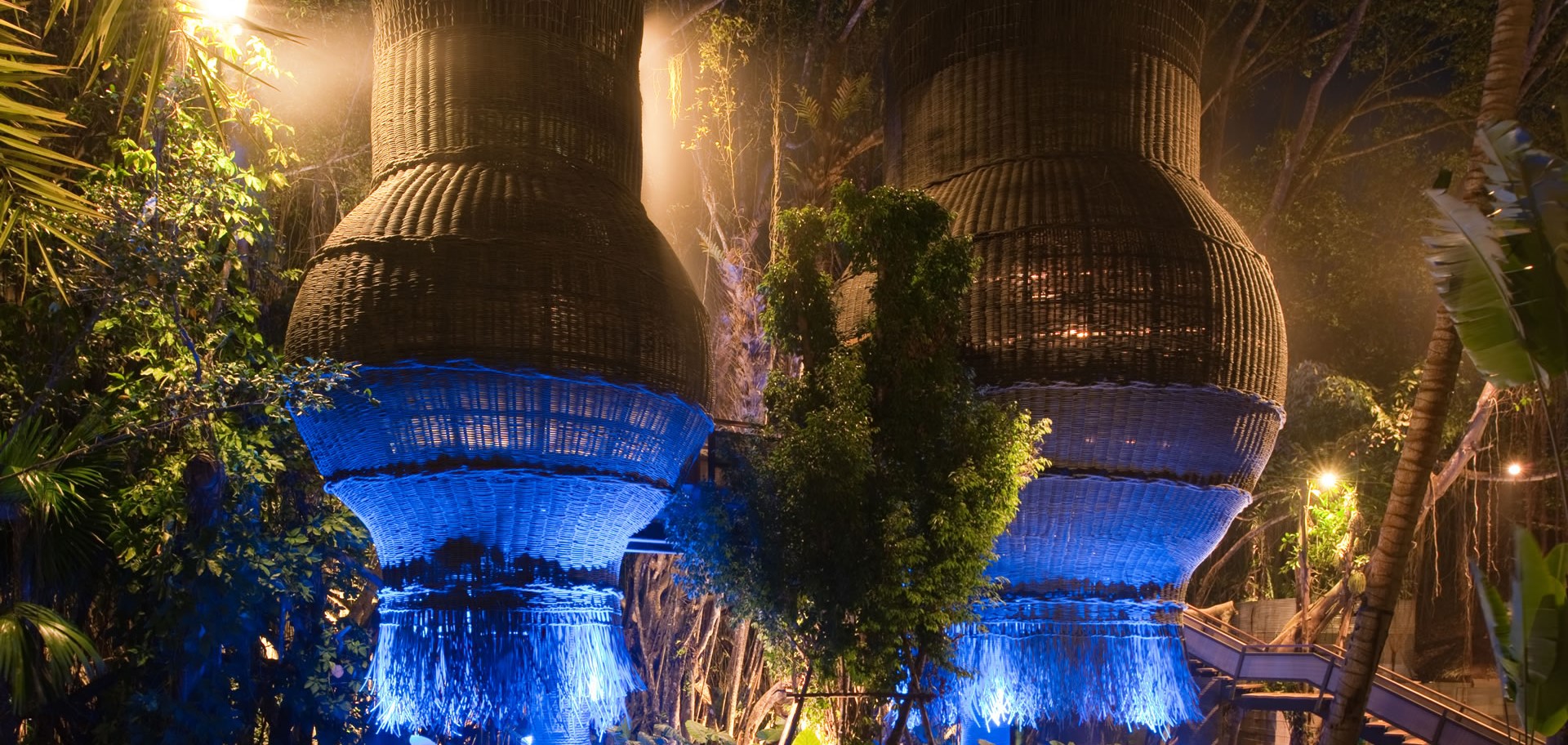 It boasts 8 luxurious treatment rooms nestled in rich rainforest and tropical gardens. Its unique design features tree house 'Nest' rooms, spa suites and individual treatment rooms.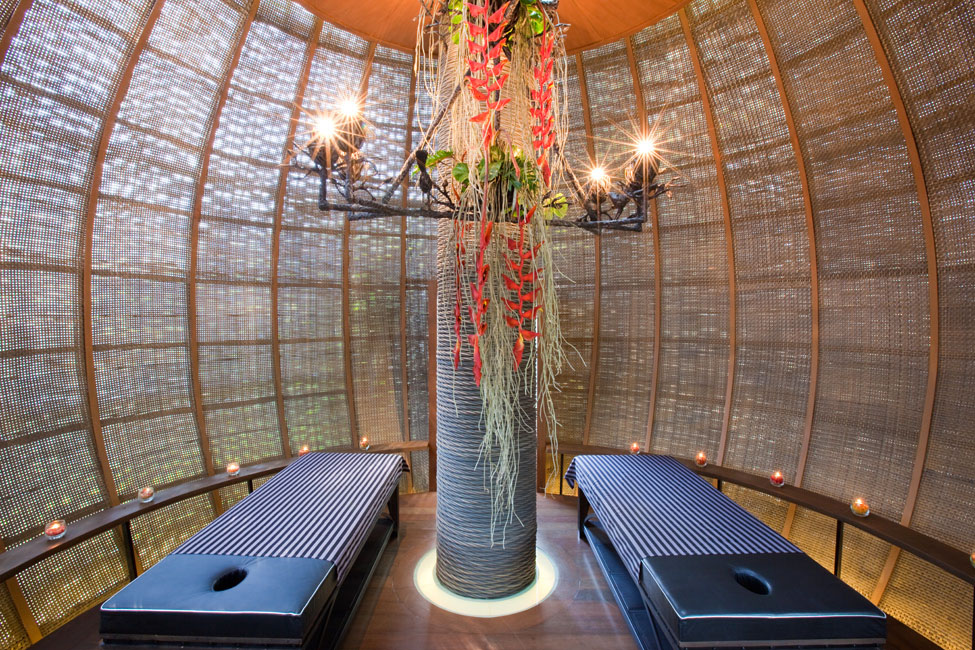 Dining
Indigo Pearl is home to a number of high quality dining options serving local and international fare.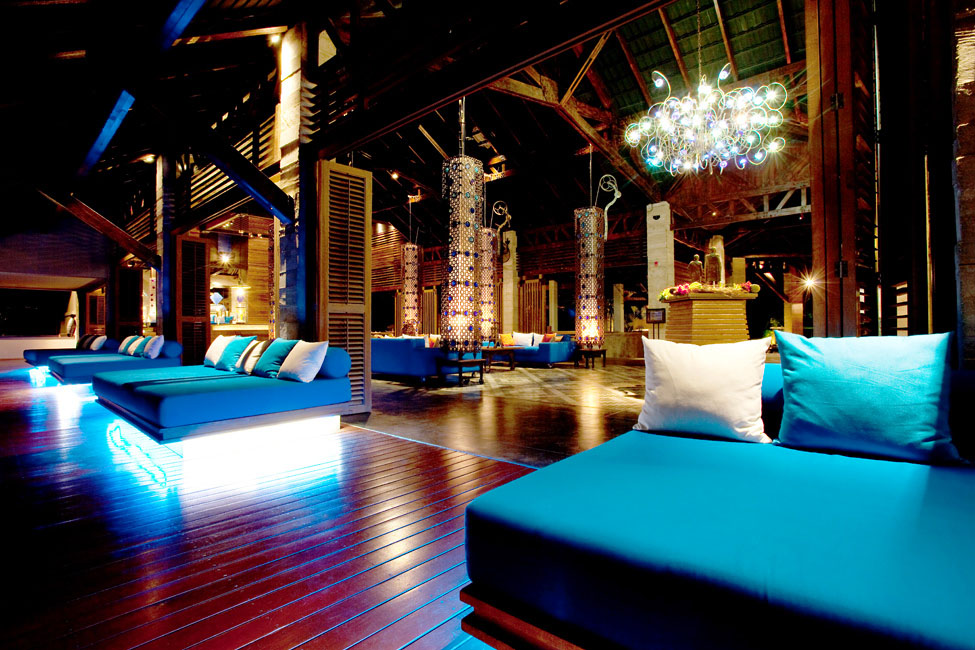 Black Ginger is the resort's signature restaurant and delivers authentic flavors of Phuket in a space that is a masterpiece of ancient Thai design.
Rivet and Rebar Mediterranean culinary influences and New World wines.
Tongkah Tin Syndicate is Indigo Pearl's snooker and billiards hall and sports bar serving a selection of whiskies from around the world.
Tin Mine serves world cuisine in an al fresco pavilion surrounded by ponds.
Underground Cafe is a poolside outlet that serves up homemade ice creams and pastries, gourmet sandwiches and light fare.
In-room dining is available 24-hours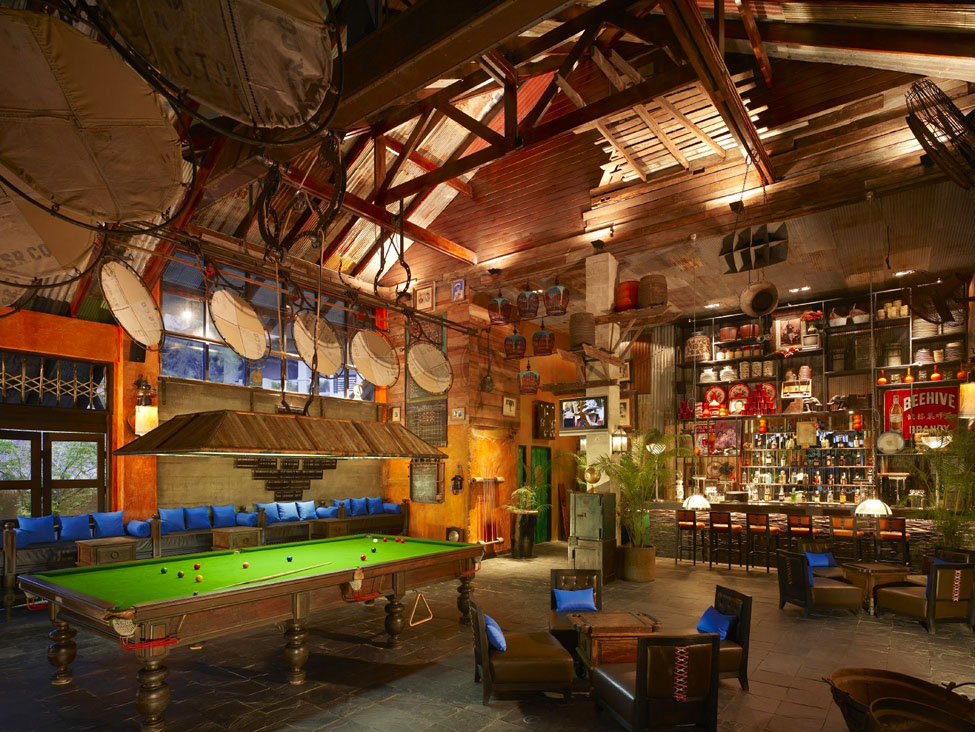 Recommended Experiences
Indigo Pearl offers great cooking school classes including one that includes a local market visit. A wonderful experience.
Final Word
This resort is really unique. Its steam-punk design aesthetic won't be for everyone, but I loved it.
All service touch-points were of a very high-quality.
……………………….
Disclaimer
Unless otherwise specified, all images belong to the resorts and suppliers showcased on these pages.
These recollections are generated by staff from the Spencer Group of Companies after they return from business or personal travel and visit the places listed. Their first-hand experience provides wonderful insights into resorts, airline offerings, cruises and local attractions. Their views are personal and by no means guarantee that other travellers will experience the same.