Peregrine Small Ships Cruises
While big ships need to anchor in deep water and commute to shore by tender, Peregrine's premium small ship adventure cruises are able to dock in small ports, allowing you to walk on and off their boats at your convenience – no security checks and no waiting around in long queues to access tenders.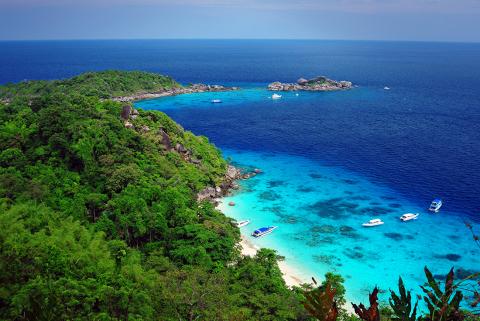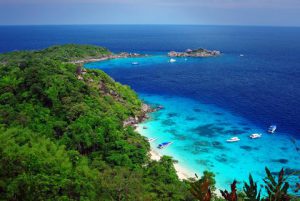 It's cruising perfection, it just requires the right destination… One like Thailand!
Thailand's western coastline is the ultimate in remote island escapes. While it has its fair-share of high-end tourist centres, it's the hidden archipelagos tucked away from the droves of holidaymakers that make the Thai seas worth navigating.
As beautiful as Phuket and Ao Nang may be, you'll never struggle to find a spot on the beaches of Ko Yao Yai or Ko Rok Noi. Spot tropical fish amongst the secluded reefs of Tarutao National Marine Park, and explore the jungles and limestone cliffs of the Krabi province. If you're lucky, the waters will be all your own, without another boat in sight.
Thailand & Malaysia: Penang to Phuket
9 Days Now From $2,565pp

What better way to experience Malaysia and Thailand's west coast than with an Adventure Cruise. Discover the jewels of the Andaman Sea on a nine-day island hopping adventure, sailing by Langkawi, Ao Nang, Ko Yao Yai and Ko Rok Noi.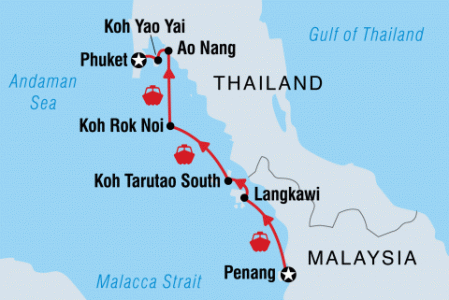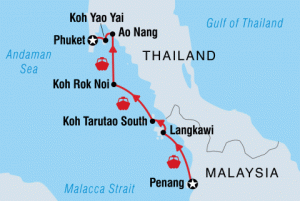 Visit hidden waterfalls tucked into the jungle, swim by vibrant coral reefs in crystal-clear waters, dine on delicious local meals with a dedicated onboard crew, and have plenty of time to experience this coast at your own pace with a range of tailored experiences to choose from.
Whether it's lazing on deck, taking a jungle expedition, or diving to the depths of the ocean, your cruising adventure has it all – and without the crowds or queues you may expect.
__

Thailand & Malaysia Southbound: Phuket to Penang
16 Days Now From $4,902pp
Discover the spectacular west coast of Malaysia and Thailand on a new small-ship adventure cruise with Peregrine. Between the more popular holiday destinations of Penang and Phuket, there's a medley of laid back islands and villages to explore.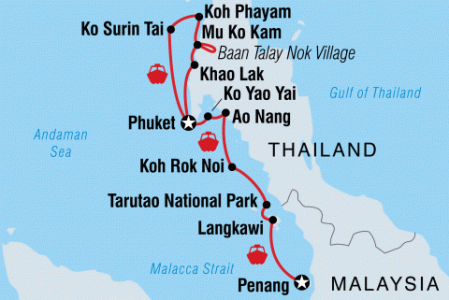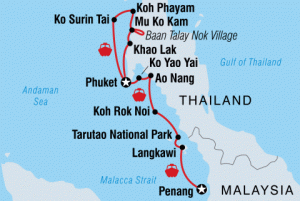 Head north to experience the mesmerising beauty of Ko Miang and Ko Surin Tai.  Once the daytrippers go home, we will have the sea to ourselves.  Choose from leisure and adventure activities around Ao Nang, join in local life in laid back Ko Yao Yai, visit waterfalls tucked away in the jungle, and use the Andaman Sea as your swimming pool.
With comfortable accommodation onboard, snorkelling and kayaking equipment, and knowledgeable local guides at your service, this is South East Asian paradise done in style.